'American Idol's' Katy Perry shows off wardrobe malfunction during show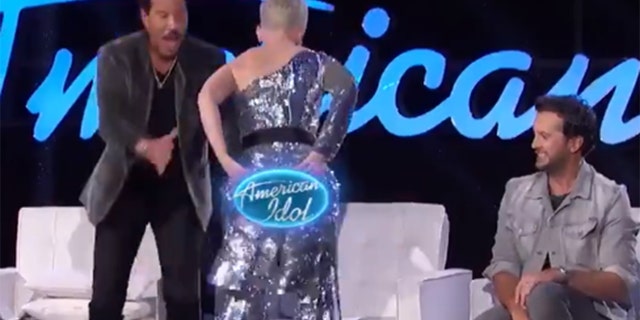 Katy Perry's look of horror was quickly replaced by laughter as she realized she split her pants while filming a scene for "American Idol."
The pop star was sitting next to her fellow judges when she burst out laughing.
"I just split my pants," Perry announced before getting up and showing the audience her wardrobe malfunction, which was later covered up in editing using the show's logo.
Lionel Richie jumped up to try and help Perry but the singer was more interested in showing off her behind than covering it up.
Luke Bryan simply stayed seated as Richie jokingly said, "Save the children."
A crew member then helped Perry patch up her pants with some tape. Perry told her, "Tape my butt" before sitting back down.
Perry tweeted a clip of the incident on Monday.
Perry's wardrobe whoops wasn't enough to boost the show's ratings. Monday night's episode was an all-time low for the series only reaching 1.3 rating in adults 18-49 and 6.9 million viewers, according to Variety. NBC's "The Voice" reached 9.2 million in the same demographic.
It's not the first time Perry has shown too much on the show. She previously had a wardrobe malfunction during the "Idol" auditions, falling on the floor and showing too much.
The 33-year-old has been the center of media attention over "Idol" antics.
She has been criticized for flirting with a slew of male contestants including tricking an unsuspecting male contestant into kissing her on the lips.
She also made headlines ahead of the show's premiere for other reasons.
As previously reported, Perry is locked in an ongoing property battle against a nun. Perry is hoping to buy a sprawling eight-acre plot of land in California that was previously a convent. Last week, a nun appealed to Pope Francis in the battle against Perry.