American Idol: Scotty McCreery Beats Lauren Alaina; Becomes 1st Latino American Idol!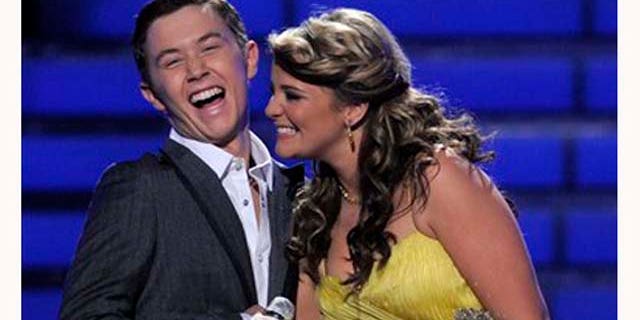 The votes are in! The phone lines closed! America has voted and Scotty McCreery is Season ten's American Idol!
With a record-breaking 122 million votes cast for both contestants, McCreery, who is of Puerto Rican descent, edged out Lauren Alaina in the show's finale, becoming the first Latino to win in American Idol.
The two hour program replete with explosive performances by huge stars and Idol's 'Top 13' girls and boys, was held at the Nokia Theater in Los Angeles, Calif.
As American Idol host Ryan Seacrest received the golden envelope with the results enclosed, the tension grew between Alaina, who looked elegant as ever in a bright, yellow cocktail like dress, and McCreery.
"Dim the lights here we go!," Seacrest announced. "After the nation-wide vote your American Idol ladies and gentleman is… Scotty McCreery!"
Upon hearing this McCreery fell to the ground, face in hand as Alaina embraced him. His fans watching the show from RBC center in Raleigh N.C. went bezerk.
"I got to thank the Lord first, he got me here," McCreery said.
The Country music lover and Alaina hugged again, this time more tenderly, as Alaina gave him a kiss on the cheek.
"It's been a year since Lauren and I tried out... We're going to stay together."
Jennifer López stood on stage with fellow judges Randy Jackson and Steven Tyler and the 'Top 13'. In hand she had an Oscar-like trophy waiting for McCreery.
McCreery, 17, then took the stage singing "I Love You This Big," as he went to the audience and hugged his family members and then the contestants and judges.
"Thank ya'll so much!" McCreery said as the night came to a close.
You can reach Alexandra Gratereaux at: Alexandra.Gratereaux@foxnewslatino.com or via Twitter: @GalexLatino