'American Idol' results recap: A surprising first top 10 cut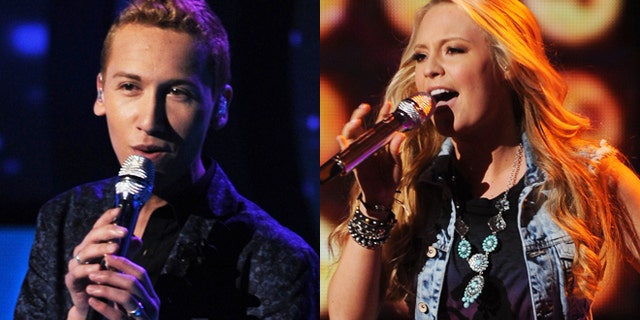 'American Idol' held its first live results show of the season Thursday night, and America's vote left some shocked, to say the least.
(Note: Spoilers follow if you didn't watch Thursday's results episode.)
The Fox show sent Curtis Finch, Jr. packing.
Judges, Mariah Carey and Nicki Minaj were especially disappointed in America's vote. When Curtis and Devin landed in the bottom two, Nicki made an empty threat, "Come on, America… If Curtis goes home, I'm going home."
Maybe she should just focus on being on time – which she was… on Thursday.
After host Ryan Seacrest delivered the bad news he presented a silver lining. The judges can use their one "save" of the season to keep Curtis around, but only if they all agree. The soulful singer performed R. Kelly's "I Believe I Can Fly" in one final attempt to win them over.
"We are not unanimous, unfortunately," says Randy Jackson.
Nicki was upset, saying "I don't think we had a real discussion about it, but I know there's a live show."
Keith Urban was kind of quiet, making some think he might have been the bad guy on the panel.
Mariah was miffed. "I'm completely shocked," she said. "This entire situation has been about Curtis, in a lot of ways, for me."
Before Curtis got cut, Season 11 winner, Philip Phllips returned to the Idol stage to perform his latest single, "Gone Gone Gone." He also received a quadruple platinum plaque from Randy for his "Home" sales success.
Charlie Askew hit the stage in an attempt to claim a spot on the post-season Idols Live! Tour. He played the piano during his original song, "Sky Blue Diamond." It was much better than his season-ending shriek-fest. The kid really took a beating at his elimination. He's battling the beautiful Aubrey Cleland, who chose "Out Here On My Own."
Guest performer Bon Jovi sang "Because We Can," and the Top 10 Idols sang "Shine Your Way" from the film The Croods, before getting down to the results.
Aside from Curtis' early dismissal, the rest of America's picks turned out to be pretty predictable.
Here are the Top 9 results rundown.
1. Candice Glover
2. Kree Harrison
3. Angie Miller
4. Lazaros Arbos
5. Amber Holcomb
6. Janelle Arthur
7. Burnell Taylor
8. Paul Jolley
9. Devin Velez