'American Idol': No one goes home in a 'shocking' episode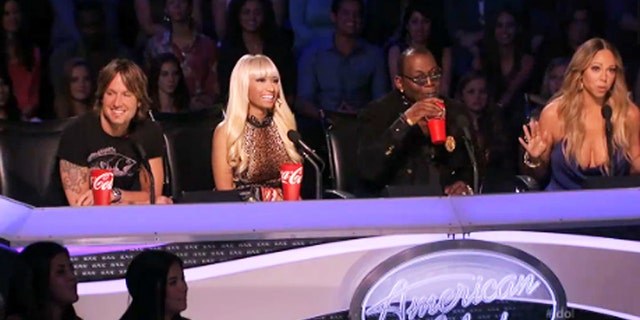 "American Idol" is down to its final four contestants this week, and the judge's save is still in play — well, sort of — as the FOX show welcomes back Season 7 alum Stefano Langano and Season 10 winner Lee Dewyze.
More famous faces are in the crowd, including Drake, who came to pay contestant Candice Glover and judge Nicki Minaj a visit. Right off the bat, Ryan Seacrest teases a shocking show. "In just a bit, I will announce some shocking news that will affect the judges and turn the competition upside down."
PHOTOS: 'American Idol' stars where are they now?
Judges Keith Urban and Randy Jackson were a bit harsh on the female finalists Wednesday night and Mariah Carey and Nicki continued their semi-friendly co-existence for a second week in a row.
However, all four ultimately agree that Angie Miller won the night.
Jimmy Iovine concurs. "Angie won the night hands down. She had two great songs and two great performances. I prefer her on the piano. When she stands up, she seems a little too much in her head," he says.
The mudic mogul has harsh words for Kree Harrison though. "We know Kree has to redeem herself…I agree with Keith. We want to feel her vulnerable. You won't do that with 'Whiter Shade of Pale.' The lyrics are ridiculous! You think you can win with a bad song with corny lyrics?" he says.
Ouch. Will the panel agree on saving a singer tonight?
Well, sort of. We learn that Candice and Amber Holcomb land in the bottom this week — but thanks to the surprise twist, both will dodge the chopping block. I wish they would have said who got saved.
Thank goodness for this surprise though as either girls being eliminated would have been tragic. What's wrong with the voters? Next week, the bottom spot will go to the girl who gets the least votes over two weeks.
The four women take the stage to sing Alicia Keys' "Girl On Fire" and it's really good. I still think Candice did a better job during Hollywood week. It just sounds like the other girls are singing back up for her.
Next week's theme is "Now and Then." Best of luck to the final four — again.