'American Hustle' review: Actors take 70s stereotypes and run with them in entertaining sting flick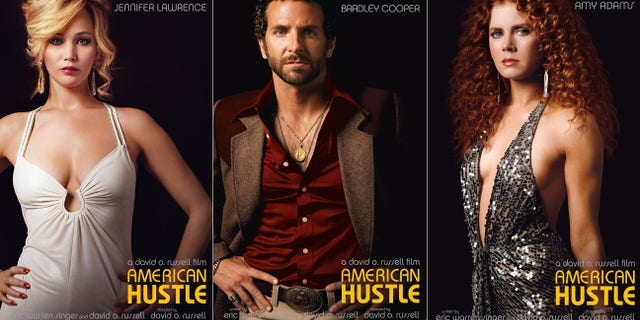 NEW YORK – Extravagant hair, eccentric costumes and truly fine acting adorn "American Hustle," David O. Russell's follow-up to his smash hit "Silver Linings Playbook," fusing 1970s grit with camp to create a near-perfect, somewhat factual comedy.
The film opens with the coy statement: "Some of this actually happened," a smirk from Russell that only grows wider into full-on bellowed laughter by film's end. If only all "based on true stories" were that honest. "American Hustle" is certainly a crowd-pleaser, as "Silver Linings" turned out to be, but Russell's not an easy catch, and never spoon-feeds. The first half hour of the film plays with contrasting tones: comical and escalated character caricatures are placed in somewhat dark and serious situations -- the underbelly of Long Island con-artistry or repairing a broken household, for instance. It takes a bit to get used to the overlap. Though spotty-haired and enormous bespectacled Christian Bale or lip-smacking, giant-haired Jennifer Lawrence are certainly amusing to look at, it's difficult to conclude immediately if any of Russell's characters are likeable enough to invest an emotional interest in for the duration of the film. But Russell's a master craftsman and he kneads the characters and story into an incredibly entertaining hustle.
When con-artist Irving Rosenfeld (Christian Bale) and his partner Sydney Prosser (Amy Adams) are stung by FBI agent Richie DiMaso (Bradley Cooper) they agree to help the agency hustle Camden, New Jersey Mayor Carmine Polito (Jeremy Renner) into revealing all the corrupt New Jersey politicians who are accepting kickbacks for revamping Atlantic City. The hustle becomes more than anyone can handle when Irving strikes an honest friendship with Polito and jealousy flares up as Sydney and Richie kindle a romance. Yet it's Irving's loud-mouthed wife Rosalyn (Jennifer Lawrence) who poses the biggest threat to the sting, causing heaps of tension and lots of of laughs.
"American Hustle" features a pitch-perfect ensemble cast with some of the year's best acting. Each character is presented as a 1970s New York caricature. Christian Bale is at his best as he puffs up into a bloated, balding prune of a man as Irving Rosenfeld – a complete 180 from last week's "Out of the Furnace." Bale, like the rest of the cast, is a gem at converting the caricature into a real, relatable person. Having gained a potbelly and stifled his voice, Bale is like you've never seen him before. Its great to watch him evolve from a sleazy con-artist into a frightened man with a conscience. A brilliant performance.
Bradley Cooper seems to be at his best when under Russell's direction. As FBI agent Richie DiMaso, he's like an aloof kid in a candy store, an outsider in ear-shot on a joke but too ignorant to understand the punch line. Richie's perpetual giant grin as he thinks he's getting closer to nabbing a slew of corrupt New Jersey politicians is hilarious and endearing. Between "Silver Linings Playbook" and "The Place Beyond the Pines," Cooper proves he is a fine actor getting better with each performance.
Oscar-winner Jennifer Lawrence dazzles as Irving's caustic and manipulative wife Rosalyn. She has the flashiest role in the picture and he lays on thick the stereotypical Long Island accent. The real success of this film is watching these great actors shed the character stereotypes to fashion completely original creations. At first Rosalyn comes across as a floozy, but Lawrence is incredible at smartly and hilariously humanizes her.
Though Lawrence is the flashiest, Amy Adams has the better role as Irving's mistress and partner. Depending on the scene, Adams bounces back and forth between New York and British accents. While Irving is the cautious member of the hustle, Sydney is daring, pulling the strings on all sides from the FBI to her relationship with Rosenfeld. Sydney is the perfect role for Adams, letting her shine best in both side-splitting comedy and weighty drama.
Russell's screenplay is funny and labyrinthine, a perfect combination for his take on a great sting. Though Russell lays the grit on thick, "American Hustle" is a very funny film. The majority of the humor lies in the awkward interaction among the central characters and a revolving door of eccentric supporting roles. Everyone is on edge with each other as if ready to implode under an invisible weight. The rivalry between Bradley Cooper and his supervisor Louis C.K. is priceless.
"Hustle" deserves awards for makeup and costumes. The gaudy look of the 1970s is so elevated it adds a comical mystique to the era. The makeup on Bale is especially transformative, as is the makeup on a special cameo appearance by a certain famous Italian actor.
"American Hustle" may have an awkward start, especially as it takes a moment to get used to Russell's style and tone, but once "Hustle" finds its footing it really takes off and is one of the most intelligent and enjoyable films of the year.
Sony Pictures. MPAA Rating: R. Running time: 2 hours and 9 minutes.