Amazon to debut original series programming with 'Alpha House'; should Netflix worry?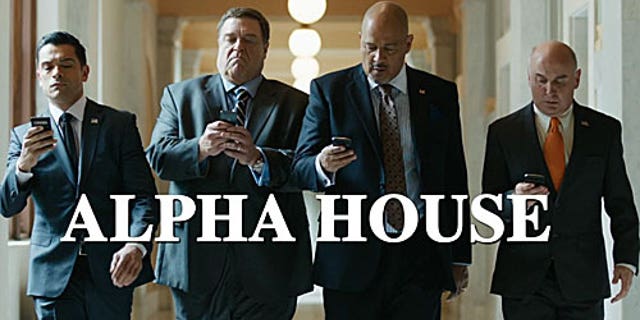 It's 7:18 a.m. at Kaufman Astoria Studios in Queens, N.Y., and John Goodman is yawning.
The ursine actor is up early for a shoot at the studio's Stage K, an 18,000-square-foot facility where he's shooting "Alpha House," a new TV series in which he plays Gil John Biggs, a Republican senator from North Carolina. In this political satire — a half-hour buddy comedy penned by "Doonesbury" creator Garry Trudeau that skewers conservative pols — Biggs bunks with three other GOP senators in a rented D.C. house.
Despite the daybreak call, Goodman hams it up on set, sticking out his tongue, arching his eyebrows and smirking on command, joking easily with castmates Clark Johnson, Matt Malloy and Mark Consuelos. The four are grouped around Biggs' desk, where there's a box of cold pizza and several unfinished beers. "Can we get some blow?" Goodman quips.
With risque humor and an in-demand actor like Goodman as its star, "Alpha" is the kind of show one might expect from HBO (in fact, Goodman starred in the first season of HBO's "Treme"). But beginning sometime in November, this 11-episode comedy will be the first of two half-hour series produced and distributed by Amazon. It represents a critical test as to whether the online juggernaut can match Netflix's ability to make compelling original entertainment for digital distribution.
Launching alongside "Alpha" is "Betas," a comedy set in the world of Silicon Valley startups that's in production in Los Angeles. In addition, three kids' shows are on track to debut in early 2014, and 11 more pilots are in development. "We're just focused on getting the process right for the first shows or the next show," said Roy Price, who leads Amazon Studios, the division responsible for the company's original programming.
Amazon may be starting with comedies and children's programming, but it's expanding to develop dramas as well. The studio is looking to secure a big-budget tentpole series, a la "House of Cards," to gin up buzz and possibly Emmy nominations, industry execs say.
On the surface, Amazon's foray into originals looks similar to the path blazed by Netflix, which gained attention — and an unprecedented Emmy win — with exclusive series like "Cards." Both companies want to buttress their licensed-library content with TV-caliber originals that are available nowhere else. Coincidentally, the first original series from both streaming services depict rogue senators operating in the world of D.C. politics.
But that's where the comparison ends. Though Hollywood tends to frown on those that try to shake its traditions, Amazon is intent on playing by its own rules. The company made that clear enough by releasing a number of pilots on Amazon.com for broad public viewing in order to gather data on user engagement, which helped decide which projects to greenlight.
"I think they want to be the 'first Amazon,' not the 'next Netflix,' " said Chet Fenster, a former TV executive who is managing partner at GroupM's MEC Entertainment, which produces original content for brands.
Amazon's prospects for breaking into Hollywood might be more easily dismissed were it not for the fact the company has been monstrously successful at expanding into new market segments. From its origins as a way to buy books online, it's grown to become the world's biggest online retailer, on track to generate $75 billion in sales this year. It has successfully launched the Kindle Fire line of tablets, giving the iPad a run for its money, and has become a major player in digital media distribution with a solid foothold in music, TV, movie and e-book sales.
Sure, the opportunity that original programming presents may be negligible in comparison with the scale of some of its other businesses. But Amazon CEO Jeff Bezos is as engaged in Amazon Studios as in any other priority at the company, according to Price, who says the founder is "closely aware of what we're up to."
The reason is that entertainment isn't some departure from Bezos' core mission; one feeds the other. Amazon is becoming an entertainment studio and distributor rolled into one to provide new reasons for its 215 million active customers to visit its site and purchase more stuff.
Specifically, the upcoming original TV shows — and, starting next year, movies — are designed to drive members toward the Amazon Prime loyalty program. For $79 per year, Prime users receive free two-day shipping on select products and, as a bonus, access to more than 41,000 titles, most of which are the kind of library titles Netflix has. In the U.S., the Amazon Studios original productions will be available only to Prime users (except for content watched via a la carte service Amazon Instant Video, which enables one to purchase and rent TV and movies without being a Prime member). The shows will also be available in the U.K. and Germany via Amazon-owned streaming service LoveFilm.
Here's why Amazon is using shows like "Alpha House" as bait: Prime members spend roughly 150% more on the site after they join, and generate about one-third of Amazon's operating income. The company had nearly 11 million Prime members at the end of the second quarter of 2013, analyst firm Morningstar estimates. That's a far cry from Netflix's 30 million U.S. subs, but far ahead of Hulu's 4 million.
But video's secondary role in Prime makes some observers wonder how quickly Amazon can enter the space and make a splash. "Unlike Netflix, this isn't their core business. So there is going to be less urgency at Amazon," RBC Capital Markets analyst David Bank explained. "This is a way to get you to buy more Pampers."
When Amazon embarked on the originals initiative last year, Hollywood was skeptical it would be willing to drop coin for top-flight productions. After all, frugality has been one of Amazon's guiding principles since Bezos founded the company in 1994. Penny-pinching is actually spelled out in employee handbooks: "We try not to spend money on things that don't matter to customers."
Evidently, fronting cable-size TV production budgets is something that Amazon has decided matters. Amazon Studios is spending $1 million to $2 million per episode for its half-hour originals, whereas Hulu has dwelled in the range of $300,000 per episode, according to an executive familiar with both companies. Netflix and TV networks are spending more, but not by that much.
"They are trying to make a high-quality product — they're not trying to do this for half of what other people are doing," the exec said.
Amazon declined to discuss details of its content investments. Price, echoing the Amazonian principles, said, "We take a frugal approach, bearing in mind that we want something high quality and impressive. Where it matters, we'll spend the money. Where is doesn't, we won't."
For example: Price flew coach, not business class, when he traveled to Mipcom in Cannes earlier this month. Also, Amazon Studios' L.A.-area offices are in more affordable Sherman Oaks rather than in Hollywood's power alleys.
Based at Amazon's Seattle headquarters, Price has worked for the company since 2004. Before starting up the studio in 2010, he oversaw the launch of Amazon Video on Demand to compete with iTunes, cutting numerous licensing pacts for movies and TV shows. In the late 1990s, he was in charge of series development at Walt Disney Television Animation, producing such shows as "Kim Possible."
When it releases "Alpha" and "Betas," Amazon will have to shell out some bucks to market the shows. The company will run a traditional marketing campaign, potentially including TV ads, but the final media buy has not been set yet, Price said.
Mostly, Amazon anticipates promoting the originals via Amazon.com and IMDb (which it owns), and through Kindle tablets. If someone has bought, say, "Raising Arizona," that could trigger a John Goodman connection, and the site would prompt a user to watch "Alpha House."
With just weeks before the shows' premieres, the Amazon strategy is still a work in progress in other key respects. Amazon says it hasn't decided whether it will release all the episodes at once or space them out. The company may make the first three episodes of each series available for free as a way to encourage Prime sign-ups, but the specifics are still up in the air, according to Price.
Regardless of whether the series are binge-able from the get-go, Amazon doesn't need to prove that its shows are overnight sensations. One of the advantages it shares with Netflix over regular TV networks is that neither of them is tied to fixed broadcast schedules.
Moreover, Amazon does not have set deadlines for the 30-some movie projects that it has in the development pipeline. "Movies take longer. That's the nature of the movie business," Price said.
Amazon will collect extensive data on the performance of the originals but does not plan to release actual viewing metrics for shows; like Netflix, it doesn't carry ads and doesn't need to reveal "ratings." "Obviously I'm going to look at the numbers, but I tend not to freak out about the first-night numbers," Price said.
The obsession with data is not unique to Amazon. But the company has taken the focus on customers to the front-end of the development process. This past spring, Amazon released 14 pilots for anyone on the Internet to check out, rate and comment on. Using that input alongside other considerations, Price and his execs selected five, including "Alpha" and "Betas," to order as full series. (It's pure coincidence that the first two series to launch include the initial letters of the Greek alphabet.)
But is the customer always right? Some traditional TV execs find the audience-feedback process puzzling, and say it makes it less likely that the studio would take a chance on a rule-breaking show that might become an unexpected hit. Among the skeptics is Garth Ancier, a veteran programmer who's held top jobs at NBC and BBC America. He is now CEO of the Quad, a startup venture aiming to launch four decade-themed cable channels populated with reruns.
"What happens if the audience doesn't know what it wants?" Ancier said. With Amazon's approach, he added, " 'Seinfeld' would never have gotten off the ground."
Meanwhile, the scale and method of Amazon's testing may be unique, but TV networks and studios have conducted research to guide their development for years. "It's nothing new under the sun," said Gerry Philpott, CEO of E-Poll, an L.A.-based market research firm specializing in the entertainment industry.
According to Price, contrary to some perceptions in the industry, user votes were never going to be the sole criterion for picking the full series. In his view, the more data Amazon has, the more accurately it can determine if a project will win fans. "It's not like you walk in Tuesday morning, and the computer tells you what show to order," he said. "There's a human element. You have to make a judgment call."
In a speech given earlier this month at Mipcom, Price elaborated on the point, noting that the breadth of Amazon allowed it to get feedback from a million people around the world "instead of 50 people in Tarzana." But he didn't stop at knocking typical network TV focus groups only; he believes the whole concept of television executives being entirely in control of programming decisions needs to be questioned. "We see a move (away) from top-down, expert-driven, hierarchical processes to a bottom-up world," he predicted to the Mipcom crowd.
That feedback has steered content creators to make changes. Angela Santomero, co-creator of "Blue's Clues" and other kids' shows, is in the midst of producing preschool series "Creative Galaxy" through her Gotham-based production company Out of the Blue. She said the sheer number of people who watched the pilot produced unexpected insights.
For example, the animated "Creative Galaxy" opens with the main character flying through space in a rocket — and parents decidedly said that they didn't like the design of the spaceship. "It was in a light-bulb shape," Santomero said. "It was a little phallic-looking." The finished series will have a different-looking spaceship.
Another element of Amazon's strategy is an "open source" policy that solicits projects from anyone on the Internet. It's a nice-sounding concept, but nearly all TV-show projects on the Amazon slate are from established producers. To date, Amazon Studios has received 20,000 movie scripts and 5,000 TV series proposals. These are screened the old-fashioned way, by freelance readers, before they're circulated to execs. Amazon touted that it will pilot at least one of these over-the-transom pitches, kidvid "Gortimer Gibbon's Life on Normal Street," from David Anaxagoras.
But Amazon Studios isn't entirely "open source." Over the past year and a half, Price has hired a small team with TV backgrounds to shepherd its series and pilots. Those execs include head of original programming Joe Lewis, previously at 20th Century Fox and Comedy Central, and head of kids' programming Tara Sorensen, formerly with National Geographic Kids Entertainment, Sony Pictures Family Entertainment and Nelvana. This month, Amazon Studios hired Morgan Wandell as head of original drama productions; he hails from ABC Studios, where he developed shows including "Ugly Betty" and "Criminal Minds."
One sign Amazon is putting down deep roots in the content business is that it's seeking to control the rights to the original productions whenever it can. Sony Pictures will handle licensing deals on its behalf outside the U.S. "Down the road, if we have a lot of episodes and there's a syndication opportunity, that would be great for the creators and great for us," Price said.
At times, Amazon Studios has rubbed some in the biz the wrong way. According to several TV industry sources, Amazon execs come across with an arrogance not unfamiliar among tech companies doing business in Hollywood, a bit too assured it will transform TV the way it has rolled into other categories.
"On a negotiating basis, I've found them the most difficult people to deal with," one veteran producer of cable programming maintained. "They make (dealing with) television networks look easy."
Asked about such reactions, Price said: "I don't see that in the marketplace. I don't perceive that dynamic."
Such complaints may be due to Amazon having evolved its approach over the past year as it gains more experience and hones in on the kinds of programs it thinks will work. Or, the griping may be an expected outcome of Amazon's unorthodox bake-off approach to content.
Journalist and author Jonathan Alter, one of the executive producers of "Alpha House," along with Trudeau and agent Elliot Webb, said he was at first taken aback by the company's audience-feedback technique.
"It was a little bit startling. … We thought, 'Wow, we'll post it online — and every Internet troll is going to come along and pick it apart before we even get going,'" Alter said. After seeing the process in action, however, he and the others became more comfortable with it (especially, one imagines, after Amazon greenlit the series).
If any content creators have soured on dealing with Amazon Studios, it's not a problem for Price and his team, because there will be plenty of others lining up to win their business.
"It's another platform that is putting up meaningful dollars for content," said Larry Tanz, CEO of digital studio Vuguru, which is backed by Michael Eisner. "It's a great thing for the industry. It's another buyer at the table."
If "Alpha" star Goodman is aware of the role he's playing in Amazon's ground-breaking effort, he doesn't let on. "It's a job," he said. "The pilot read really well. It's funny. I was looking for a project."
And as for how Amazon has been to work with vs. other studios, all that came to mind was one of the perks of the job. As Goodman recalled, "They gave me a Kindle Fire."
Projects in the Amazon Pipeline
'Alpha House' is the first in a wave of originals from the e-tailer over the next year.
Fall 2013 series
"Alpha House" Political satire written by "Doonesbury" creator Garry Trudeau; stars John Goodman as a GOP senator rooming with three other Republican pols
"Betas" Comedy about four friends seeking to hit dot-com gold with a mobile social networking app; stars Ed Begley Jr., Jon Daly, Joe Dinicol, Charlie Saxton, Karan Soni
Early 2014 series
"Annebots" Science-based series about girl researcher and her three robot helpers who assist with experiments in her dad's junkyard; from J.J. Johnson
"Creative Galaxy" Animated adventure series; from Angela Santomero, co-creator of "Blue's Clues"
"Tumbleaf" Preschool show; from stop-motion studio Bix Pix Entertainment
Children's pilots for 2014
"Gortimer Gibbon's Life on Normal Street" Live-action adventure show; from "open source" winner David Anaxagoras
"Grid Smasher" A kid and his team of rag-tag aliens compete to win the greatest game in the universe; from Dan Clark ("Yo Gabba Gabba!")
"Hard-Boiled Eggheads" Animated action-comedy; from Duane Capizzi ("Darkwing Duck")
"The Jo B. & G. Raff Show" Animated series; from writer-producer Josh Selig
"Maker Shack Agency" Follows a 13-year-old inventor and his friends; produced by Electus Studios
"Wishenpoof!" About a girl with magical powers; written by Santomero
Comedy pilots for 2014
"Mozart in the Jungle" Based on a memoir about sex and drugs in Gotham's classical music scene; written by Roman Coppola ("The Darjeeling Limited"), Jason Schwartzman and Alex Timbers
"The Outlaws" About a pro football team and its internal hijinks; written by Jeremy Garelick ("The Break-Up") and Jon Weinbach
"Transparent" Dark comedy about an L.A. family; written and directed by Jill Soloway ("Six Feet Under")
Drama pilots for 2014
"The After" Apocalyptic thriller from Chris Carter ("The X-Files")
"Bosch" Cop procedural based on Michael Connelly's novels about an LAPD detective
(Photos by Jeff Riedel)