Aly Raisman 'almost passed out' during Larry Nassar testimony
While testifying against Larry Nassar face-to-face, six-time Olympic Gold medalist Aly Raisman said she felt sick.
On Thursday morning, Raisman appeared on "Today" talked about what it was like to speak to the man who molested her and dozens of other Olympic gymnasts.
"In that moment I blocked out everything. I forgot that people were watching me. I forgot the media was over there. I forgot that Larry was right there," said Raisman. "I just spoke and I felt like I really had to be strong, I feel a responsibility. But after I will be honest, I was sick, I almost passed out."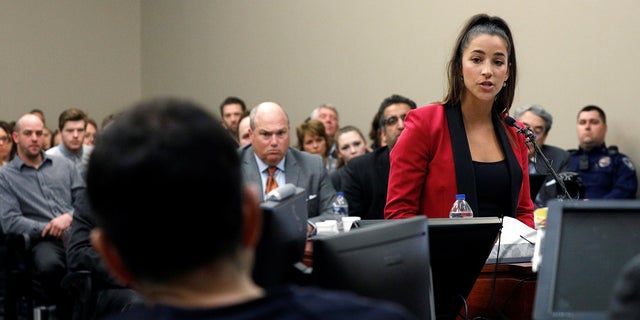 Though Raisman presented a powerful 13-minute testimony during which she directly told Nassar "You are nothing," the gymnast admitted she was nervous.
"He actually looked at me the whole entire time. Every time I made eye contact with him, and even when I stared at him, he looked me in the eye the whole entire time," said Raisman.
At the trial's end, Nassar was sentenced to up to 175 years in prison after being convicted of the sexual abuse for more than 150 women who testified against the disgraced USA Gymnastics coach in court.
But despite the victory in the courtroom, Raisman told "Today" that there is still a lot of work to be done.
"This is bigger than Larry Nassar. We have to get to the bottom of how this disaster happened," she said.
After Nassar's sentencing on Wednesday, Raisman tweeted a letter praising the judge.
"I am forever grateful that all of our voices are finally heard," she wrote. "Thank you for listening to us all."
During the trial, Michigan Judge Rosemarie Aquilina told Nassar, "I just signed your death warrant."
She added, "It is my honor and privilege to sentence you. You do not deserve to walk outside a prison ever again."
In regards to the future, Raisman told "Today" show host Hoda Kotb, "I want to make sure this never, ever happens again."