Alexa and Carlos PenaVega are expecting their first child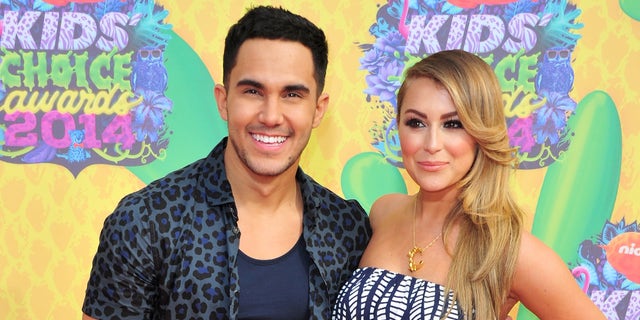 NEWYou can now listen to Fox News articles!
Alexa and Carlos PenaVega are adding to their family! The couple announced on social media Thursday morning that they are expecting their first child together.
"PREGNANT! It's #ClearblueConfirmed a lil blessing is joining the PenaVega fam! #ItsHappening #ClearbluePartner," the 27-year-old "Spy Kids" star shared on Twitter with a sweet photo of the two.
"The Big Time Rush" rocker, 26, also shared their baby joy on Instagram.
"Breaking news! It's #ClearblueConfirmed! There is going to be a new cool kid in town… And by cool I mean dorky just like their father. A little PenaVega is on the way!!! #ItsHappening #HolyWow #Imgoingtobeadaddy," he captioned the photo.
The actors began dating in 2013 after meeting at a local church group and announced their engagement in September of that same year.
They tied the knot in January 2014 in Riviera Nayarit, Mexico's Grand Velas report with a massive wedding party of 18 friends and family.
After the wedding, they chose to combine their last names Vega and Pena, and both changed their names to PenaVega.
Last year, the two appeared together on ABC's "Dancing with the Stars" and Carlos PenaVega went on to appear in FOX's live telecast of the classic rock 'n' roll musical "Grease" as Kenicke.
The two also teamed up for Lexlos, a blog and clothing show through which they hope to encourage and inspire others.
"Lex and I love working together, so we are always looking for excuses to continue that," he told Fox News Latino in January. "For us, our faith is everything. It is the foundation of who we are. We just want to be a light for people. God has given us such an incredible platform and we want to use that in every way that we can to inspire and encourage people."
Alexa PenaVega was previously married to film producer Sean Covel.