Alejandro Iñárritu, 'Revenant' director, to receive special Oscar for virtual reality installation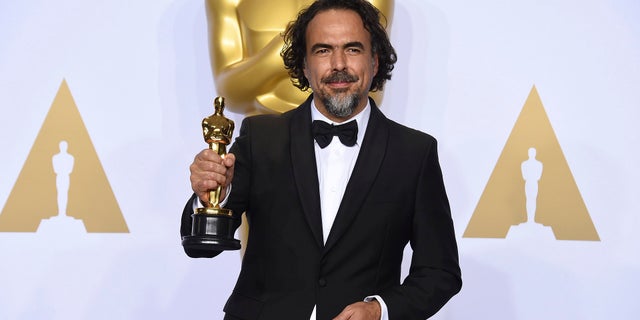 An Academy Award-winning Hollywood director will receive a special Oscar for his virtual reality installation focused on the travels of refugees and immigrants, the Academy's board of governors announced Friday.
Alejandro Iñárritu and cinematographer Emmanuel Lubezki will receive a special Oscar for "CARNE Y ARENA," a virtual reality installation "in recognition of a visionary and powerful experience in storytelling," the board said.
ASHLEY JUDD SAYS SHE FEARED WEINSTEIN WOULD RAPE HER SO SHE MADE A 'DEAL' WITH HIM
Currently on display at the Los Angeles County Museum of Art (LACMA), "CARNE Y ARENA" tells the story of immigrants and refugees as they make their way across the American southwest desert.
In the six and a half minute experience, "the superficial lines between subject and bystander are blurred and bound together, allowing individuals to walk in a vast space and thoroughly live a fragment of the refugees' personal journeys," according to the LACMA's website.
Iñárritu said he met with Mexican and Central American refugees who helped him create the backbone of the project.
'SEX AND THE CITY' STAR KIRSTIN DAVIS GIVES HOPE FOR A THIRD MOVIE
"My intention was to experiment with VR technology to explore the human condition in an attempt to break the dictatorship of the frame, within which things are just observed, and claim the space to allow the visitor to go through a direct experience walking in the immigrants' feet, under their skin, and into their hearts," Iñárritu said on the site.
Iñárritu is best known for directing movies like "Birdman" and "The Revenant," the latter of which nabbed him an award for best director in 2016.
The award will reportedly be presented at the Academy's 9th Annual Governors Awards on Nov. 11.