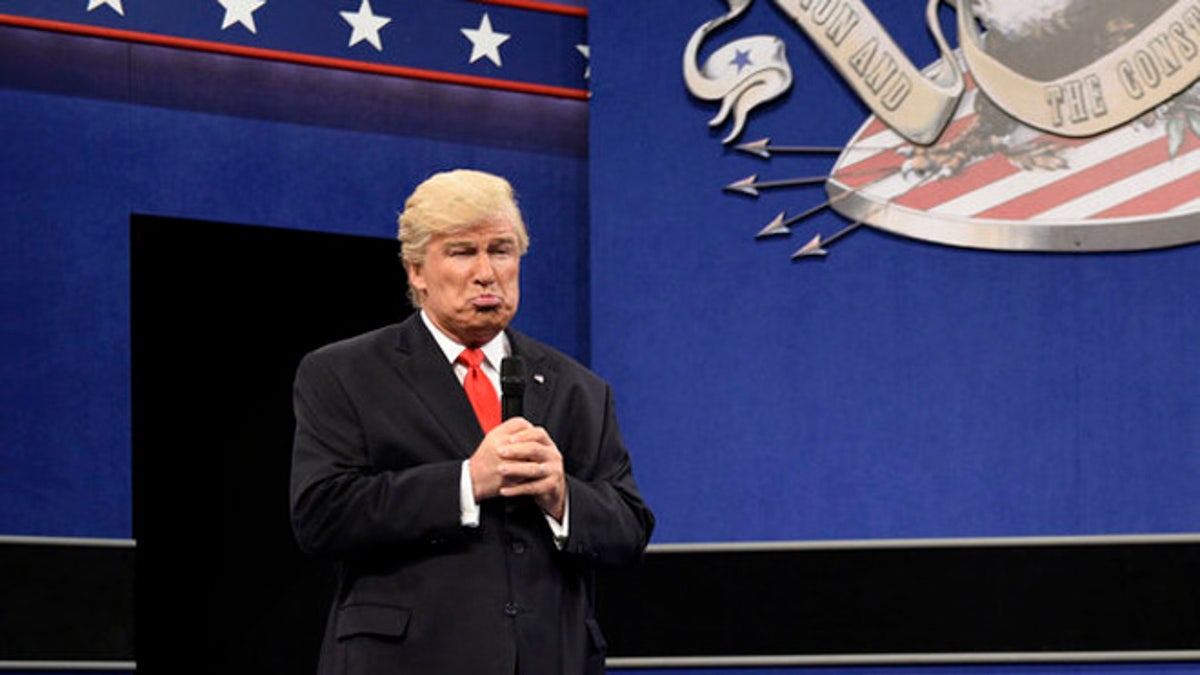 Alec Baldwin made his return as Donald Trump on "Saturday Night Live" over the weekend for the first time since the election.
Baldwin kicked off "SNL" with a cold open examining the busy schedule Trump faces as he begins his transition into the White House, and how his many campaign promises might prove to be more difficult than he previously anticipated.
After taking meetings with several of his campaign supporters who were really excited to hear Trump's plans for some of the country's biggest problems including his ideas for defeating ISIS and bringing "every job" back to America -- he got a visit from "SNL" alum Jason Sudeikis as Mitt Romney, who's being considered for the position of Secretary of State.
WATCH: Alec Baldwin Will Be Back as Trump on 'Saturday Night Live' This Weekend, But 'Not All That Often' After That
After shaking hands for an incredibly long and uncomfortable stretch of time, Romney and Trump came to the same conclusion.
"This isn't going to work, is it?" Sudeikis' Romney asks.
"I don't think so," Trump replied and the two parted ways.
WATCH: Alec Baldwin Reacts to Donald Trump's Presidential Win: 'He's All Yours, America'
The highlight of the sketch came in the flustered and almost traumatized expressions on the face of Trump's campaign manager, Kellyanne Conway -- played brilliantly by Kate McKinnon who previously appeared opposite Baldwin as Hillary Clinton.
"I just want to thank you for all you've done," Baldwin's Trump shared. "I wouldn't be president without you."
"I think about that every day," McKinnon's shell-shocked Conway replied.
Trump later met with his vice-president-elect, Mike Pence, played by Beck Bennett, who he referred to as "the reason I'll never get impeached."
WATCH: Alec Baldwin's Donald Trump Impression Is Banned at Home by Wife Hilaria: 'We Leave Trump at 'SNL'
Trump also asked Pence how his recent visit to "Hamilton" went. He jokingly replied, "It was good. I got a free lecture," referencing the recent headline-making moment when the hit Broadway show's cast directly addressed Pence in the audience.
After breaking down all the challenges a clearly reluctant Trump will be facing over the first four years of his presidency, Trump sought some reassurance, asking Pence, "Mike, you're going to do everything, right?"
"Yes, sir," Pence said supportively before the two embraced to deliver the show's iconic opening line, "Live from New York... It's Saturday night!"
WATCH: Alec Baldwin Opens Up About Playing Donald Trump on 'SNL': 'He's Not Somebody I Admire'
While Baldwin reprised his role as Trump this weekend, he recently revealed to Vanity Fair that fans won't be seeing him nearly as often as they have been.
"I'm going to do it again this weekend, but not all that often. There was a lot of things online that was said about it -- like why didn't I do it after the election?" the 58-year-old actor explained. "I was booked that weekend. Not even other jobs; we have things to do. It crashes every weekend."