Adult film star Stormy Daniels cancels scheduled appearance on ABC's 'The View'
Adult film star Stormy Daniels has canceled an appearance on "The View" that was scheduled for Thursday on the heels of a guest panelist mocking her on the ABC morning show.
"Stormy Daniels was supposed to be coming on 'The View,' we are not sure that's happening anymore," co-host Whoopi Goldberg said on Wednesday's show.
An ABC spokesperson confirmed that Daniels canceled the appearance.
Last week, HLN host S.E. Cupp appeared as a guest panelist on "The View" and criticized the media for being interested in the adult film star.
"Stormy Daniels, she's cleaning up," Cupp said. "She's making a ton of money. Her career is revived. She's just playing the hand she was dealt. No problem there. What bothers me, though, in giving her this platform — you know, Monica Lewinsky was also caught having an affair with the president. Who's going to interview her? I'd love to see someone interview her."
While ABC did not provide an official reason for the sudden cancellation, Goldberg specifically discussed Cupp's comments when reporting that Daniels' appearance was in question.
[Cupp] gave her opinion and that's what the show is," Goldberg said. "You can't really say you're not going to come on because of that… I don't personally care."
Daniels, whose real name is Stephanie Clifford, earlier this week denied her reported affair with President Donald Trump that allegedly occurred more than a decade before he was elected to the White House.
"I am not denying this affair because I was paid 'hush money' as has been reported in overseas owned tabloids. I am denying this affair because it never happened," Clifford said in the letter provided to Buzzfeed News on Tuesday. Her attorney confirmed to The Associated Press that his client's signed statement was authentic.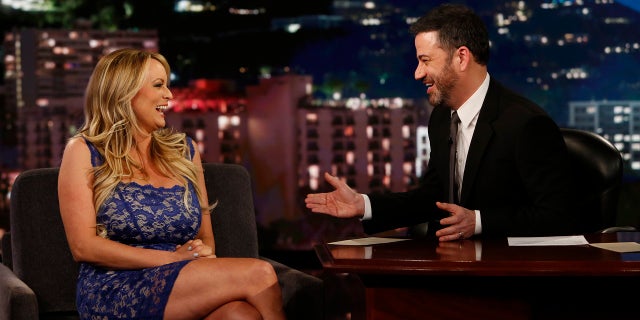 Daniels has been on a publicity tour in recent weeks amid news of the alleged 2006 tryst with the president and she appeared on ABC's "Jimmy Kimmel Live!" on Wednesday night following Trump's State of the Union address.
Kimmel even took a shot at Cupp, pointing out that he's interviewed Lewinsky multiple times.
"Put that in your S.E. Cupp and smoke it," he joked after playing a montage of Lewinsky's appearances.
Despite Kimmel's best efforts, Daniels didn't answer any specific questions about the alleged affair and now "The View" won't have a chance to grill her.
Fox News' Tyler McCarthy contributed to this report.