Adam Sandler returns to 'SNL' with emotional tribute to Chris Farley
Adam Sandler returned to "Saturday Night Live" this weekend with an emotional tribute to his late friend and co-star Chris Farley.
The 52-year-old host returned to the 30 Rock stage for the first time since NBC fired him in 1995 — an incident the comedian sings about in the opening monologue — and closed out the show with a song to honor Farley, who died of a drug overdose in December 1997 at age 33.
'SATURDAY NIGHT LIVE' ALUM CHRIS KATTAN CLAIMS HE BROKE HIS NECK DURING SKETCH, LEADING TO DRUG ADDICTION
Sandler picked up a guitar and referenced many of Farley's hit characters and sketches, including motivational speaker Matt Foley, the risqué Chippendales dance with Patrick Swayze and "Gap Girls." The "Billy Madison" actor also mixed in some of his personal memories of Farley.
"He was a one-man party, you know I'm talking about, I'm talking about my friend Chris Farley," Sandler sang.
He shared how Farley wasn't worried when friends would warn him he'd end up like John Belushi, an "SNL" alum who died of a drug overdose, and John Candy, a comedian whose lifestyle of heavy smoking and drinking may have contributed to a fatal heart attack.
"He said, 'Those guys are my heroes, that's all fine and dandy,'" Sandler sang.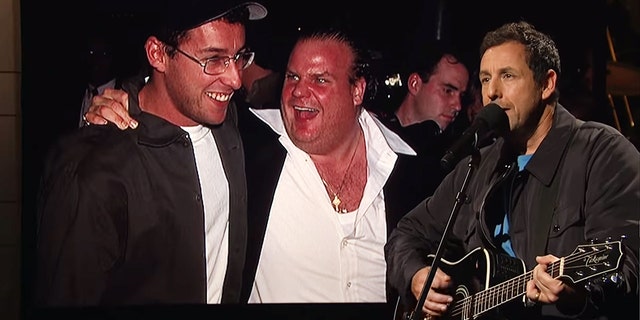 Sandler also touched on Farley's relationship with his father, singing how he found his late friend crying as he listened to a song by KC and the Sunshine Band that reminded him of his dad. The first-time "SNL" host concluded the song with Farley's legacy, singing that his kids laugh at old clips of Farley and the movie "Tommy Boy."
CLICK HERE TO GET THE FOX NEWS APP
"And when they ask me who's the funniest guy I ever knew, I tell them hands down, without a doubt, it's you," Sander sang.
Sandler, who had originally performed the song on his Netflix special "100% Fresh," also reprised his character "Opera Man" during the show's "Weekend Update" segment to cheers and laughter from the audience.