Aaron Rodgers apparently skips Christmas with family amid feud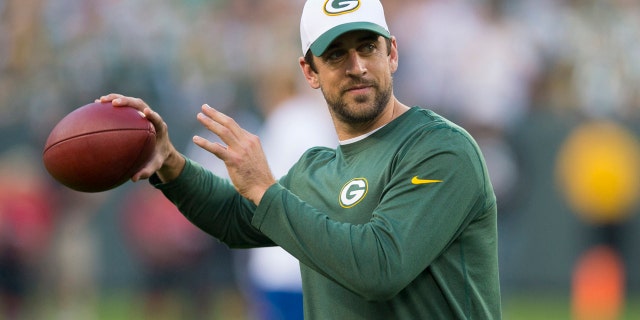 NEWYou can now listen to Fox News articles!
Old Man Winter's frostbite has got nothing on the icy rift within Aaron Rodgers' family.
Over the holidays, the older and younger brothers of the Packers quarterback, Luke and Jordan Rodgers, shared a series of festive snaps on social media, from which Aaron, 34, was noticeably absent.
"It begins… #christmas #gatlinburg #family," Luke wrote on Instagram alongside a photo of Jordan, 29, with "Bachelorette" fiancée JoJo Fletcher, and parents Ed and Darla.
SEC analyst Jordan later posted a comical shot on Christmas Day, in which the Rodgers men wore beer-belly fanny packs.
"You know you're family when you all have the same idea for Christmas presents (and same face for the photo @thelukerodgers) Bellies Out! Merry Christmas #bellyfannypacksarein#ithink," Jordan wrote Monday.
Aaron's relationship with the close-knit Rodgers clan has been essentially nonexistent in recent years. Jordan discussed friction with his NFL sibling during his stint on Season 12 of ABC's long-running dating competition, and chatter surrounding the Rodgers family feud appeared to intensify after Ed spoke with the New York Times in January.
"Aaron has never wanted to air this out in a public forum. He's going through great precautions not to make this worse," a source close to Aaron told People earlier this year. "You're not going to see him on Oprah crying about all of this. He will deal with his family issues privately."
The quarterback's former girlfriend, actress Olivia Munn, was said to be at the center of familial tensions. But even after their split in April, it appears Aaron and the Rodgers kin have yet to mend fences.
"Aaron still hasn't been in contact with his family," an insider told US Weekly in June. "His mom, Darla, has reached out to him multiple times in the last few months, but hasn't heard back from him."
Jordan previously stated he hopes to have his family in attendance at his future nuptials.
"Absolutely. There's no scenario in which I wouldn't want my entire family at a wedding," Jordan said in 2016. "That's something all of our family wants and hopes for at some point."