50 Cent, James Gandolfini Come to Travelers' Aid After East Coast Blizzard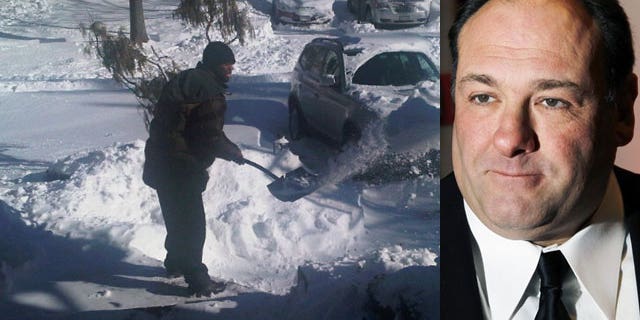 NEWYou can now listen to Fox News articles!
The wicked snowstorm that pounded the East Coast earlier this week managed to bring out the best in a few Good Samaritan celebs this week.
"Sopranos" star James Gandolfini came to the rescue of a stricken motorist in his New York City neighborhood Monday night, the New York Post reports.
The actor, who lives in the neighborhood, spent 45 minutes helping to dig and push out the stranger's car.
Gandolfini kept the holiday spirit going by popping into a local bar to break change of a $100 bill. He then passed out $20 bills to the other people who helped him to dig out the motorist.
According to the bar owner Phil Casaceli, Gandolfini was a "real gentleman."
But he wasn't the only star shedding his tough guy image to help folks out.
Rapper 50 Cent Tweeted his plans to earn an extra few bucks Monday.
"I'm going out to shovel snow and see if I can make me a few extra dollars today. I'm charging more if they want to take pictures," he wrote.
50 said he wanted $100 per house and managed to convince four neighbors to pay it. He also enlisted the help of some neighborhood kids for $30 an hour.
"One is a cute kid he has on a snow suit. So I'm sending him to ring the door bell to ask if we can shovel there snow… When you look at his eyes its hard to tell him no." he Tweeted.
"Then I come to tell them how much they have to pay us. Lol," he Tweeted.