4 recipes you can make with leftover candy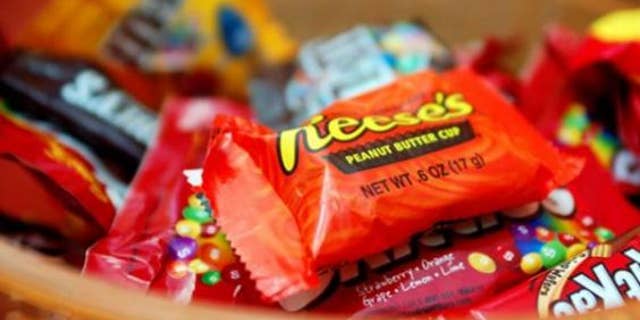 Have a ton of leftover Halloween candy? The Couple's Kitchen's James Briscione and Brooke Parkhurst transform those sweets into a meal for your family!
Peanut M&M's Pancakes with Maple Sauce
Serves 4
Ingredients
3 cups all-purpose flour
2 tablespoons baking powder
1 tablespoon salt
1/4 cup granulated sugar
4 cups milk or buttermilk
2 large egg
8 tablespoons (1 stick) unsalted butter, melted
vegetable oil or nonstick spray
1 cup crushed peanut M&M's or other chocolate candies
Maple Sauce (recipe follows)
Method
In a large bowl, whisk together the flour, baking powder, salt, and sugar.
In a separate bowl, whisk the milk, eggs, and melted butter together until thoroughly mixed. Pour this mixture into the dry ingredients and stir with a wooden spoon or spatula until just combined. Set the batter aside to rest for at least 30 minutes, up to overnight.
Place a cast-iron skillet or nonstick pan over medium-low heat and add just enough oil to cover the bottom. Pour some of the batter into the heated skillet, using a 1/4-cup measure as a scoop. When the batter is poured into the pan and has stopped spreading, scatter a spoonful of the crushed candies into each cake. Cook until bubbles form in the center and the edges are firm. Turn and cook about 2 minutes more.
Serve with Maple Sauce.
Maple Sauce
Ingredients
1/2 cup maple syrup
4 tablespoons (1/2 stick) unsalted butter
Method
Heat the maple syrup in a small saucepot over low heat until bubbling and slightly darkened in color. Cut the butter into small pieces and stir in gradually.
Excerpted from JUST MARRIED & COOKING: 200 Recipes for Living, Eating, and Entertaining Together. Copyright (c) 2011 by Brooke Parkhurst and James Briscione. Excerpted with permission by Scribner, a Division of Simon & Schuster, Inc
Malted Hot Chocolate
Serves 2
Ingredients
2½ cups milk
1 cup malted milk balls (Whoppers)
½ cup chopped chocolate bar or chocolate chips
Method
Combine the milk, malted milk balls, and chocolate in a saucepot. Bring the mixture to a simmer and gently stir until all ingredients are melted. Serve Hot.
Candy Bar Pumpkin Bread
Serves 6-8
Ingredients
3 cups all-purpose flour
2 teaspoons ground cinnamon
1 1/2 teaspoons salt
1 1/2 teaspoon baking powder
4 eggs
2 cups sugar
15 oz can pumpkin puree
1 cup vegetable oil
1/2 cup applesauce
1 cup chopped chocolate candy bar (like crunch, 100 grand or butterfinger)
Method
Combine the flour, cinnamon, salt and baking powder in a bowl. In separate bowl, whisk together the eggs, sugar, pumpkin puree, vegetable oil and applesauce until smooth.
Pour the liquid ingredients in to the bowl with the flour. Stir gently until just combined- a few lumps are ok. Stir in the chopped candy bar and transfer the mixture into a greased loaf pan.
Bake in a 350˚F oven for 1 hour, or until a pick inserted in the center comes out clean.
Butterfinger Fruit Dip
Serves 4-6
Ingredients
8 oz mascarpone cheese or Neufchatel cheese
1/4 cup milk
4 mini butterfinger bars, crushed
2 apples, cored and sliced
Method
Whisk together the cheese and milk until smooth. Add more milk as necessary to make the mixture smooth. Gently stir in the crushed butterfinger pieces.
Serve with sliced apples or bananas and berries on skewers.