2014 Emmys: Stephen Colbert slammed for laughing off fact he only employs one woman writer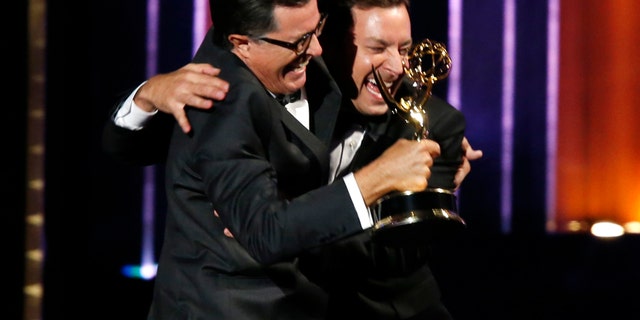 LOS ANGELES – Stephen Colbert's "The Colbert Report" may have won the Emmy for Outstanding Variety Series for the second consecutive year, but that doesn't mean it was all a smooth and sparkling night for the political satirist.
First of all, Colbert managed to be both John Travolta-ed and Kanye West-ed in the span of a couple of minutes.
Presenter Gwen Stefani messed up the pronunciation of his name – referring to the winning show as the "Colbort" report rather than the correct "Cole-bear" – something of a throwback to this year's Oscars ceremony when John Travolta embarrassingly called Idina Menzel "Adele Dazeem."
Colbert then took to the stage with his team to make an acceptance speech when fellow night time host Jimmy Fallon hijacked the microphone under the assumption there must have been an announcement mistake, a play on the 2009 MTV Awards when West rushed the stage to take the spotlight from Taylor Swift and insist Beyonce was the rightful recipient.
Colbert then managed to get a word in – but it seems his gender joke fell flat in the Twitterverse. After acknowledging that his writing team won the award for Outstanding Writing in a Variety Series at the Creative Arts Emmys a previous weekend, he declared with a concluding shrug:
"I'm so proud of those guys – and one woman… Sorry for that, for some reason."
Of Colbert's reported 19 show writers, only one is female. Given that gender equality remains a contentious issue in the entertainment industry, many were less than impressed.
"Time to improve gender ratio on the Colbert Report," one wrote, another noted that "that was cute that you apologized for having a single female writer then laughed at how silly it was," as others questioned if he was so sorry, why didn't he alter the statistic.
But with Colbert positioned to take over the "Late Show" when David Letterman retires within the next year, it's not likely the prominent personality will have the chance to make such a change on his current gig.
Many critics have accused Hollywood in general of waging its own war on women, with writers being particularly shut out.
The Writers Guild of America, West recently revealed that only 27 percent of television writers in 2012 were females and earned around 92 cents for every dollar a white male earned. According to Buzzfeed, only 26 percent of this year's Emmy nominees were women, which further illuminates the gender gap issue.
Follow @holliesmckay on Twitter.