10 free jokes for Oscar host Seth MacFarlane. You are welcome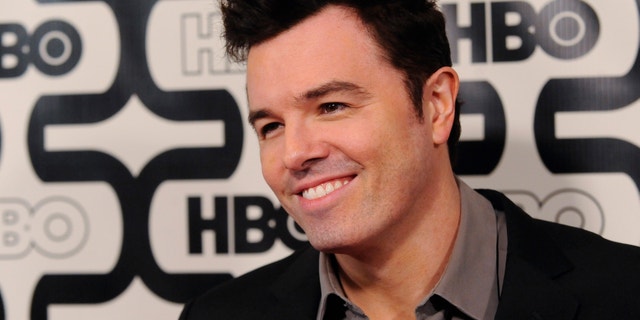 NEW YORK – For the past three years, I've written a series of special Oscar jokes for FOX 411. We have informed the Academy and offered the hosts our can't-miss lines for some guaranteed laughs at the Oscar show.
So far, the fools have not listened. And James Franco really could have used them.
But we haven't given up. "Family Guy" creator Seth MacFarlane is hosting the ceremony for the first time, so maybe he'll finally take us up on our generous offer.
So Seth – please see below and get ready to fire away. Remember, there's no harm in borrowing some great gags at a time like this. As you wrote in your Oscar-nominated song, "Everybody Needs a Friend."
If any of these make the Oscar telecast, you'll have a new friend. For life.
1. Good evening, and welcome to the 85th annual Academy Awards. Three hours of beautiful Hollywood stars, dazzling production numbers, fascinating fashion and lots of crying. If we had gotten Russell Crowe to sing, we could just call this "Les Miserables."

2. Speaking of "Les Miserables," what a great film it is. Consider Anne Hathaway's performance. She's forced to beg, give up her teeth, resort to prostitution and lose all dignity. Normally that doesn't happen until the movie is released and the Oscar campaigning begins.

3. This is going to be a very big night. If Daniel Day-Lewis wins Best Actor for his portrayal of Abraham Lincoln, history will be made. That's because it will mark the first time that Hollywood has actually voted for a Republican.

4. Then there's his co-star, Sally Field, celebrating her third nomination for playing Mary Todd Lincoln. It's funny, when she was offered the role of the often misunderstood first lady of a charismatic president who almost cost us the South, she thought she was being asked to play Hillary Clinton.

5. One of the biggest success stories of the year has got to be "Argo," which celebrates seven Oscar nominations this evening. It's about the rescue of six Americans during the Iran hostage crisis. But not everyone was happy about the film. Iranian President Mahmoud Ahmadinejad actually called the Academy to complain. Surprisingly, he wanted to complain about Ben Affleck's snub for Best Director.

6. Another one of our Best Picture nominees is "Silver Linings Playbook." It, too, has been met with some criticism. Many point to the age difference between stars Bradley Cooper and Jennifer Lawrence. Bradley is 38 and Jennifer is only 22. In other words, he's just way too young for her.

7. Also in "Silver Linings Playbook" is Robert De Niro, up for an Oscar for the first time in 21 years. It's been such a long time that when he was told about his nomination, he responded, "Are you talkin' to me?"

8. Tonight we welcome French actress Emmanuelle Riva to the Dolby Theatre, honored for her performance in "Amour." She actually turns 86 today. When she heard that the Best Actress field included both the oldest and youngest nominees in the category's history, she innocently asked, "Is one of those by chance me?"

9. One of my favorite films of the year was "Django Unchained," in which Quentin Tarantino goes back in time to fight against slavery. In his previous film, "Inglourious Basterds," he rewrote history to defeat the Nazis. For his next project, he wanted to go back in time to do something to help the gay rights movement. Unfortunately, a film version of "Dreamgirls" has already been done.

10. The controversial film "Zero Dark Thirty" is also nominated for Best Picture. Three hours of explosive confrontations, waiting to see what happens to Jessica Chastain, and accusations that it condones and even promotes torture. It sounds just like tonight's Oscar telecast.