Self-driving car caught on camera running red light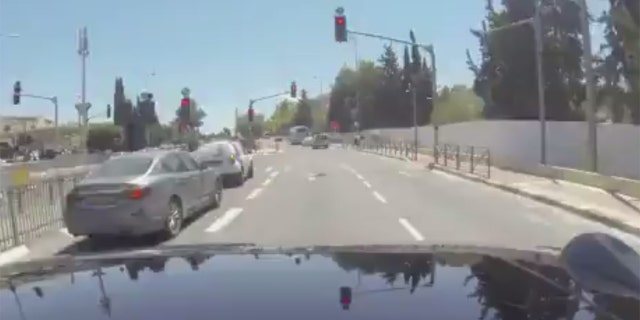 NEWYou can now listen to Fox News articles!
An self-driving car prototype failed in dramatic fashion last week when it ran a red light in Jerusalem with a TV news crew on board.
The Ford Fusion built by Intel-owned Mobileye was nearing the end of a successful demonstration run, News 10 reports, when the light turned red and it cruised right through the intersection with the cameras rolling.
Three women can be seen waiting at a crosswalk as the car passes by with the safety driver behind the wheel not appearing to take any action to correct the mistake.
According to News 10, the Israeli company said that a GoPro the cameraman had attached to the car interfered with the car's sensors.
"It was a very unique situation," Mobileye Chief Executive Officer Amnon Shashua told Bloomberg News. "We'd never anticipated something like this."
Shashua added that the company is taking steps to better shield the equipment from electromagnetic radiation.
Mobileye was purchased by Intel last year for over $15.1 billion and supplies cameras to many of the world's major automakers for use with their production semi-autonomous automatic emergency braking and lane-keeping assist systems.
The company also famously ended a collaboration with Tesla in 2016, claiming that it didn't think the automaker was using the technology in a safe manner with its Autopilot feature. Tesla, however, said the breakup happened when the supplier learned that it was developing its own camera system in-house.
In a blog post earlier this year, Shashua wrote that Mobileye's software would have spotted the pedestrian that was struck and killed by a self-driving Uber prototype vehicle in Tempe, Ariz., in March.