'Irresponsible' autonomous school bus test in Florida shut down by feds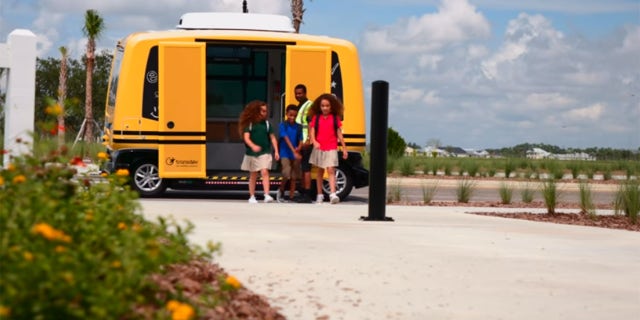 The federal government shut down an "irresponsible" self-driving school bus in Florida this week after it determined it was being operated in "direct violation" of the terms of the project's approval.
The shuttle bus, developed by the French company TransDev, was being used in Babcock Ranch, a planned "sustainable city" outside of Fort Meyers.
According to the Jacksonville Business Journal, the bus had been in operation for five weeks, transporting a safety monitor and five children, with permission from their parents, on a short three-block route at low speeds.
In a press release, the National Highway Traffic Safety Administration (NHTSA) said the use was outside of the company's temporary import approval for testing and demonstration purposes.
"School buses are subject to rigorous Federal Motor Vehicle Safety Standards that take into account their unique purpose of transporting children, a vulnerable population," the release said.
"Innovation must not come at the risk of public safety," added NHTSA Deputy Administrator Heidi King. "Using a non-compliant test vehicle to transport children is irresponsible, inappropriate, and in direct violation of the terms of Transdev's approved test project."
TransDev told the Journal that it immediately discontinued the program, but "believed it was within the requirements of the testing and demonstration project previously approved by NHTSA."
"Transdev does not – nor would ever – sacrifice safety for progress and is fully committed to compliance with all relevant regulations," it said.
The shuttle has also been tested on a closed track run by the Jacksonville Transportation Authority near TIAA Bank Field, home of the NFL Jaguars.