Interview: Henrik Fisker on Fisker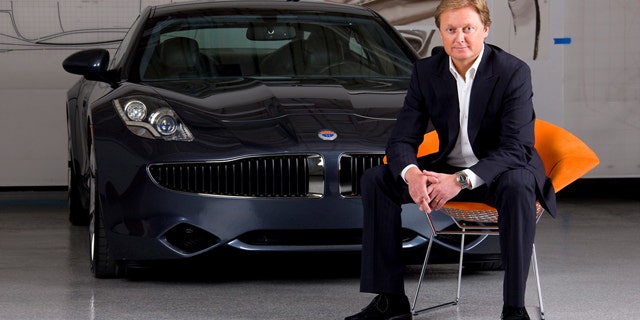 America's newest car company, Fisker Automotive, is officially in business. Its long-awaited Karma plug-in hybrid sports sedan now being delivered to customers nationwide. But its birth came with some controversy.
Prior to EPA approval, Fisker said the car would be able to travel up to 50 miles per charge, before a small gasoline generator kicked in to power it over longer distances, and deliver the equivalent of 100 mpg. In October, the federal agency gave the Karma a rating of just 32 miles per charge and a combined fuel economy equivalent to 52 mpg. It also determined that the sedan gets just 20 mpg when operating in extended range mode.
The results were fodder for critics of the startup company, which has received $529 million in federal loans to help build the Karma and develop a smaller, high volume model known as the Nina, which is expected to sell for less than $50,000.
FoxNews.com asked company founder Henrik Fisker what the numbers mean to him and how they have impacted his plans for the future of the brand.
Are you disappointed with the Karma's EPA ratings?
We designed a car that is for daily commutes and that you charge every day. The less you use the gasoline engine the better mpg. Essentially, the Karma can achieve dramatic savings and low CO2 output when used as intended, as a daily commuter.
On longer trips (over 100km/60miles) which for most driver are occasional, the fuel economy gets closer to a "normal" hybrid, although still remains among best in its class. This will give most consumers a "real world" fuel economy that, by far, exceeds any competitor. Bottom line, we have a new technology that all international certification agencies need to get familiar with, that's why the US and EU got very different numbers - 52 mpg versus 112 mpg equivalency, and range 32 miles versus 51.7 miles.
How will this affect the way that you market the car moving forward?
The results that we have from the EPA, and the TUV in Europe are very disparate, which shows just how difficult it is to truly measure this new technology in normal everyday settings. We believe that there are many buyers who want a stylish, sporty car that sends a positive message about their concern for the environment as they drive it down the street. Again, with a driving style fitted for our car, you can get better mileage than a Toyota Prius.
Has anything you've learned developing the Karma changed the way you are approaching your next model, Project Nina?
Absolutely. The Fisker Karma has been an engineering test bed for us over the past 3 years. We have improved not only the technology in Karma during this period but have looked at the next generation of that technology as we prepare for Project Nina. We intend to stay ahead of traditional manufacturers with our EVer (Electric vehicle with extended range) development.
If gasoline prices stay at the level they are currently at, do you still think there is enough demand to sell 100,000 $40-$50,000 compact extended-range electric sports sedans each year?
Remember, Fisker Automotive is an American company with a global footprint. We intend to export over 60% of our Project Nina production from our Wilmington, Delaware plant to Europe and Asia, We believe there will be great demand for this type of vehicle in those markets. Our cars compete with all current cars in their segment, unlike pure EV's that only compete in a smaller EV segment. Furthermore, our cars are 4 door sport Sedans for everyday use, that will be emphasized even more with the project Nina.
When do you think you'll be able to open a press conference with the words "Today we made the final payment on our loans from the Department of Energy…"?
As soon as we possibly can, we are already paying back the DOE.
What kind of car did you drive to work today?
A Fisker Karma of course. I have a 100 mile round trip commute on some of the nations' busiest roads and enjoy every minute of it. It's great to experience the smoothness and power of electric driving every day. I decided on purpose to move further away from my job, so I could have a 2 hour daily test drive.