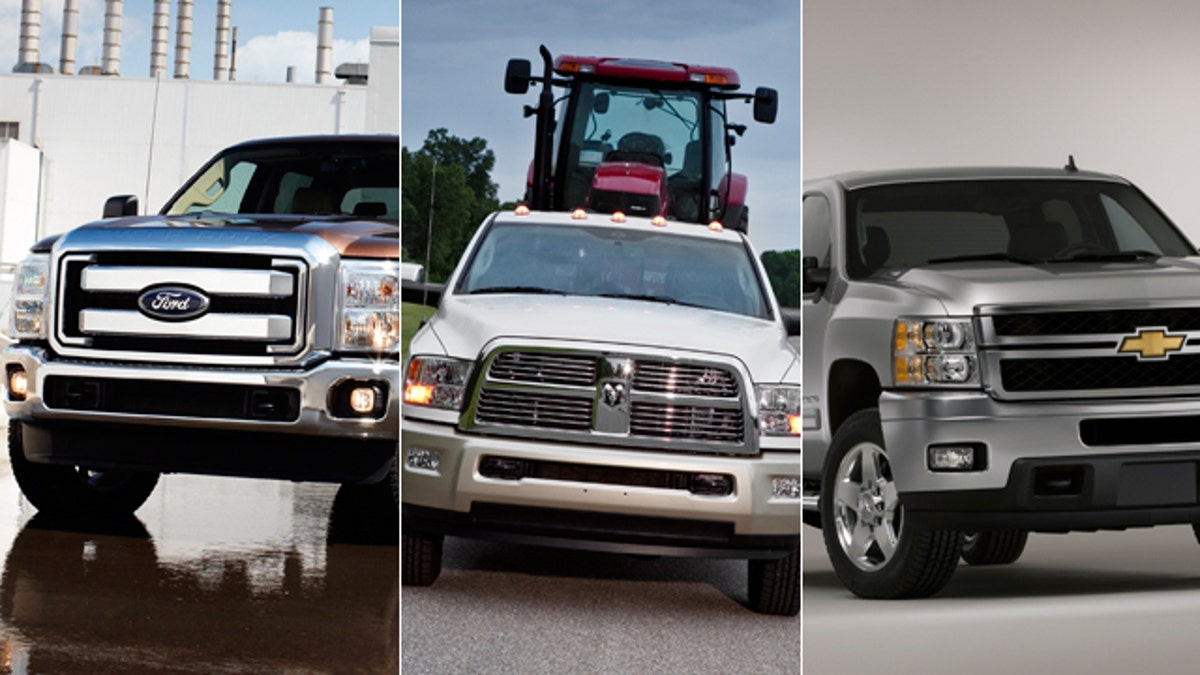 You hear them from a few blocks away. The chandelier shakes in your dining room. Kids duck behind garbage cans. The asphalt in your driveway starts to flex and fissure.
That's right: heavy duty trucks are built for serious commercial work. You can pull your camper with a Ford Taurus, sure, but it takes something a bit more muscular to transport, say, an entire modular house. Steel-reinforced truck beds, cables that you can latch onto your nail gun, and a roomy crew cab are just the beginning. A powerful long-haul diesel engine, massive front suspension that can roll over a log, and a fifth-wheel hitch from the factory? Now we're talking serious trucks.
Over the past few years, the three major truck companies -- Chevy, Ford, and Ram -- have laid claim to the best towing capacities, payload, and tech features in the heavy duty segment. All have crowed about big-rig style exhaust braking as well, even though every one of them has it – although only Ford's works automatically.
Each of these heavy-duty models offers a few unique features for the discerning truck buyer. We drove the diesel versions because, frankly, they are a better buy considering the price of fuel these days, and due to the towing benefits. Which one is right for you depends on your needs – and your budget.
2012 Ford Super-Duty F-250 Crew Cab Turbo Diesel 4x4, $57,705
Ford is not messing around with the 2012 Super-Duty F-250. The brazen styling of this crew cab looks beefy in the front with massive headlights and grille. It's 104.9 inches wide (including mirrors) and 79.8 inches tall. But get this: Ford offers some of the best extra options for commercial crews.
For example, the truck bed has steel cables you can feed through your equipment and lock down for extra security. There's an RFID tagging option where you affix a barcode onto your gear and can then use a touchscreen display in the cab to make sure everything is loaded up. (This option is only available for Ford's Crew Chief telematics system for 2012 as part of a fleet management service.)
Ford is the only truck company that offers a fifth-wheel trailer hitch option that can be installed as a factory add-on, and it's designed by Ford. With other truck companies, the fifth-wheel hitch is an aftermarket part. And get this: the turbo-diesel 6.7-liter V8 engine, which runs at 400-horsepower and has 800-lb-ft of torque, is so well-engineered, you can use the Live-Drive PTO feature (unique to the F-250) to power a table-saw, generator or some other piece of electrical equipment.
Interior styling on the F-250 a bit ho-hum – there are no leather belt-buckles for stashing your gear like there is on the Ram 2500 Laramie Longhorn. You can also forget about a manual transmission (no big deal in this segment) and you'll need to re-fill the Diesel Exhaust Fluid every 3000-5000 miles to keep the emissions within spec. Maximum tow load with the fifth-wheel option is 21,900 pounds, a bit less than the competitors.
2011 Ram 2500 Laramie Longhorn Mega Cab Turbo Diesel 4x4, $55,615
What we like most about the RAM 2500 Laramie Longhorn is the styling. There's leather everywhere, and not the cheap kind: we're talking pure dark brown rawhide. And while the front of the truck lacks the hungry growl of the Ford F-250 or GMC Sierra, it looks like a semi in your rear view mirror.
Cab space is astounding, though. There's 164.25 cubic feet for passengers and gear – enough to make you feel like you are driving your living room. The rear seats let you stretch out, and recline 9 inches. Or, you can use that area as a storage space, but you have to move the seats forward.
One unique feature on this diesel is that you'll never have to fill the DEF (diesel exhaust fluid) tank because there isn't one. On other trucks, you have to add this liquid, at about $4 a pop, every 3000-5000 miles. The less-powerful engine, running at 350 hp with 800 lb-ft of torque, makes this more feasible.
Other perks in the 2011 model include a live television from Sirius TV (which is being discontinued in the 2012 version), available to rear passengers on a fold-down LCD screen. Ram is the only truck company that offers a six-speed manual transmission option in an HD truck. This helps for hill ascents and descents because you can time shifts with the RPM indicator for better control.
2012 Chevrolet Silverado HD2500 Diesel Extended Cab Diesel, $50,915
While the inside of the Ram 2500 Laramie Longhorn is strikingly plush and Texas-friendly, the outside of the Silverado HD2500 is more eye-catching – there's a "honeycomb" grill that screams "mighty machine of mayhem," and it looks bigger and meaner in person than you might expect from photos.
GM claims the best towing capacity of 23,000 pounds for both this model and the similar 2012 GMC Sierra Denali, using the 1-ton fifth-wheel trailer hitch. Important to note here that the towing capacity on the Ford F-450 is actually higher (24,500), but that's a 1.25-ton truck. The payload capacity on the Chevy Silverado is also the highest of the bunch, at 7,215 pounds. Chevy achieves this partly by using a high-strength-steel reinforced box, a feature that's not found on the Ford F-250 or Ram 2500.
Another small perk: the rear passenger doors on the Crew Cab open 170-degrees to help you load your gear. At 60 and 90 degrees, the door stays in position to avoid swinging shut. GM also offers an app for iPhone and Android phones for remote start, checking fuel level, and locking or unlocking the doors.
The truck is not entirely perfect. Only Ford offers a trailer sway control feature that works on the dual-tire version of the F-250; with the Silverado, it only works with single-wheel. The Ford also has a bigger engine and more torque. The Chevy has a 397-hp 6.6L Duramax diesel engine with 765 lb-ft of torque.
Can you go wrong with any of these trucks? Not really. But each offers a few extra features and perks that should match up well with the specific needs of HD truck buyers.