Formula One Coming to New Jersey?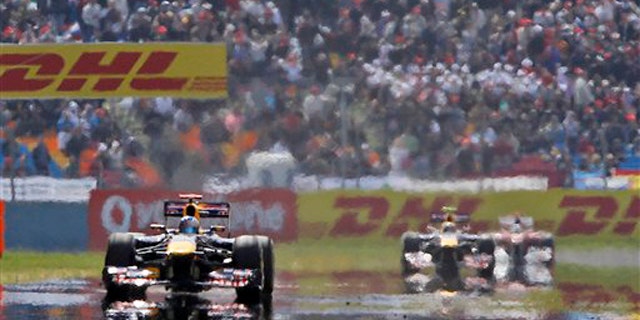 WEEHAWKEN, N.J. -- Formula One, the world's richest and most glamorous racing circuit, may be headed to New Jersey for an event in the shadow of the Manhattan skyline.
The mayors of Weehawken and West New York, N.J., said Tuesday that they are in early stages of talks with a group of investors led by Leo Hindery Jr., a former chief executive of the YES Network, to bring an F1 event to the area as soon as 2013. The race would run on existing streets in these cities, with New York as the backdrop.
The event would put the region in the company of Monaco, Montreal, Singapore and Shanghai, all of which host annual F1 events. Bernie Ecclestone, the head of F1, could not be reached for comment, The Wall Street Journal reported.
If approved, the proposed race would be a second US event for F1, which has announced an annual race in Austin, Texas, starting next year.
Weehawken Mayor Richard Turner and West New York Mayor Felix Roque suggested in a joint statement that the race could prove to be a lucrative annual source of income for the area. They said no tax dollars would be involved in staging the race.
"In these uncertain economic times when every direct and indirect revenue source is vital, our own Formula One race could be a very positive boost to our citizens," the mayors said. "This said, we need to ensure that the financial benefits from the privilege of having these races in our towns are equitably shared and that no tax dollars are used. The investor group has already told us that our towns would be substantially compensated annually."
There were discussions last year about bringing an F1 race to Jersey City, N.J. So far, the difference between that failed initiative and the new one is that public officials appear to be on board.
Last year, Destination Jersey City, an organization operated by the city's economic-development department, created a proposal to hold an F1 race at Liberty State Park, near the Statue of Liberty. Government officials quickly objected to the idea amid public protest, with Jersey City Mayor Jerramiah Healy saying the event was not suited for the park.
Representatives of Weehawken and West New York have had preliminary talks with Gov. Chris Christie's administration about the new proposal, according to Kevin Roberts, a Christie spokesman. "The prospect of having Formula One come to New Jersey is exciting," he said.
This season's 19-race F1 calendar includes events in Australia, Asia, Europe and South and North America.
The one place that F1 has not had a steady foothold historically is in the US. Numerous localities across the country have held F1 races over the past half century, including Watkins Glen, N.Y., Detroit, Dallas and Phoenix. Most faced attendance problems or track difficulties. The last US F1 race took place in Indianapolis in 2007.