FBI: Noose found in Bubba Wallace's NASCAR garage was there since last year
The FBI has determined that a noose found in NASCAR driver Bubba Wallace's garage at Talladega Superspeedway on Sunday had been there since at least last year, according to the bureau.
A statement issued by U.S. Attorney Jay E. Town said that an investigation has concluded that no federal crime was committed.
"The FBI learned that garage number 4, where the noose was found, was assigned to Bubba Wallace last week. The investigation also revealed evidence, including authentic video confirmed by NASCAR, that the noose found in garage number 4 was in that garage as early as October 2019," the bureau said. "Although the noose is now known to have been in garage number 4 in 2019, nobody could have known Mr. Wallace would be assigned to garage number 4 last week."
Further details were not immediately released. The FBI said no charges would be pursued in relation to the incident.
"The FBI has completed its investigation at Talladega Superspeedway and determined that Bubba Wallace was not the target of a hate crime, NASCAR said in a release after the findings. "The FBI report concludes, and photographic evidence confirms, that the garage door pull rope fashioned like a noose had been positioned there since as early as last fall."
Wallace -- the only full-time African-American driver on the circuit -- had become a target for some critics of NASCAR in recent weeks as the face of the series' response to the current social justice movement taking place across the country and its decision to ban the Confederate flag from its events.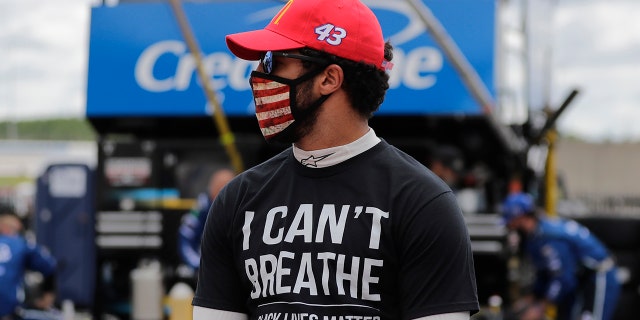 The entire NASCAR family showed its support for him in the wake of the discovery of the noose, with all of his fellow drivers and their crews standing behind him in pit lane before the Geico 500 on Monday as the invocation was given and the national anthem played.
"The pre-race deal was probably one of the hardest things I've ever had to witness in my life," an emotional Wallace said after the race.
NASCAR President Steve Phelps said during a news conference call Tuesday that he had been disturbed to think that a member of NASCAR was behind such an act and that it was "fantastic to hear from the FBI definitively that there was not a hate crime."
Addressing allegations that have been circulating on social media that the noose was left as a publicity stunt, Phelps said that Wallace's team had nothing to do with it, and that the evidence is clear that it was there at the time of the previous Cup Series race in the fall.
Phelps said that NASCAR is continuing its own investigation to find out how the noose came to be there.
Wallace did not immediately comment on the result of the FBI investigation.