Dodge Challenger wrecked in front of car museum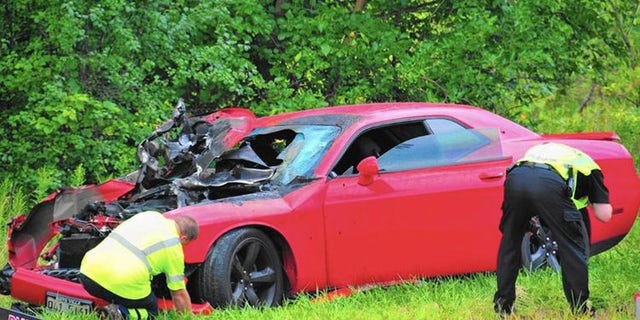 Usually it's the cars in the museum that get the attention.
A Dodge Challenger crashed just outside the Volo Auto Museum near Chicago last week, its driver losing control while being pursued by police.
A museum photographer, who happened to be outside snapping some shots, caught the aftermath on camera.
DODGE CHALLENGER SRT HELLCAT WRECKED AFTER JUST 18 MILES
According to police, the red coupe had just been clocked doing 84 mph in a 55 mph on the highway and was weaving in and out of traffic in what appeared to be an attempt to evade the patrol car that spotted it.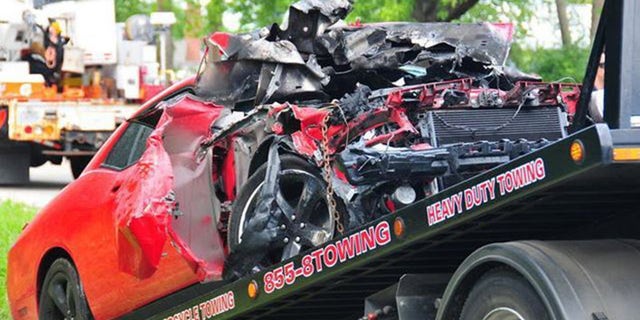 The driver, identified as 22-year-old Dakota Eckmann, then left the main road and smashed head-on into a utility while negotiating a curve across the street from the museum, the Chicago Tribune reports. The photographer, Rick Schultz, says police got Eckmann out of the car just as it began to smoulder. According to police, he'd had the used muscle car car for only about two weeks.
AUTOMOTIVE NEWS SAYS THE DODGE CHALLENGER SRT DEMON SHOULD BE BANNED
Eckmann was taken to a local hospital with non-life threatening injuries. Police found drug paraphernalia in the car that they believe he may have been using while driving. He was charged with several offenses, including reckless driving and passing on the shoulder, while police said a DUI charge was pending the results of a blood test.
The Volo Auto Museum houses several actual and tribute movie cars, along with a number of cars previously owned by the rich and famous. It also buys and sells classic and notable used cars. It currently has a custom Challenger convertible in inventory, if you happen to need to replace your Dodge soon.
DODGE CHALLENGER SRT HELLCAT TEST DRIVE: