An infamous Mercedes-Benz used by Adolf Hitler to be auctioned in Arizona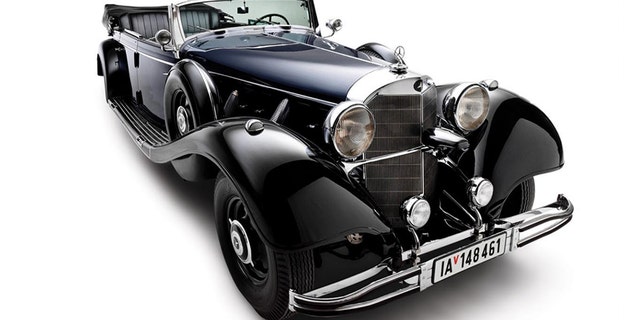 A Mercedes-Benz that was used to shuttle Adolf Hitler around Nazi Germany will be auctioned in Arizona early next year and could be worth millions, if anyone steps up to bid on it.
The 1939 Mercedes-Benz 770K Grosser Offener Tourenwagen's anonymous owner will offer the car to bidders at the Worldwide Auctioneers event in Scottsdale on Jan. 17, during the city's annual classic car extravaganza.
While any Nazi symbols on the vehicle were removed long ago, the ghosts of its past remain.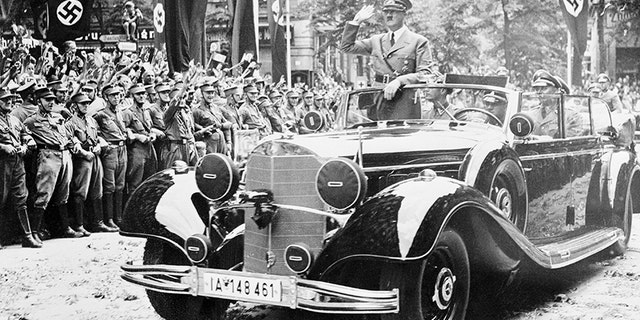 The imposing, four-door convertible "Super Mercedes" is one of a handful of cars used by the German High Command that have a well-documented connection to Hitler himself, including parading him through Berlin after the defeat of France in 1940 and after the invasion of Yugoslavia and Greece in 1941. Benito Mussolini also got a ride in it during a visit to Germany.
The partially-armored car eventually fell out of this use and turned up in France, where it was captured after the war by American forces who, no doubt unaware of its notoriety, assigned it to a military police motor pool for several months.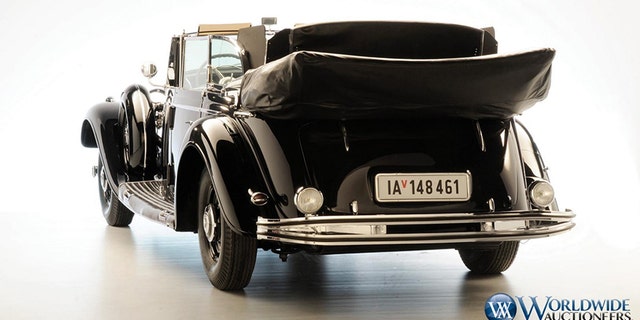 In 1946, the car found its way into private hands in Belgium, and three years after that, an American tobacco merchant purchased it and donated it to the Greenville, N.C., branch of the Veterans of Foreign Wars. Ironically, like many other vehicular trophies from the war, it was rolled out for patriotic parades, according to Robert Klara, author of "The Devil's Mercedes: The Bizarre and Disturbing Adventures of Hitler's Limousine in America," which chronicles the controversial legacy of this car and others from the Fuehrer's fleet.
The car later sat for years in a garage and had been nearly forgotten in 1976 when collectors Steve Munson and Joe Ogden purchased it for $50,000. When they discovered its possible ties to Hitler, they spent another $50,000 to restore it.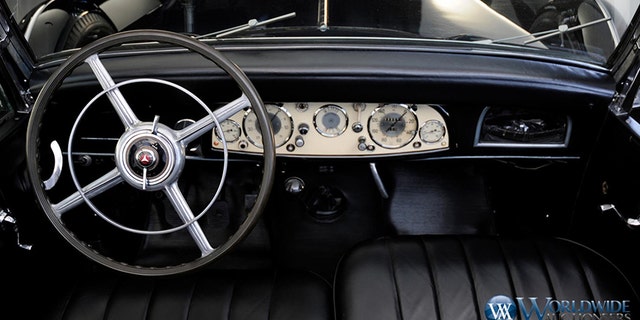 Munson and Ogden publicized the car and displayed it in several venues before it was sold twice more for unknown amounts. (One of the sales was rumored to be on the order of $1 million). In 1983, it found a home at the Imperial Palace Collection in Las Vegas, an enormous car museum owned by Ralph Engelstad, a casino operator. Engelstad had a private room full of Nazi relics in which he held Hitler-themed birthday parties that got him slapped with a $1.5 million fine from Nevada gaming authorities.
After Engelstad died in 2002, the car and several other Mercedes from the collection were sold to a European collector. It was sold again in 2009 to an anonymous buyer known only to be a wealthy Russian businessman, who displayed it briefly in a Moscow car museum to celebrate the Russian-led Soviet Union's role in defeating the Nazis.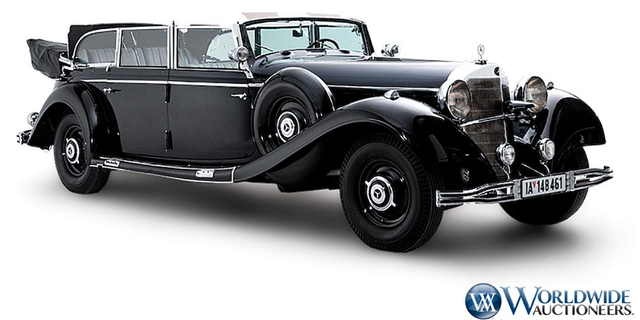 Michael Fröhlich, the German car dealer who brokered the sale, would not confirm how much the Russian businessman paid for the car, citing confidentiality stipulations. But to the best of his knowledge, he said, it hasn't been sold since.
Now it likely will be — and in the same city where what turned out to be a phony Hitler-linked Mercedes was sold amid protests and bomb threats for a then-record $153,000 in 1973.
Ken Jacobson, deputy national director of the Anti-Defamation League, said the organization isn't so much concerned about next month's auction itself as it is about what will happen to the car afterward.
MORE CLASSIC CAR NEWS FROM FOX NEWS AUTOS
"We understand there is a market for war memorabilia and that serious collectors are interested in items like this," Jacobson told Fox News. "While we don't have an issue with Nazi-era automobiles like this going up for auction, we would not want to see the vehicle winding up in the hands of someone who would use it to glorify Hitler or the deeds of the Nazis. Ideally, we would prefer to see it housed in a museum, so that it could be understood in its proper context."
Klara agrees. He said the car is a legitimate World War II timepiece, but it's also a "socially radioactive one that needs to be handled in a historically responsible way, because there isn't anyone who doesn't have an opinion on a car like this….
"The onus is on the owner to present it in a correct, culturally sensitive context. That's the job of a museum, but a tougher task for a private collector."
Just how much the car will sell for remains to be seen. One of America's most prominent classic car valuation experts, who asked to remain anonymous, said a Mercedes-Benz like this is likely worth $5 million to $7 million, but this one, given its historical significance, could sell for double that.
Whatever it goes for, the auction house said the seller has promised to donate 10 percent of the proceeds to an unidentified organization dedicated to Holocaust education.