Jaguars have always been known for their long hoods, and the luscious, often loud engines that they cover. Even the automaker's initial foray into SUVs, the F-Pace, followed this formula. Not so its latest.
It's called the I-Pace, and it's not only Jaguar's first electric vehicle, but also the first battery-powered luxury model to take on Tesla since the Model S went on sale six long years ago.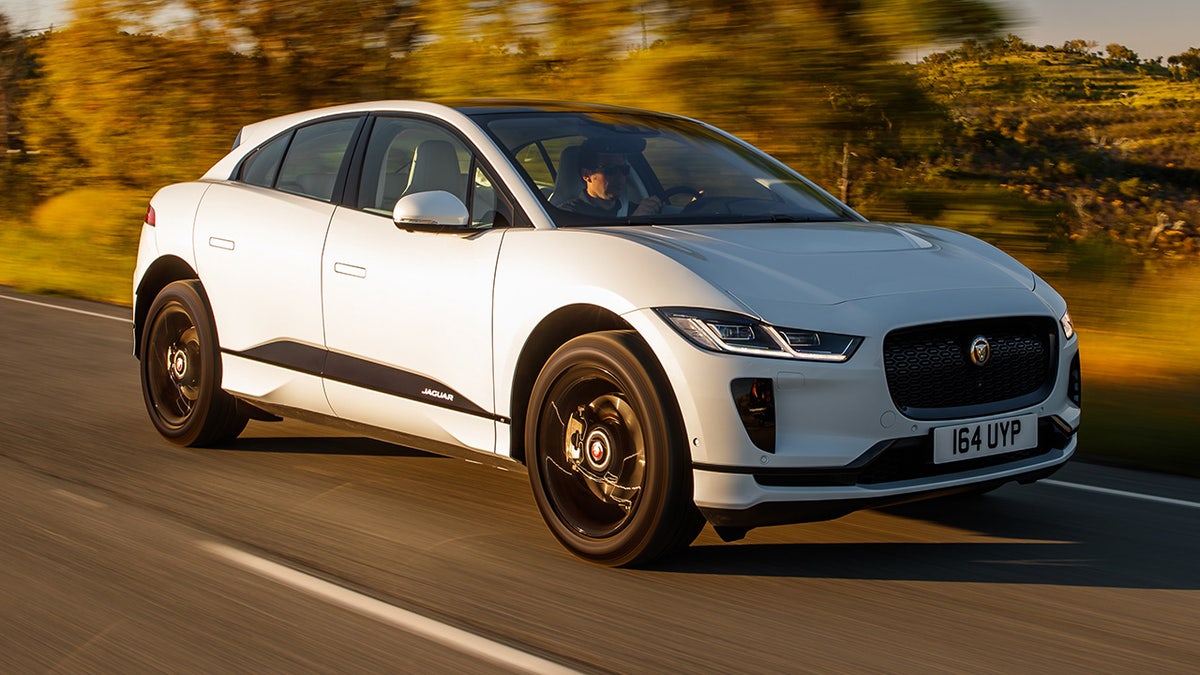 Instead of Jaguar's familiar, not really feline profile, the compact SUV features what's called a cab-forward design. It has a stubby nose and a short tail, but still manages to come across as sleek and muscular. The shape was made possible by the all-wheel-drive electric powertrain, which has a motor up front, another at the rear and a battery pack in the floor between them.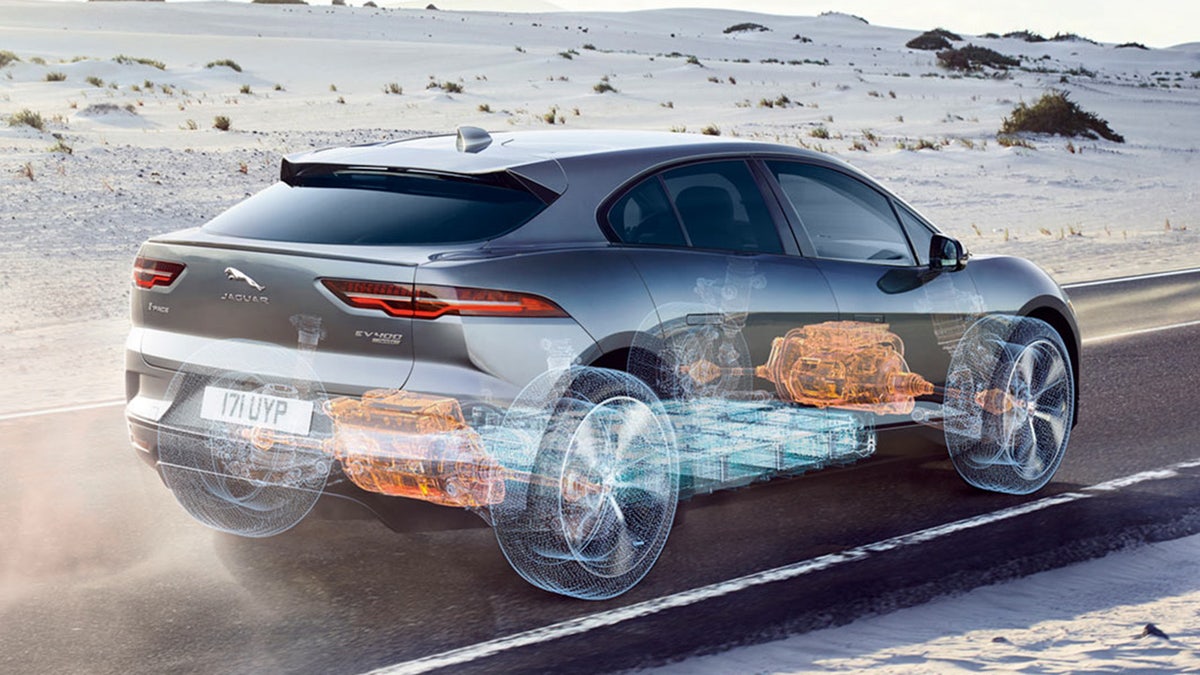 "I didn't set out to do something different, I set out to do something right," Jaguar Design Director Ian Callum told me of his team's creation.
He had them take advantage of the platform they were presented with to create a spacious and elegantly-appointed passenger compartment sitting on top of a relatively small footprint. The bulging fenders? Well, it is still a Jaguar.
To that end, the I Pace is a powerful car. Not ludicrously so like some Teslas, but with its V8-like 394 hp and 512 lb-ft of torque, the 4,700 pound heavyweight hatchback is quicker than some of Jaguar's sports cars.
The sprint to 60 mph takes just 4.5 seconds, and is accompanied by your head smacking into the headrest, thanks to its lightning-fast response. There's no thunder, just a slight hum from the motors accompanied by soft digital rumble played through the speakers that sounds better than some exhaust notes, but can be turned off.
If you do, there's not much else to hear. The Austrian-made I-Pace fells solid and exhibits none of the build quality issues or unconventional materials that sometimes show up in electric cars.
It should for a starting price of $70,495. That's before the $7,500 federal tax break, and whatever discounts your state is offering today. The cheapest, similarly-sized Tesla Model S sedan will set you back $77,000, while the larger Model X SUV charges at least $83,000 for entry through its falcon wing doors.
The I-Pace doesn't have anything outlandish like them, but it comes standard with an air suspension system that blends a plush ride with excellent handling and the ability to jack the vehicle up a couple of inches for light off-roading, or fording 19-inch deep water.
I didn't do that with it, but I did drive the I-Pace through the remnants of a hurricane and it stuck to the pavement like an octopus. Its power delivery is so well-calibrated that I couldn't even get the tires to slip by slamming on the accelerator from a standstill in the middle of a puddle.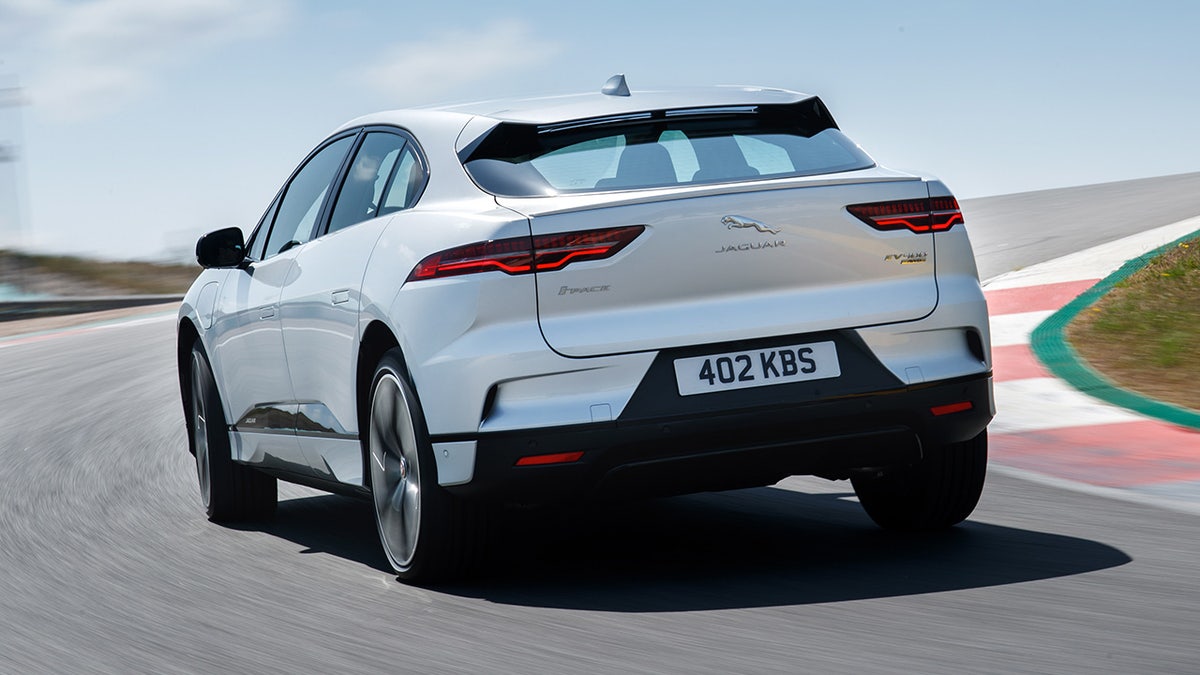 Despite doing that more than a few times, the I-Pace was on track to be true to Jaguar's estimated 240-mile range between charges. That's about the same as the entry-level Model X equipped with a 75 kilowatt-hour battery pack, but Jaguar uses a larger 90 kilowatt-hour pack to pull it off, suggesting Tesla still holds a sizeable advantage in this crucial technology.
Recharging it is an overnight affair at home, but can be accomplished in less than an hour at the fastest public charging stations. Unfortunately, there aren't too many of them and Jaguar isn't building its own network like Tesla has, so map out your long road trips wisely.
To make them more relaxing, the I-Pace is available with adaptive cruise control and one of the best self-steering lane keeping assists I've yet experienced, but it doesn't offer anything approaching true autonomous driving capability. That said, there will be self-driving I-Paces on the road soon. Waymo has ordered 20,000 of them to convert into self-driving shuttles with its own equipment.
It's almost a shame so many of them will be used like that, because the I-Pace is an excellent driver's car, as Jaguars have always been. All things considered, the I-Pace isn't a Tesla Killer, as you'll surely hear some describe it, but it is a very viable alternative that's absolutely worth a look if you're in the market for an electric car.
That is if you like the way it looks.
----------
2019 Jaguar I-Pace
Base price: $70,495
Type: 5-passenger, 4-door all-wheel-drive SUV
Powertrain: Dual-motor electric
Power: 394 hp, 512 lb-ft torque
Range: 240 miles (EST)
MPGe: TBD