2017 Subaru Impreza review
NEWYou can now listen to Fox News articles!
From a distance, the new Subaru Impreza looks a lot like the old one. It has a very similar shape.
And why shouldn't it?
Subaru owners are as loyal as they come and, to many, their cars have achieved icon status on par with the VW Golf, or even the Porsche 911. You don't want to rock that boat too hard.
But get closer and you start to notice that the blockiness is gone, like a chiseled wood sculpture that's spent some time on the sanding table. It seems very polished.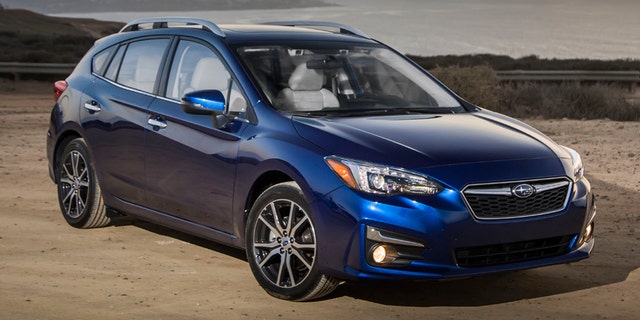 And it is. Despite any resemblance to last year's model, the 2017 Impreza is built on an all-new modular platform that will be used for new models of every Subaru family car and crossover in the coming years. And for the first time, it's made in America, alongside the Legacy and Outback, in Indiana.
FOLLOW FOX NEWS LIFESTYLE ON FACEBOOK FOR MORE AUTO REVIEWS
It's bigger, too. The 2017 Impreza has the most passenger space of any compact sedan or five-door hatchback, the two varieties it's available in.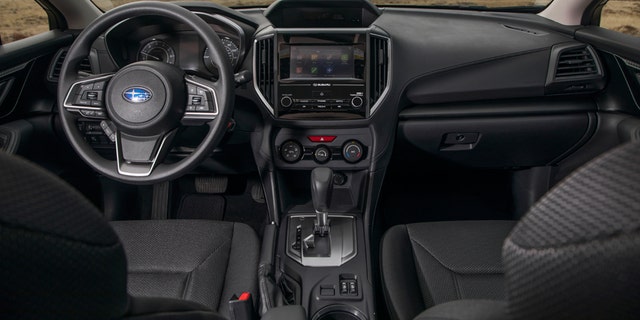 Not that the Impreza it replaced felt very small, but it did feel a little cheap. There was too much hard plastic, and it was noisy. It may have been as reliable as a marble statue of a cocker spaniel, but it was about as refined as a tramp.
Not so, this one. You'll thoroughly enjoy finding out how long you can drive it before it finally breaks down. The interior is trimmed in soft, top-notch materials, the background sounds have been turned way down and the ride is as good as anything in the class — better if you hit a rutty dirt road. And since this is a Subaru, you will.
The visibility is also outstanding. A low beltline and thin roof pillars offer a panoramic forward view that won't have you wishing you were sitting high up in an SUV. But if you really need a loftier perspective, the new jacked-up Crosstrek version of the Impreza will be available in a few months.
As always, the $19,215 Impreza comes standard with all-wheel-drive, and aside from the ancient Mitsubishi Lancer, it's the only mainstream compact sedan/hatchback that offers it — an open secret to its sales success that, surprisingly, hasn't caught on across the segment.
Another is its safety. Equipped with Subaru's optional Eyesight, which uses stereo cameras to enable pedestrian-detecting automatic emergency braking, the Impreza earns perfect scores on both the NHTSA and IIHS ratings.
Eyesight also manages adaptive cruise control and a lane departure prevention system that's as hands-off effective as anything short of what the top luxury brands offer. Of course, like many of these systems, it doesn't actually let you keep your hands off the wheel for very long before it deactivates, but it gives you the strong impression that you could.
The one thing missing from this Impreza is power. It still uses a sewing-machine smooth 2.0-liter flat-four boxer engine that has only 152 hp and no torque to speak of. It's very efficient, though, delivering 38 mpg on the highway in the sedan and 37 mpg in the five-door, the highest MPG of any all-wheel-drive car. If you want more oomph, wait a year or two until the next-generation Impreza-based high performance WRX comes out.
That car should be outstanding, because the Impreza is already very engaging to drive, even with the optional CVT automatic. The steering has weight to it, and the Impreza feels like it's on rails when you give it power in a turn, the all-wheel-drive system seamlessly shuffling it around to track right down the middle of the road.
And if you buy the optional built-in navigation system, you'll have no trouble finding new ones to drive it on. All Imprezas also have smartphone-enabled Apple and Google maps integration and a Magellan app that gives you four ways to get directions, plus whoever's in the passenger seat. It should be the official car of the Redundancy Department of Redundancy. And there's an eBird bird spotting app that's probably the most Subaru thing ever.
For the past year or so, the Honda Civic has been the clear-cut best-in-class compact car, but this excellent new Impreza has clouded things.
If the skies open up, I think I know which one I'd rather be in.
----------
2017 Subaru Impreza 5-Door
Base price: $19,715
As tested: $29,260
Type: 4-door, 5-passenger hatchback
Engine: 2.0-liter flat-4-cylinder
Power: 152 hp/148 lb-ft
Transmission: CVT automatic
MPG: 28 city/37 hwy