2017 Chevrolet Bolt review
Tesla is finally getting some competition.
The company that's had a free ride in the luxury electric car segment will face a worthy opponent when it puts its entry-level Model 3 on sale this year.
But until it does, if you're looking for an electric car that can go over 200 miles per charge and costs less than $30,000, the Chevrolet Bolt is in a class by itself.
It's the first non-Tesla at any price that can go that far between plug-ins -- 238 miles in combined driving at the energy equivalent of 119 mpg, to be exact, at least according to the EPA. In the electric car world, this is akin to letting a dog off the leash.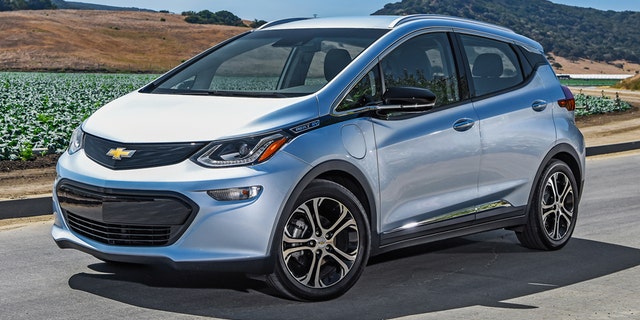 It means you can treat your battery-powered car (almost!) like a regular car, something that can't be said about the other affordable electrics, which hover around the 100-miles-per-charge mark. That keeps them close to home.
There's no magic to how the Bolt accomplishes this. It has a 60 kilowatt-hour battery pack, twice the capacity of the 107-mile Nissan Leaf's and the same as Tesla's smallest, which will go into its $35,000 Model 3 sedan. The Bolt starts at $36,995 and qualifies for a $7,500 federal tax credit plus extra incentives in some states. It's available only on the West Coast and in the Northeast right now, but it will be rolled out across the country by the end of the summer.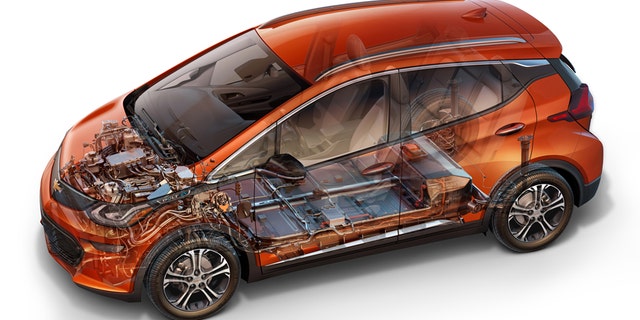 The Bolt's battery weighs nearly half a ton, but the little guy hides its bulk well. It's flat-packed into the floor, where it doesn't intrude into the cabin and helps keep the car pinned to the ground like the gut on an NFL lineman. About the size of a Chevy Trax, the Bolt is accurately pitched as a subcompact crossover, even if it rides low and looks more like a hatchback. Its tall roof, upright seating and uniquely thin — but comfortable — front seat backs offer plenty of room for four 6-footers and their stuff, and a hump-free floor makes squeezing in a fifth easier than in many small cars.
The Bolt's exterior design is relatively conventional, save for a black or silver smirk where you'd normally find a grille. Behind it is a 200 hp electric motor driving the front wheels with nearly as much tire-twisting torque as the V6 in a Chevy Colorado pickup.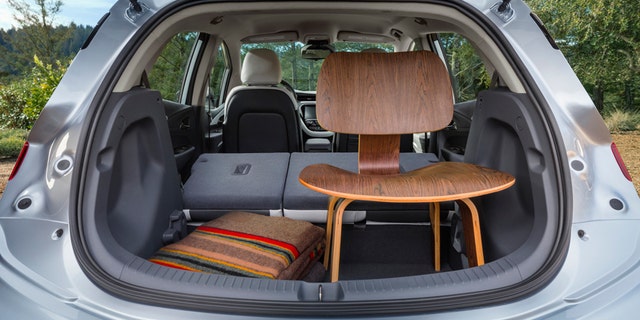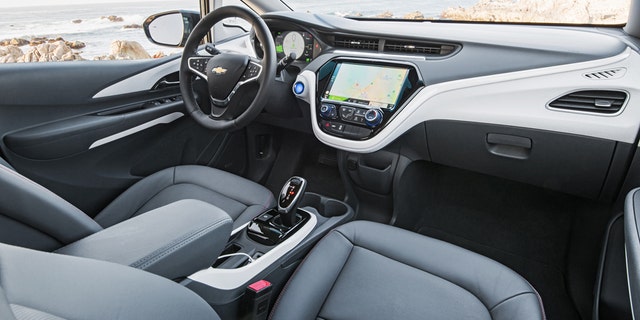 The cabin is much more cutting edge. It has a full digital instrument cluster and a 10.2-inch touchscreen in the center stack. Both are equipped with a variety of displays that let you keep track of your electrons in a starship captain kind of way, while a 360-degree camera gives you a virtual drone's-eye view during parking maneuvers. Unfortunately, there's apparently still a great future for plastics, because, aside from a couple of toupees of soft material on the armrests, everything is hard to the touch and economy car-spec.
Driving the Bolt is as normal or next-gen as you want it to be. Stomp on the accelerator and it's hot hatchback-quick, ready to chirp its eco-friendly tires and twerk the steering wheel with the best of them. Or the worst, if you're not into torque steer.
The Bolt's steering is pretty lively, almost too responsive, but it's not really a sporty handler. It's too heavy, and those tires don't grip hard enough. The lane departure prevention system keeps you between the lines if you start to stray or get distracted by all those screens. Along with blind spot warning and automatic emergency brakes, that's the extent of the autonomy offered in the Bolt, though Chevy is working one for Lyft that can entirely drive itself.
FOLLOW FOX NEWS LIFESTYLE ON FACEBOOK FOR MORE AUTO NEWS AND REVIEWS
There's a soft electric motor whine during acceleration, but it mutes when you reach cruising speed. That's when the Bolt is smooth, gliding over bumps like a much larger vehicle, due to that extra ballast. It's very quiet all around, which is one of the great advantages of electrics if you get it right, and Chevy did. Road and wind noise are well below average, and there wasn't a squeak or rattle to break the silence in my car.
Another battery-powered bonus can be unlocked by switching the transmission to L, which dials up the regenerative braking effect. This uses the electric motor as a generator to charge the battery as it slows the car when you lift your foot off the accelerator. The stopping power is so strong in this mode that you can drive without ever touching the brake pedal. #LazyGoals.
You'll enjoy driving this car, but exactly how far is up to you. That 238-mile range is an average. Baby it and you might get as far as 300 miles, like a couple of Bolt owners have. Drive it fast or in the cold, which doesn't agree with batteries, and it's going to be a much shorter trip.
In a day of mostly highway driving in freezing temperatures, with more than a few energy-sucking sprints thrown in for good measure, I was on track for 180 miles before I parked. If I did that at Level 3 charging station, with the optional $750 fast charge upgrade I could snag 90 miles worth of electricity in 30 minutes (Tesla's proprietary Superchargers are nearly twice as fast). At a more common Level 2 charger, I'd have to wait an hour to get 25 miles.
To keep you well-informed, the battery gauge offers high, low and most-likely range estimates, which often cover a roughly 35 percent spread. Mileage varying by that much isn't exactly uncommon for liquid-fueled cars, either, but the stakes can be higher here.
If you need directions to the nearest charging station, you'll have to bring along a smartphone. There's no built-in navigation in the Bolt; that's so early 21st century. Instead, you sync your phone with the infotainment system via Apple CarPlay or Android Auto and use an app.
The first time I dialed up the points of interest on Apple Maps, I had a chuckle as the icon for gas stations popped up before it rebooted and switched to a plug. It was theatrical, but it drove the point home. Siri was very efficient at finding a charging station and leading the way to it.
You can also call OnStar, if you have the service. But when I did, it took them four minutes to track down the closest charging station, by which time I'd passed it and would have had to take a 10-mile detour to go back there. That's a potentially terminal distance in an electric car. Good thing this was just a test. The humans got a C.
I'd give the Bolt a B+. It's not nearly as sexy as the Model 3 looks, and the Tesla will probably be more fun to drive. But the Bolt is pleasant to be in, practical to use and could absolutely be your only car.
And for now, if you're looking for an economical electric car that doesn't need a gasoline-powered backup to get you out of town, it's the only car.
--------
2017 Chevrolet Bolt
Base price: $36,995
Type: 5-passenger, 4-door, front-wheel-drive CUV
Motor: Electric
Power: 200 hp, 266 lb-ft torque
Transmission: 1-speed automatic
Range: 238 mi combined
MPG(equivalent): 128 city/110 hwy