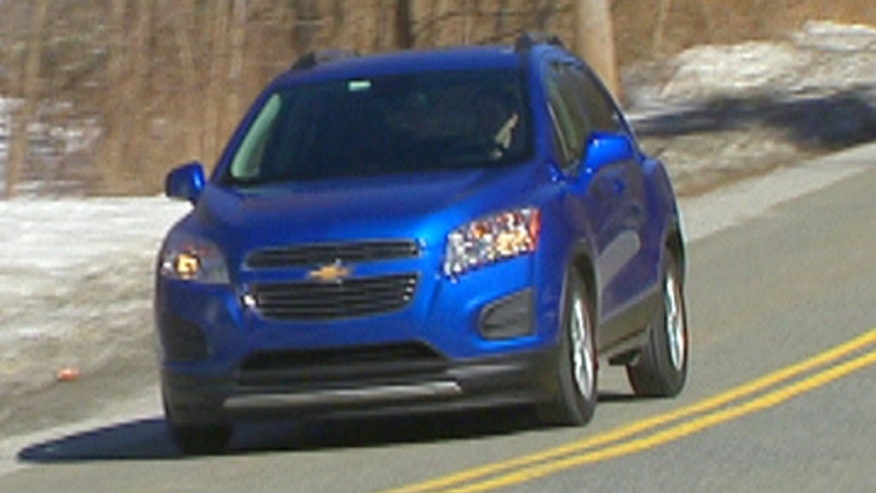 Cars, your days are numbered.
Crossovers and SUVs have taken over the auto industry, stealing sales from sedans, hatchbacks and even pickups in segment after segment. Large cars, midsize cars, small cars … and the conquest is about to be complete.
The last bastion of low-riding four-doors, the subcompact class, has finally been breached by the likes of the quirky Kia Soul, Nissan Juke and Buick Encore, and now the big guns are coming to reap the spoils. The Jeep Renegade, Honda HR-V and Mazda CX-3 are on the way this year, but first through the gates is the Chevrolet Trax, which sadly doesn't feature tank tracks.
It does share a platform with the Encore, however, and it has been on sale in foreign markets for a couple of years, leaving Chevy dealers to turn green with envy as the Encore became Buick's top selling car in the U.S., raking in buckets of a different kind of green.
The $20,995 Trax sports a shrunken Chevy Equinox style, with bulging fenders thrown in for good measure. It's a more mainstream look than the Soul, Juke or Renegade, but it still comes across as SUV emoji.
A small-to-scale turbocharged 1.4-liter four-cylinder with just 138 hp is the only engine available, but it's plenty for the lightweight Trax. A standard six-speed automatic transmission feeds the power to either the front or all four wheels, delivering a combined fuel economy rating of 29 mpg in two-wheel-drive models. The all-wheel-drive Trax starts at $22,495, weighs about 400 pounds more, and gets 27 mpg.
The plasticky cabin is far from sumptuous, but it's roomier than you'd expect. Four passengers fit fine, and the cargo hold is as big as the trunk on a full-size sedan. If you really go crazy at the warehouse store, the front passenger seat folds flat along with the second row, so you can turn the Trax into a single-seat, eight-foot long flatbed hauler. If you don't, there are still 15 cubbies of various sizes scattered throughout, including four cupholders between the front seats, so feel free to keep on hoarding and trucking.
A motorcycle-style gauge cluster with a digital speedometer/analog tachometer combo adds a little youthful aggression, and the MyLink touch screen entertainment system brings a millennial-friendly techy edge. It's equipped with satellite radio, 4G WiFi and Siri Eyes Free, and it works with the BringGo navigation app via a tethered smartphone. It's a solid, low-cost alternative to many of the built-in systems out there, Chevy's other offerings included, but I'd prefer knobs for volume control and channel-changing duty instead of having to tap, tap, tap pads and icons on the move. When you're parked, however, it can also play movies from a USB stick, the port for which is in the top of the two glove compartments you'll find in the Trax.
A concept version of the Trax actually played a Transformer on screen, but this one is no action hero. You wouldn't want to venture too far off the beaten path in it, but it rides very well on weather-beaten roads, doesn't roll around in the turns despite being shaped like a ball, and fits in parking spaces small enough to cause claustrophobia.
Of course, for the price of a Trax you could slip into a Chevy Malibu sedan or a Colorado pickup, but why do that when you could just split the difference? Divide and conquer, that's how crossovers are taking over the world.
----------
2015 Chevrolet Trax
Base price: $20,995
As tested: $23,815
Type: 5-passenger, front or all-wheel-drive 4-door crossover
Engine: 1.4-liter turbocharged 4-cylinder
Power: 138 hp, 148 lb-ft torque
Transmission: 6-speed automatic
MPG: 26 city/34 hwy (FWD) 24 city/31 hwy (AWD)
Gary Gastelu is FoxNews.com's Automotive Editor.