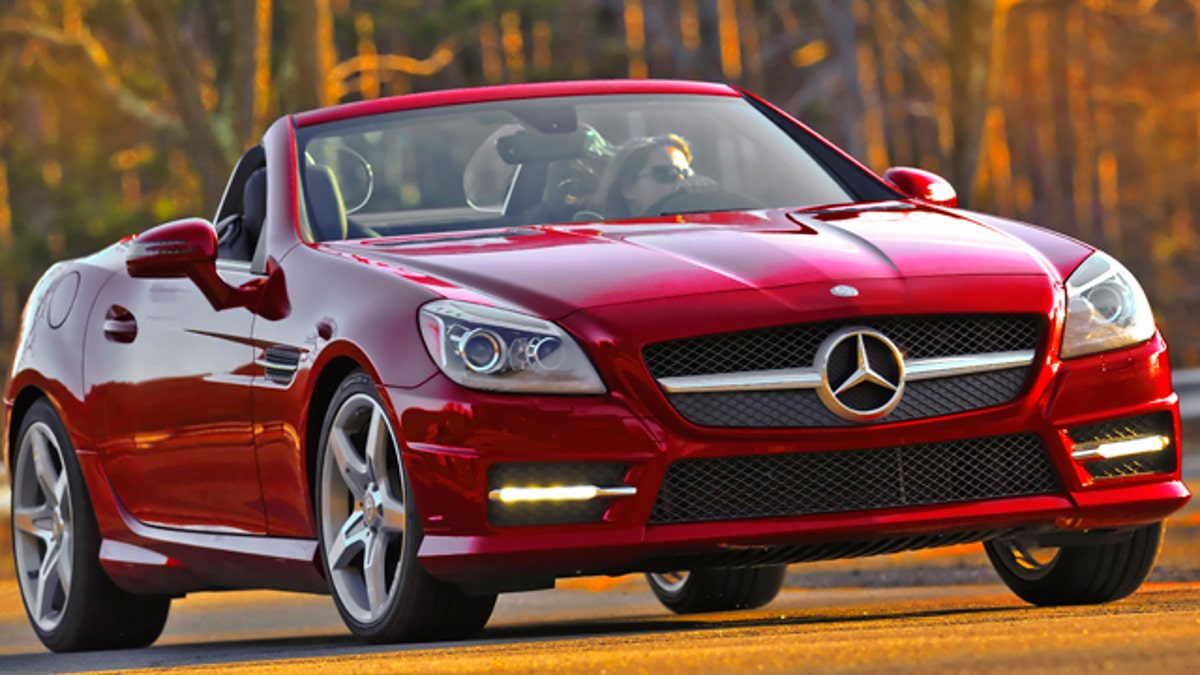 If Wonder Woman is the ultimate chick, then the 2012 Mercedes-Benz SLK350 may be the ultimate chick car. Just like the super heroine's jet, the new SLK has the ability to become invisible. At least part of it does.
The two-seat sports car is the first to offer Mercedes-Benz's new Magic Sky Control roof, which is a glass panel that's been impregnated with metallic particles scattered throughout it to create a dark tint until an electric charge aligns them and allows light to shine through more freely. Think virtual roller blind.
It's a very cool piece of tech, and should be for $2,500. Like many Mercedes-Benz innovations, you can expect to see it spread throughout the lineup and automotive industry in the coming years, especially in light of our growing fascination with enormous panoramic roofs.
Odd then that Mercedes-Benz should choose a convertible roadster to debut it on. But, hey, rainy days need the most brightening, right?
The rest of the third-generation SLK gets a full makeover, which -- no offense to Ms. Prince -- aims to make it appear even less feminine than previous editions. Out is the cutesy F1-inspired snub nose for one that apes that of the $200,000 SLS, along with mini-me versions of its hood and fender vents and pretty projector beam headlights that can still sell the contact lenses.
The interior has been redone in the same aircraft cabin motif as its supercar sis, as well, with rotary vents and a center console smattered with lots of buttons and knobs. Material quality is through the retractable hardtop roof, and just right for a car with a base price of $55,675. Befitting its German heritage, legroom is ample and sure to please even those hailing from Paradise Island.
Up front is a reworked version of the tried and true 3.5-liter V6 found in your Mercedes-Benz SUV, so there's plenty of power to move this little scooter around. Zero to 60 mph takes a scant 5.4 seconds, and the 7-speed automatic transmission will get it up to a limited top speed of 155 mph. Fuel economy comes in at 29 mpg highway, an 11 percent improvement over 2011 – love that numerology.
The motor sounds great, too, with a nice peppery exhaust note. If the ML350 sang a song like this the parking lots of high end shopping malls across America would be much more appealing destinations.
The transmission has three modes -- eco, normal and sport -- and paddles behind the wheel to shift gears manually. I suggest leaving it in sport and to its own devices. It's slow to react to inputs and does a good job set on automatic.
With a softy suspension, the SLK is more of a little luxury tourer than autocross toy (the upcoming high-performance SLK55 AMG better fits that bill.) There's plenty of body motion, which I personally like because it enhances the feeling of speed even when you're not going very fast. That said, search for the car's limits and you will find that they reside much further away than you'd expect.
On rough roads the SLK does shake a bit more than is acceptable for a car from Mercedes-Benz, to the point that it can be upset by the lack of stiffness. Hit a bump in the middle of a tight corner and you'll know what I mean. But dial things back a notch or two, drop the top and it won't bother you at all.
Turbulence is acceptable on the highway, and is barely there at all with the windows up. You can block out even more of the breeze with the addition of simple but very clever Airguide windstoppers for $350. The clear Plexiglas triangles rotate down from the roll bars to fill the space between you and your passenger's heads and keep the air from sneaking in the rear. Mercedes-Benz' unique Airscarf system, which blows hot air down on you from the headrest is also on the options list, making this a potential weekend runabout for the cast of "Ice Road Truckers."
Cargo haulers will appreciate the ample trunk, which is large even if you're not speaking relatively. That is unless the roof is down. Bring a lot of luggage along and that sunroof starts to make a lot more sense.
Overall, the SLK is a highly enjoyable ride and more serious than the one it replaces. But, with the Lasso of Truth wrapped around me I have to be honest, it's still kind of a cutie.
----------
2012 Mercedes-Benz SLK350
Base Price: $55,675
Type: 2-seat hardtop convertible
Engine: 3.5L V6
Power: 302 hp, 273 lb-ft torque
Transmission: 7-speed automatic
MPG: 20 city/29 hwy