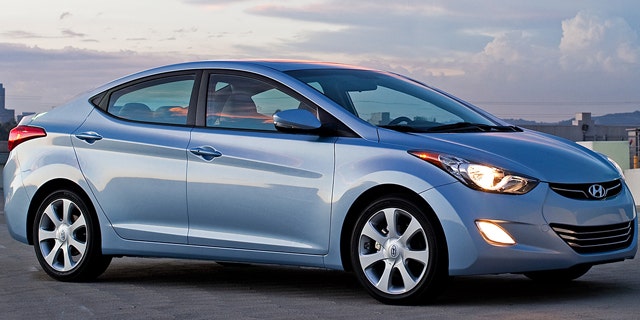 What is it?
The 2012 Hyundai Elantra.
Why do I care?
Because Hyundai is an unstoppable force these days and if an Elantra isn't already parked on your block one likely will be by the time you finish reading this, so we thought you might be interested.
Why all the fuss?
Hyundai has mastered the dark art of combining style with value, and the Elantra is its best work yet. The company's so-called "fluidic design" language, which is a little too curlicue on the Sonata and Tucson, comes across as taught and sporty here. The compact package of the Elantra provides just the right canvas for its sharp creases and flowing lines. Even the interior – one of the largest in its class - looks like it was inspired by "The Great Wave off Kanagawa."
Whatever that is. You mentioned value?
The lowest priced Elantra is $15,695, but that one comes with a six-speed manual transmission and without air conditioning. Add those and you'll pay $17,945. Either way, all Elantras have an iPod connection and XM satellite radio. Bluetooth is an option, but it is the quickest pairing system I've yet encountered. You can also get heated seats front and rear – take that Ford Focus self-parking feature! – as well as an in-dash navigation system.
You can't impress me with your gadgets and gizmos, stick to the basics.
The cabin is seriously roomy. I got into the Elantra after a drive in the admittedly miniscule Fiat 500C and felt like I was in a football stadium, although the stylish roofline does make it a little tight in the rear for the 6-foot-and-over crowd. Unfortunately, you will hear them complain about it, too, because the Elantra is whisper quiet inside. But that's not all you'll hear.
Go on…
The 148 horsepower 1.8-liter four cylinder engine moans in protest under acceleration. It's the price you pay for affordable fuel economy. The Elantra has an EPA rating of 29 mpg city and 40 mpg highway with either the manual or a six-speed automatic transmission. However, it seems to be geared – literally – to be best for dicing through city traffic and delivering highway efficiency. Passing other cars at high speeds is not the Elantra's forte (that's a Kia.)
Fox Car Report is on Twitter. Follow us @foxcarreport
That said, the ride quality is spot on and better than that of any other Hyundai – save for its luxury Genesis and Equus models. Ditto for the electric-assist power steering, which has a nice weight and doesn't rubber band back to center all the time the way the steering does in other Hyundai products. However, if you start sliding off the road it will even exert a little pressure on the wheel to help you counter-steer and keep the car under control, according to Hyundai.
And if you crash anyway?
The Elantra has six airbags and is an Insurance Institute for Highway Safety Top Safety Pick. Just try not to get a blowout. It only comes with a fix a flat kit. A spare tire is extra.
Probably not even full-size. So how does it all stack up against the competition?
Put it this way. Another popular car company that shall remain nameless brought an Elantra to the launch of its all-new compact recently, to let journalists take comparison drives. It shouldn't have.
----------
2012 Hyundai Elantra
Type: 5-passenger, 4-door sedan
Engine: 1.8-liter 4-cylinder
Power: 148 hp, 131 lb-ft torque
Transmission: 6-speed automatic
MPG: 29 city/40 hwy