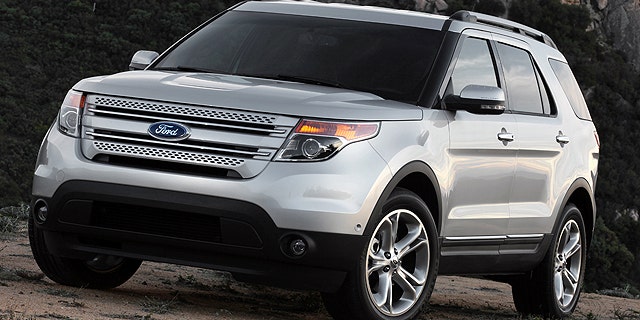 What's in a name? It depends on who you ask.
Ford CEO Alan Mulally puts a high enough price on "brand equity" that he brought the once-dominant Taurus moniker out of retirement in 2008 in an effort to boost the lackluster sales of the Ford Five Hundred sedan. The result? Inconclusive. Taurus sales of 69,000 in 2010 were double that of the Five Hundred in 2007, but still well short of the 107,000 units moved in the more robust market of 2004. Call it a wash.
Now for a potentially tougher task.
The new Ford Explorer is exactly that, new. As in clean sheet of paper, from the ground up, 100 percent different than the one it replaces. But the name remains the same. Clearly Ford is hoping that fans will recall the model's Clinton-era heyday as king of suburbia, rather than images of Explorers parked on their roofs with blown out Firestone tires dangling off of their wheels, or filling up dealer lots at the end of the SUV craze.
Although it is larger than the model it replaces – and nearly as wide as an F-150 pickup - the 2011 Explorer has joined the ever growing ranks of crossovers. This makes sense as the majority of Explorer owners didn't buy the old one because it could tow 7,000 lbs and take a beating off-road, they bought it because it could get six kids to hockey practice in a snowstorm and made them look cooler than the other teams' parents in their minivans.
Based on the same platform used for the aforementioned Taurus – which is built side by side with it at Ford's Chicago Assembly Plant – the only things that it has even vaguely in common with its forebear are a trapezoidal grille, forward-canted C-pillar and faux-wraparound rear window.
Almost unthinkably, the new $28,995 Explorer is a front-wheel-drive vehicle with an all-wheel-drive option, which Ford deftly refers to as 4WD in an effort to keep up the trucking façade. A 283 hp six-cylinder engine is standard and a turbocharged four-cylinder is on the way later this year, which will be less powerful and probably cost more, but be more fuel-efficient than the V6, as is the order of the day. Alas, you can no longer have a V8.
The new focus on passengers over utility is evident the moment you open the door. The cabin radiates quality from every corner, especially when fitted with the multitudes of screens and touch pad controls that make up the optional MyFord Touch infotainment system (more on that later.) Ford claims it has been benchmarking Audi's interiors of late and, while it's not quite up to that level, nothing else at this price point offers anything close to what you get here – Lincoln barely competes.
The Explorer comes with seven seats, but you can replace the central hump with a console and make it six. All are roomy, and the third row can accommodate two six-footers who don't practice yoga. In the loaded Explorer Limited 4WD that I tested they also fold flat at the touch of a button, a show that is almost worth the price of admission. Second row airbag-equipped seatbelts are an option on top trim levels, but my example didn't have them. Fair enough, I don't think I would have gone out of my way to deploy them – though it would've been tempting to do so.
Anyone who goes shopping for a 2011 Explorer in an old one will immediately notice that something is afoot the second that they put their foot on the gas during a test drive. It seems that no effort was made to hide its front-wheel-drive origins, even on 4WD models, which send their power to the nose most of the time – a nifty display in the instrument cluster that tracks power distribution bears out this fact. Jab the throttle and the very responsive steering wheel will even twitch with a bit of torque-steer before power is directed aft. Taurus drivers won't even notice it.
The Explorer feels very light on its feet, with quick moves tempered only by a fair amount of body roll that pays its dividends on rough roads. Potholes, pockmarks and pebbles are no match for the four-wheel independent suspension. If you live in a town with cobblestone streets, or at the end of a long dirt road, this is your new car.
For those who travel further afield, 4WD Explorers come with a so-called Terrain Management System that was developed in conjunction with Land Rover when it was still a province of Ford's former empire. With settings that cover a variety of surfaces from mud to sand to snow, it tries its best to make up for the kind of locking differentials and low range gearing that you find on more serious off-road machines. While I can't say that I pushed it to the extremes – the dunes of Saudi Arabia were not on my test route – I can report that I didn't get stuck on any snowmelt-saturated access roads to New Jersey's fine state parks.
The one thing missing from the menu is a rock-crawling option, which simply isn't in the cards this time around. A ground clearance of just 7.6 inches combined with a fuel efficiency-minded aerodynamic spoiler hanging low off the front bumper further limit the Explorer's abilities in this area. Still, we're told most potential buyers won't care, and Ford can show the ones that do something in a bright orange F-150 SVT Raptor. The same goes for heavy haulers. Towing maxes out at 5,000 lbs., which Explorer Program Manager Julie Rocco tells me is good enough for the needs of 90 percent of previous Explorer owners and on par with its competition in the class (the other 10 percent might want to check out the latest Dodge Durango, which can tow 7,400 lbs.) Fuel economy that's about 25 percent better than the old model – 25 mpg highway for front-wheel drive versions, 23 mpg with all-wheel-drive – is the headline number here.
Making the most of its enhanced on-road prowess, the Explorer can be fitted with high-tech driving aids like adaptive cruise control, a blind spot warning system and another that can find a parallel parking space and steer you into it. Take that driver's license road test!
Fox Car Report is on Twitter. Follow us @foxcarreport
Then there is MyFord Touch. Comprised of a touch screen on the center console, two thumb pads on the steering wheel, two additional displays in the instrument cluster, assorted buttons and voice commands, this electronic wonderland is supposed to make it easier for you to control the Explorer's stereo, navigation, phone and climate control functions while on the move. Comprehensive to a fault, a dissertation can be written on how complex this system is. Realizing this, Ford has set up a dedicated website for owners who are intimidated by it.
A few examples of its quirks:
Using the thumb pad on the steering wheel to change the channel on the stereo requires five clicks. A separate toggle located below it takes just one.
To use the heated/cooled front seats you have to bring up the climate control menu on the touch screen – there are no dedicated buttons on the center console to operate them.
That may be because the touchpad-type buttons there are so sensitive that when you steady your hand on it to use the screen above it you inevitably end up turning on something else – usually the air conditioning.
So that's why it's so cold in here.
Frostbite aside, the Sony stereo system that comes with MyFord Touch is a budget audiophile's dream and has inputs for everything from USB to RCA tucked in a covered media hub in the dash that's perfectly sized for your mobile device of choice – unless it happens to be an iPad.
Somewhat ironically the Explorer was named 2011 North American Truck of the year at the Detroit Auto Show this past January. Afterwards, Ford President of the Americas Mark Fields modestly told me he didn't expect it would ever reach the sales numbers of the good old days, which were once over 400,000 per year, but that it is just one piece of the puzzle that is the company's expansive lineup of vehicles.
In February the Explorer outsold the Taurus nearly 2-1 and Ford added a shift at the plant to keep up with growing demand.
The king may be dead, but his heir is off to a good start.
----------
2011 Ford Explorer Limited 4WD
Base Price: $39,995
As Tested $44,565
Type: 7-passenger, five-door crossover
Engine: 3.5L V6
Power: 283 hp, 252 lb-ft torque
Transmission: 6-speed automatic
MPG: 17 city/23 hwy