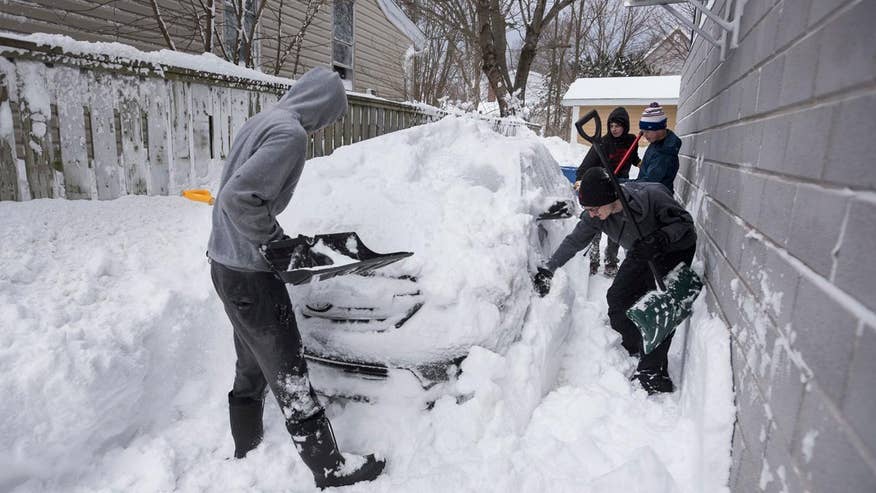 A late-season nor'easter lashed the region Tuesday with sleet and more than two feet of snow in some places, paralyzing much of the Washington-to-Boston corridor and grounding more than 5,900 flights.
The sloppy storm with high winds knocked out power to more than 100,000 customers from Virginia to Pennsylvania, closed schools in cities big and small and prompted warnings from officials to stay off the roads.
Philadelphia and New York City escaped the brunt of the snow, getting just a few inches and not the foot or more forecasters had expected before the storm switched over mostly to sleet.
SLIDESHOW: POWERFUL NOR'EASTER POUNDS REGION WITH HEAVY SNOW, SLEET AND RAIN
But residents farther inland were getting clobbered with snow.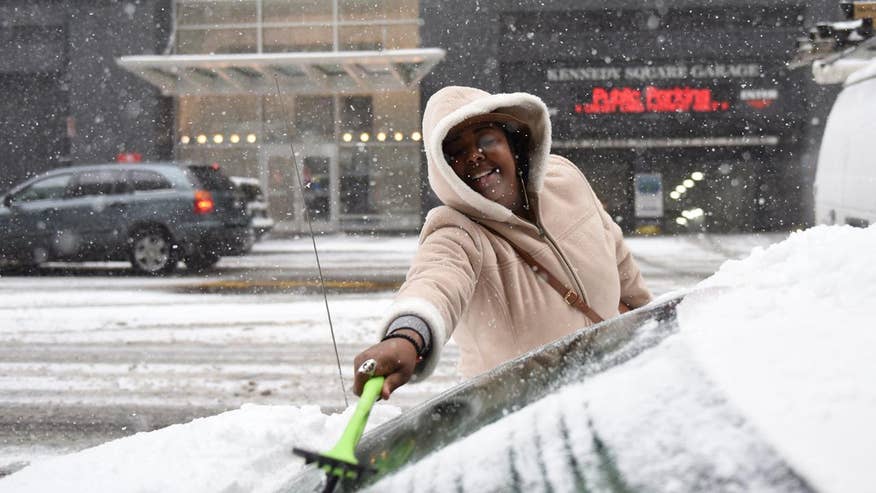 "The winters seem to be upside down now. January and February are nice and then March and April seem to be more wintry than they were in the past," he said Bob Clifford, who ventured out on an early morning grocery run for his family in Altamont, near Albany, New York.
While people mostly heeded dire warnings to stay home and off the roads, police said a 16-year-old girl was killed when she lost control of her car on a snowy road and hit a tree in Gilford, New Hampshire.
In Narragansett, Rhode Island, high winds knocked down a state-owned wind turbine. In New York City, two homes under construction collapsed near the waterfront in Far Rockaway. No injuries were reported.
And two ponies broke free from their stables and roamed the snow-covered streets of Staten Island until an off-duty police officer noticed them. Employing straps normally used to tow cars, he wrangled the animals and tied them to a lamppost. They were taken back to the stables.
"We want to thank our cowboy officer," Mayor Bill de Blasio said.
Inland areas got hit hard by the storm. Harrisburg, Pennsylvania, and Worcester, Massachusetts, received a foot or more of snow. The Binghamton, New York, area was hit with over 2 feet, while Vernon, New Jersey, got at least 19 inches.
The flight cancellations included more than 3,300 in the New York City area alone, where hundreds passengers were stranded at Kennedy Airport. Amtrak canceled or modified service up and down the Northeast Corridor.
New York Gov. Andrew Cuomo said aboveground subway service and some Metro-North commuter rail service shut down by the snowstorm hitting the East Coast will be restored by 6 p.m. ET. Full service will resume Wednesday for the morning commute.
Laura and Matthew Balderstone of West Yorkshire, England, intended to spend their honeymoon in Florida but found themselves stuck at the Newark, New Jersey, airport and couldn't find a hotel room.
"It's better safe than sorry, especially flying. I suppose it's a shame that we can't get another way around this. It's just the way it is, unfortunately," Matthew Balderstone told the Associated Press.
Broadway producers in New York City have decided to keep theaters open Tuesday night for the hardy folks willing to brave the snow and sleet.
More than two dozen shows will play as scheduled, including "Hamilton," ''Dear Evan Hansen" and "Waitress."
Charlotte St. Martin, president of The Broadway League, says that for visitors who can't get home, it's a great time to see a show.
In the nation's capital, the federal government announced a three-hour delayed arrival for non-emergency employees, with an option to take the day off or telecommute. Emergency employees were told to report on time unless otherwise directed.
"Good day to make brownies ... and or read a book," said Gov. Dannel P. Malloy of Connecticut, which was expecting up to 2 feet of snow in some areas.
In Massachusetts, where the forecast called for 12 to 18 inches of snow, Gov. Charlie Baker encouraged motorists to stay off the roads and to take public transit only if absolutely necessary, saying the fast snowfall rates would make driving hazardous.
Schools in New York, Philadelphia, Boston and elsewhere closed.
Parts of Atlantic City and other towns in southern New Jersey dealt with tidal flooding from the nor'easter.
Up to he second step already ! Getting deep #ArizonaAve #AtlanticCity @_Hetrick @Route_40 @JSHurricaneNews @ACPlanningDept @ACPressSkeldon pic.twitter.com/xroagLpjUG

— City Of Atlantic (@CityOfAtlantic) March 14, 2017
A homeowner posted video on Twitter of water streaming down the block, and one major roadway was closed because of the flooding.
In New Hampshire, the storm disrupted some local elections when voters in more than 100 communities elect boards of selectman, library trustees and other local positions.
A number of towns rescheduled their elections, but others have stayed open, on schedule.
In the nation's capital, non-essential federal employees were given the option of reporting three hours late, taking the day off or working from home. The city got less than 2 inches of snow.
A few days ago, workers on Washington's National Mall were making plans to turn on the fountains.
"Obviously all that has to come to an abrupt stop until we get all the snow cleared," Jeff Gowen, the acting facility manager for the National Mall and Memorial Parks told the Associated Press. "The cherry blossoms, they're right on the cusp of going into bloom here. I had a feeling this was going to happen."
In Illinois, state police said snowy weather caused two crashes on a Chicago expressway that involved a total of 34 cars. Seven people suffered minor injuries.
The Associated Press contributed to this report.