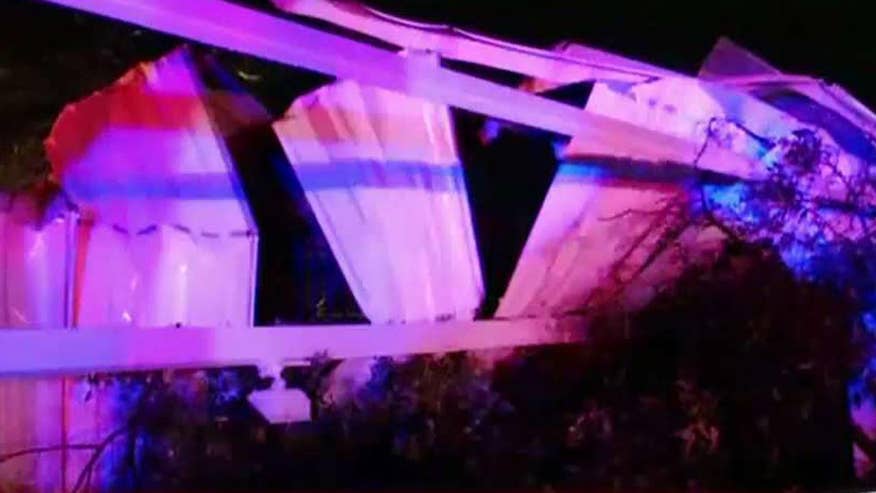 More than 70 homes suffered damage after a strong line of storms -- including at least two tornadoes -- slammed the San Antonio area, officials confirmed Monday.
FIREFIGHTERS KNOCK DOWN BLAZE AT CALIFORNIA OIL REFINERY
NOW: A 180 view just from where I'm standing on Linda street and Skipper. @News4SA @KABBFOX29 for live updates pic.twitter.com/VrPP3NCg19

— Kristina De Leon (@KristinaDeLeon) February 20, 2017
The tornadoes hit residential areas north and northeast of downtown, according to the National Weather Service. At least three homes collapsed, San Antonio Fire Dept. spokesman Woody Woodward said.
The storm ripped roofs off houses and knocked down trees and power lines, Fox 29 reported. It triggered the most damage Sunday night and early Monday, meteorologist Yvette Benavides said.
Photos showed one power line tower that apparently folded over in the storm.
Check out the downed high power line on the NE side of SA. You can see just how big it was from the Google street view. @KABBFOX29 pic.twitter.com/Cm7gRLPryc

— Shaun Stevens (@wxstevens) February 20, 2017
At least five people were hurt, according to the San Antonio Fire Dept. There were no reports of any serious injuries.
As many as 43 reports of damage came from the residential neighborhood of Linda Drive, Fox 29 added.
Weather service meteorologist Eric Platt says survey teams would be inspecting the damage during the day Monday.
The Associated Press contributed to this report.