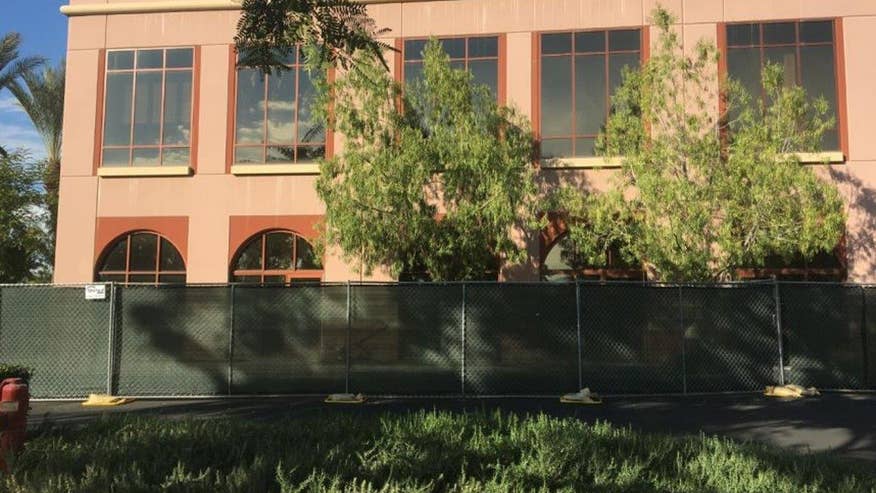 A year after two self-radicalized terrorists stormed the Inland Regional Center in San Bernardino, Calif., and killed 14 innocent people, a green fence, erected in the days after the attack, still encircles the conference room where the shooting took place. Faded signs and flowers, the remnants of an enormous makeshift memorial, rest down the road. Memories of the attack, though, and the lessons learned remain crystal clear for men and women who put their lives on the line on that fateful day.
San Bernardino Police Detective Don Sawyer, one of the first members of law enforcement to make it inside the IRC, still drives past the building regularly.
SOME SAN BERNARDINO MASSACRE VICTIMS STRUGGLING TO RECOVER 1 YEAR LATER
"It's crazy how much of it stands out. You know, the lettering I never noticed on the building. Just every feature of that place. For me, it's been a constant reminder of since that day for me," Sawyer says.
Sawyer and Sgt. Bryan Lentz, another first responder with the San Bernardino Police Department, vividly remember the walls riddled with bullet holes, the building's blaring alarms and the victims screaming for help. A year later, both emphasize how important it is for first responders to be prepared at all times.
SAN BERNARDINO RECALLS TERROR ATTACK WITH SILENCE, SPEAKERS
Federal authorities say Syed Rizwan Farook and his wife, Tasfeen Malik, targeted a San Bernardino County Department of Health training event and Christmas party on Dec. 2, 2015. The couple killed 14 people, wounded 22 and left several IEDs behind for law enforcement before fleeing the scene and being killed by police in a shootout. At the time, it was the deadliest domestic terror attack since 9/11.
As the community continues to heal, Mayor Carey Davis reflected on what other communities can learn in the event of future ISIS-inspired attacks.
The night of the attack, a neighbor told reporters she had been suspicious of activity at Farook's apartment but didn't call law enforcement because she didn't want to be seen as profiling Muslims.
"I think that message that has been put forth is that we do need to be observant and we need to make sure we're not in a position where we are afraid to call something out if we see there's something that's out of order or something that doesn't look like it's in place. That's not always an easy thing to do, because there's always that risk of making an improper assessment of something that may appear to be dangerous and really there's good reason behind it," Davis said.
"While we believe the pair were radicalized, inspired by ISIS, in carrying out their attack, we continue to investigate whether they had support in any way. To date, we have not charged anyone with supporting the 12/2 attacks, however. The evidence supports the fact that Farook and Malik were responsible for physically carrying out the murders," Laura Eimiller, an FBI spokeswoman, told Fox News.
Since the attack, authorities have said Enrique Marquez, a friend of Farook's, provided the guns the terrorists used. Marquez pleaded not guilty to conspiring with Farook on an unrelated plot. He's set to stand trial in federal court next year.
"Who would have guessed a terror attack would happen in our neighborhood? We didn't. It was quite a surprise," said Dr. Michael Neeki, a trauma surgeon at Arrowhead Regional Medical Center, expressing a sentiment still felt by so many who live in San Bernardino.
Neeki also serves as a full-time member of the Inland Regional SWAT team. On Dec. 2, 2015, he was working in the emergency room when the first shots rang out. Neeki quickly found another doctor to pick up his shift and then raced to the scene to join his fellow SWAT team members.
"I'm not going to lie to you: Driving home I actually cried. I couldn't keep my own eyes dry because it just didn't make sense," Neeki told Fox News earlier this year.
Neeki is now pushing for federal funding for doctors and trained medics to be able to join local SWAT teams across the country. He believes they can help save lives while bullets are still flying during attacks like San Bernardino.
While events are planned throughout the day in San Bernardino to remember the victims of the terror attack, several survivors and first responders tell us they're ready to get past the anniversary and back to normal life, a new normal, they admit, after an attack that rocked this community, changing it forever, one year ago today.
Will Carr joined Fox News Channel (FNC) as a Los Angeles-based correspondent in June 2013.