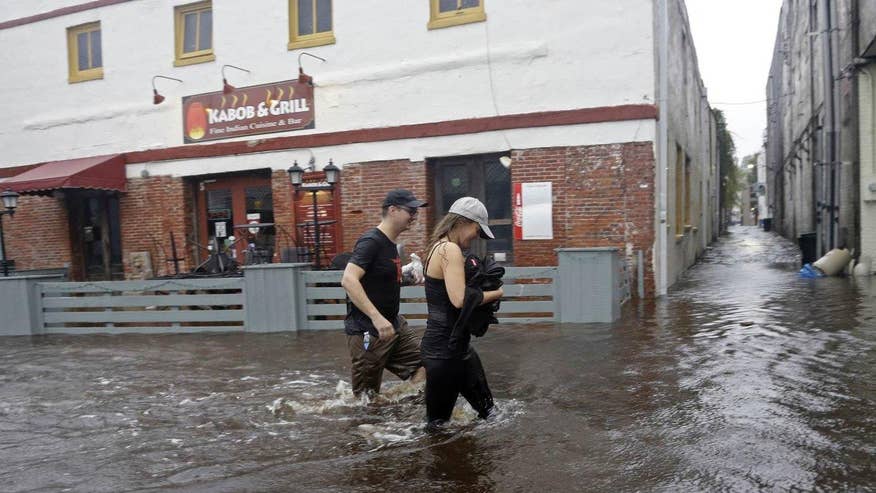 Rescue crews were racing to reach as many as 2,000 people stranded at their homes in North Carolina after a levee broke Monday, one day after Hurricane Matthew unleashed treacherous flooding and moved out to sea.
Some of those stranded were standing on the roofs of their flooded houses in Lumberton, south of Fayetteville and about 70 miles inland, Gov. Pat McCrory told reporters.
The governor urged people in the danger zone to stay out of flooded areas, adding that "this is a life and death decision" for residents and rescuers. "If you've been told to evacuate, evacuate."
Evacuations were ordered in cities along three different rivers. Some rivers were expected to be at record levels Friday -- six days after the end of Matthew's rains.
Nearly 1 million homes and businesses in North and South Carolina were waiting Monday for the power to come back on. The disaster was forecast to unfold slowly over the next several days as all that rain -- more than a foot in places -- flows into rivers and downstream, in some of the same places devastated by a similar deluge from Hurricane Floyd in 1999.
The National Weather Service downgraded Matthew to a post-tropical cyclone on Sunday. While people hit hard by the storm face a long rebuilding period, the threat of any additional severe weather from Matthew appears to be over, Fox Carolina reports.
The storm killed at least 21 people in the U.S., including 10 in North Carolina. McCrory said the latest reported death was a driver swept away by flood waters in Johnston County. He also said three people were reported missing: one in Johnston County and two in Cumberland County.
Officials in Virginia on Monday reported one storm-related death, saying a driver died when a truck rear-ended a tractor trailer stopped for a downed tree on Interstate 64 in Chesapeake on Saturday.
Thousands of people found themselves suddenly trapped in homes and cars during the torrential rains over the weekend. Rescuers in Coast Guard helicopters plucked some of them from rooftops and used military vehicles to reach others. The storm killed more than 500 people in Haiti.
Utility outage maps showed Monday that just under a half million electric customers across South Carolina were still in the dark.
North Carolina Emergency Management reported that about 491,000 residents were without service Monday morning. The state's largest utility, Duke Energy, had the biggest problems, with about 310,000 customers without service.
Power companies say it may be several days before power can be restored to all electric customers.
McCrory said that the Federal Aviation Administration has placed temporary flight restrictions over Lumberton. He asked operators of drones to keep them out of the airspace over flooded areas so they do not endanger helicopter teams. He also said that "inland flooding" remains the greatest threat to the state.
President Obama spoke by phone on Monday with FEMA Administrator Craig Fugate and with Obama's homeland security adviser, Lisa Monaco. The White House said Obama emphasized that all needed federal resources should be directed to affected states.
Click for more from Fox Carolina.
The Associated Press contributed to this report.