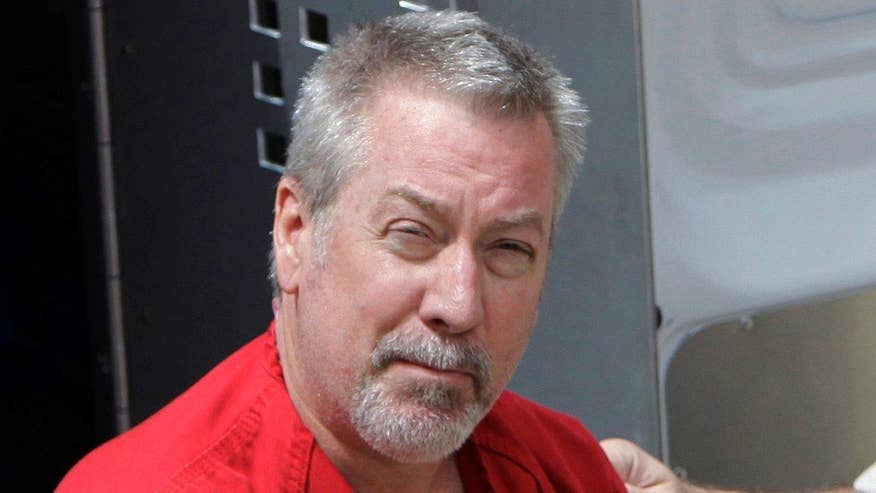 Once-secret jailhouse recordings showed that the ex-cop and convicted murderer Drew Peterson had a new career in mind if he ever got out of prison: drug dealer.
Prosecutors played some of the recordings in court Tuesday during Peterson's murder-for-hire trial in southern Illinois. They said that after he entered prison for murdering his third wife, Kathleen Savio, he offered a hitman $10,000 to kill the prosecutor in his murder trial.
"There's that guy that's got… cartel connections," Peterson told 25-year-old jailhouse informant Antonio Smith, otherwise known as "Beast," the Chicago Sun-Times reported. "They can get us into dope."
Peterson reportedly also claimed he knew somebody with property in Mexico where he could land a plane.
Prosecutors said "Beast" buddied up with the former Bolingbrook sergeant before agreeing to wear a wire for the FBI. The informant testified Monday that Peterson admitted to killing his fourth wife, Stacy, whose body was never found.
However, the recordings cast some doubt on that claim, the newspaper added. In one recording, Drew Peterson is heard saying, "Stacy's still alive, running around out there."
Officials initially classified Savio's drowning death as an accident after her body turned up in a dry bathtub in 2004. They reopened the investigation after Stacy Peterson disappeared in 2007. Drew Peterson was convicted of murder in 2012.
Peterson, 62, was sentenced to 38 years in prison. He denied all the charges against him.
Randolph County State's Attorney Jeremy Walker told jurors on Monday that Peterson was motivated by "anger, hatred (and) revenge" against Will County State's Attorney James Glasgow. He said the defendant also believed Glasgow's death would lead to a successful appeal of his first-degree murder conviction, which is under review by the Illinois Supreme Court.
Peterson, who is imprisoned at the Menard Correctional Center in southern Illinois, faces an additional 60 years in prison if convicted of the new charges.
"They're going to sensationalize the heck out of this thing," defense attorney Lucas Liefer told the jurors during his opening statement. "Do not give in to this approach."
On the recordings, Peterson blames Glasgow for efforts to revoke Peterson's $79,000 annual police pension, prosecutors say. He also says Glasgow is the reason that Peterson's son, Stephen, lost his job at the Oak Brook Police Department over what authorities said were the younger Peterson's efforts to obstruct the investigation into Savio's death.
After Peterson's conviction, Glasgow called him a "coward" and a "thug" who would "threaten people because he had a gun and a badge."
Glasgow testified that he listened to about 15 minutes of the Peterson wiretap.
"The word 'kill' wasn't used, but the implication of kill was there," Glasgow testified. "Based on 36 years of experience in law enforcement, from my listening of the tape, it was clear to me there was going to be my demise."
Walker said "Beast" didn't receive a reduced sentence for his cooperation but was paid $3,200 by the FBI to replace property lost after he was transferred to the federal prison system following his involvement with Peterson.
The Associated Press contributed to this report.