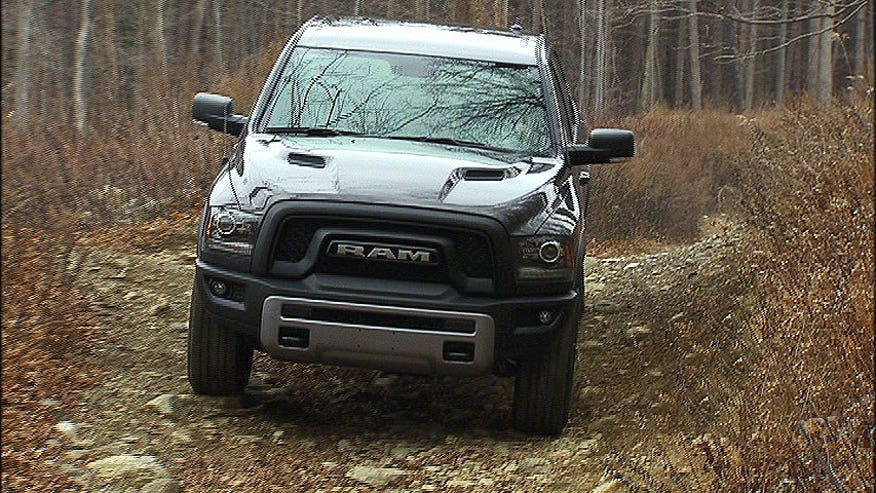 "It's bold … aggressive … and designed for individuals who live their lives that way."
That's how Ram CEO Bob Hegbloom described the Ram 1500 Rebel to me when he introduced it earlier this year, and it's still the greatest thing I've ever heard an auto executive say.
The brief for the Rebel was to take the spirit of a modified off-road pickup and turn it into a factory option covered by a warranty. In other words: build an off-the-rack brodozer.
So Bob had his folks at Ram take a look around and curate a mix tape of essential features. These include powder-coated metal bumpers and skid plates, tow hooks, wheel arch extensions and big, puffy 33-inch Toyo off-road tires on a set of unique 17-inch wheels.
To clear those big meats, Ram lifted the Rebel's standard adjustable air suspension by an inch, giving it a max of 10.3 inches between the axles, and recalibrated all of the computer bits to roll with the changes.
The bulging hood is borrowed from the Ram 1500 Sport – fake intakes intact – and the grille is … unique? Instead of a traditional Ram crosshair, it's more of a snout. There's a big silver RAM badge in the middle of it and an even larger black one on the tailgate, just to put an exclamation point on the whole "bold" thing.
The cabin gets a black, silver and red motif, and a set of sport seats with synthetic upholstery that's embossed with the exact same tread pattern as the tires, which really makes no sense but my kids thought was cool.
There's plenty of room for them, since the Rebel is available only in a crew-cab, short-bed configuration. Surprisingly, a two-wheel-drive version is offered, and it misses the point by a country mile. Four-by-fours come with either a 305 hp V6 for $45,915 or a 395 hp Hemi V8 for $1,650 more.
The Rebel has a legit 4x4 system with a low-range transfer case and no AWD setting, but also just a locking center differential. A limited slip diff is optional for the rear, but if you want this kind of style with three real lockers for serious mucking about, you'll have to step up to its big brother, the heavy duty Power Wagon.
Test Drive: 2014 Ram Power Wagon
The changes don't hurt the 1500's best-in-class ride quality much, while the added traction and ride height definitely make it the best Ram 1500 to drive directly from the dealer to the nearest gravel pit – especially with the thunderous Hemi. That said, the wheel travel and articulation aren't extreme, and the front suspension is too stiff for high-speed running over ruts and humps, so take it slow.
The last time I talked to Bob a few weeks ago, he said he couldn't build enough of these to keep up with demand, so it looks like it worked out for him. Still, half the fun of a modified truck is putting your own mark on it, so I'm not sure buying one off the lot is really all that rebellious.
But if it looks like this one, it is a bold move.
----------
2016 Ram 1500 Rebel 4x4 Hemi
Base price: $47,565
Type: 4-door, 5-passenger pickup
Engine: 5.7-liter V8
Power: 395 hp, 410 lb-ft torque
Transmission: 8-speed automatic
MPG: 15 city/21 hwy
Gary Gastelu is FoxNews.com's Automotive Editor.