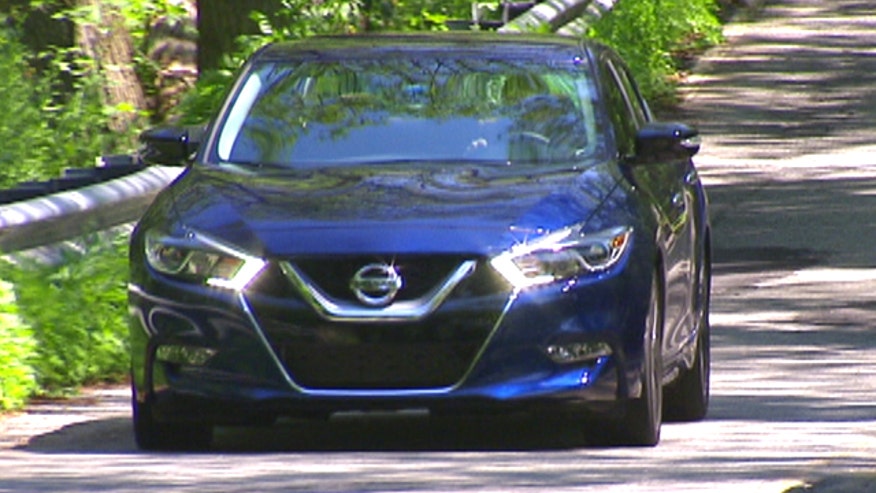 Full-size front-wheel-drive sedans are a dying breed, their numbers decimated by the invasive species known as the crossover. While not wiped out completely, they've been pushed to the fringes of the parking lot, over by the J.C. Penney, or wherever baby boomers shop these days.
But in a classic example of survival of the fittest, as their number has contracted, their quality and appeal have improved dramatically. The latest Chevrolet Impala is, hands down, one of the finest sedans GM has ever produced. The same goes for the Toyota Avalon, either with or without its 40 mpg hybrid powertrain. They're spacious, comfortable and refined, everything a car needs to be, except…
What they're not is exciting. The fun factor just isn't there. The 2016 Nissan Maxima, however … Well, they don't call it a "Four-Door Sports Car" for nothing. At least that's what they'd like you to think, but it does make a few good arguments to back up the sobriquet.
Its design is dramatic and polarizing. Nissan calls the eye-catching style V-Motion, and the Maxima shares it with the Nissan Murano, one of those evil crossovers. (Hey, you can't blame Nissan for hedging its bets.) It's entirely modern and like that of no other sedan on the road, at once chunky and smooth. It's like two fresh jars of Skippy, as someone heading uptown might say.
The faux-wraparound windscreen was purportedly inspired by a meeting the designers had with the U.S. Navy's Blue Angels, and that intensity carries over to the interior, where the controls are oriented toward the driver, the seats are deep and supportive and everything has an upscale look and feel.
Despite being positioned above the "midsize" Altima in Nissan's lineup, the Maxima is slightly smaller inside. This kind of segment creep is another existential threat to the true large car segment, but the Maxima is still plenty roomy, and when you slink down into it there's a lot more "oh yeah, that feels good" to the experience. Diamond-quilt Alcantara-upholstered seats with "zero-gravity" padding and a near-silent cabin will do that for you. Imagine they squeezed a third, Buick-like division between Nissan and Infiniti and you get the idea.
Five trim levels are available, starting at $33,235. Each represents a higher level of equipment – there are no individual options – but are all more or less mechanically the same. The $38,494 SR is the outlier with a stiffer suspension, larger wheels, lower-profile tires, a flat-bottom steering wheel and a Sport mode to go along with the Maxima's standard 300 horsepower 3.5-liter V6 and continuously variable automatic transmission (CVT.)
It also has paddles behind the steering wheel that let you pretend the CVT, which has no fixed gear ratios, actually has seven. It kind of does that itself when you engage Sport mode, dishing out the power more aggressively, keeping the revs high when your foot's on the accelerator and delivering quick downshifts and forceful engine braking when it's not.
The SR also does a neat trick to smooth out the ride, or so we're told. When you hit a bump, it imperceptibly starts tapping the brakes to transfer the weight of the car to counteract any bouncing motion. It's an innovative alternative to employing an expensive computer-controlled active suspension system, but since you can't turn it off, there's really no way to say how effective it is.
Regardless, while most of the Maximas are plush, the SR is a sharper handler that's maybe a little too firm for daily trips downtown but aces on a smooth, winding road. A collection of electronic traction and stability nannies help tame those 300 horses, which are really all a front-wheel-drive car can handle before it becomes unwieldy.
Push it hard enough, though, and that "sports car" claim does start to look a little spurious, especially if you compare it to anything with rear- or all-wheel-drive. But among cars that are pulled by the horse, it's the sportiest at its price point, and a bit beyond. The $14,000 leap to an Audi A6, for instance, would be tough one to justify.
It's not like you'd be missing out on much technology. The Maxima offers a comprehensive touch-screen infotainment system with an app that enables vehicle tracking, remote starting and Google send-to-car navigation, so you can plan your trip from the bedroom. It's also available with a 360-degree parking camera feed, collision prevention system, blind spot alert and adaptive cruise control.
One thing that's curiously absent is either a lane departure warning or mitigation system. Nissan was one of the pioneers of this technology, which monitors the lines on the road and can either warn you when you're drifting out of your lane or autonomously steer you back into it. It's becoming one of the most popular features in all kinds of cars, including the Altima.
When I asked the Maxima's product planner why they didn't include it, he said the customers didn't want it. Apparently they'd rather steer themselves.
How sporting of them.
----------
2016 Nissan Maxima
Base price: $33,235
As tested: $38,495
Type: 5-passenger, 4-door sedan
Engine: 3.5-liter V6
Power: 300 hp, 261 lb-ft torque
Transmission: CVT automatic
MPG: 22 city/30 hwy
Gary Gastelu is FoxNews.com's Automotive Editor.