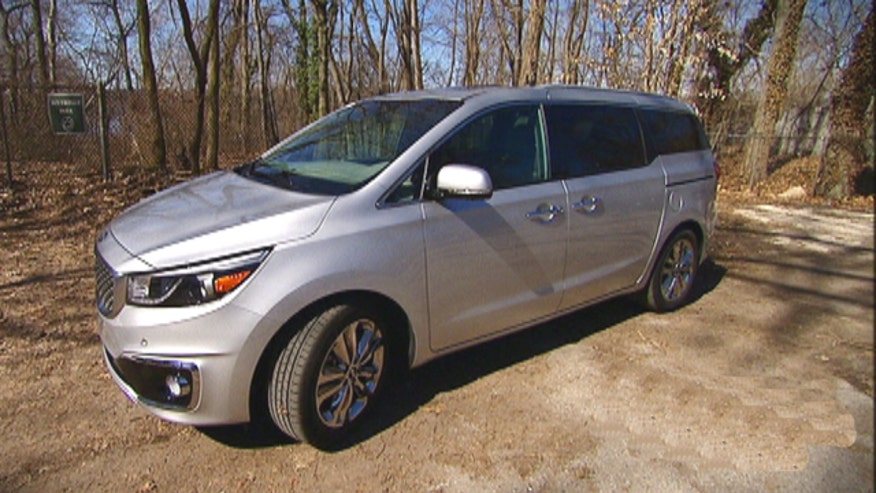 Let's be clear: The 2015 Kia Sedona does not and cannot live up to the beauty of the Arizona town it's named after (although given the number of tourists who come through there, a full one would fit right in). But this doesn't mean it can't be the best-looking minivan, for what that's worth.
Personally, I think it's worth a lot. Minivan sales have dwindled in recent years as car buyers have migrated to large crossovers and SUVs, in many cases simply because they don't want to look lame. The old Sedona definitely fit that description. Even if you've never seen one, if someone asked you to draw a generic minivan off the top of your head, chances are your sketch would look exactly like it, just better.
The new one, on the other hand, features a strong face cribbed from Kia's popular Sorrento crossover, short overhangs, trim flanks, and side windows that kick up at the rear to make it look like it's zooming down the road.
And it might be. The Sedona has the most powerful engine in the segment, a smooth 276 hp V6 that's good for 22-25 mpg highway depending on the model, and a tow rating of 3,500 pounds. Of course, most shoppers will probably be more interested in what's inside than what it can drag behind it, and there's a lot to like there, too.
The front cabin continues the "trying to look like an SUV here" theme with an upright dashboard and a console-mounted shifter for the 6-speed automatic transmission. There are heated and vented Nappa leather-upholstered seats, a chilled glove compartment, brilliantly clear Infinity audio system and an infotainment system that can send you a message when your parking meter runs out as well as a map to help you find it if you zone out.
That's very likely to happen to passengers in the second row. The Sedona offers tri-zone climate control and footrest-equipped reclining seats. Slide them all the way back, pull up the sunshades on the windows and you can approximate the last trip you took on a private jet. Kia really missed a co-branding opportunity with Gulfstream, or at least La-Z-Boy.
If the latter describes your driving style, don't sweat it. The Sedona has plenty of autopilot systems, including adaptive radar cruise control that matches your speed to the car in front of you, plus lane departure and collision warning systems. When you get to your destination, a 360-degree camera system provides a virtual bird's-eye view to guide you into spaces.
If you still manage to have a collision, the Sedona just scored a five-star crash test rating from the NHTSA. Unfortunately, while that applies to all versions of it, you need to shell out $43,295 to get a loaded, top-of-the-line model that has all of the rest of the stuff I just mentioned.
Go for the entry-level $26,995 Sedona L and you're looking at a four-speaker stereo, no air conditioning for your gloves and owner's manual and cloth upholstery, with not a footrest to be found. Tragic, but what do expect for a couple grand less than a Honda Odyssey or Toyota Sienna?
Not the best-in-class ride or size. The Kia is perfectly adequate, but it can get rough along with the road, and while comes close to Chrysler's twins, it has less overall cargo space than every minivan aside from the Nissan Quest, another one that's trying its hardest to be different.
Nevertheless, if you're looking for a good deal, the Sedona is definitely worth a peek.
There's a good chance you'll like what you see.
----------
2015 Kia Sedona
Base price: $26,995
As tested: $43,295
Type: Minivan
Engine: 3.3-liter V6
Power: 276 hp, 248 lb-ft torque
Transmission: 6-speed automatic
MPG (as tested) 17 city/22 hwy
Gary Gastelu is FoxNews.com's Automotive Editor.