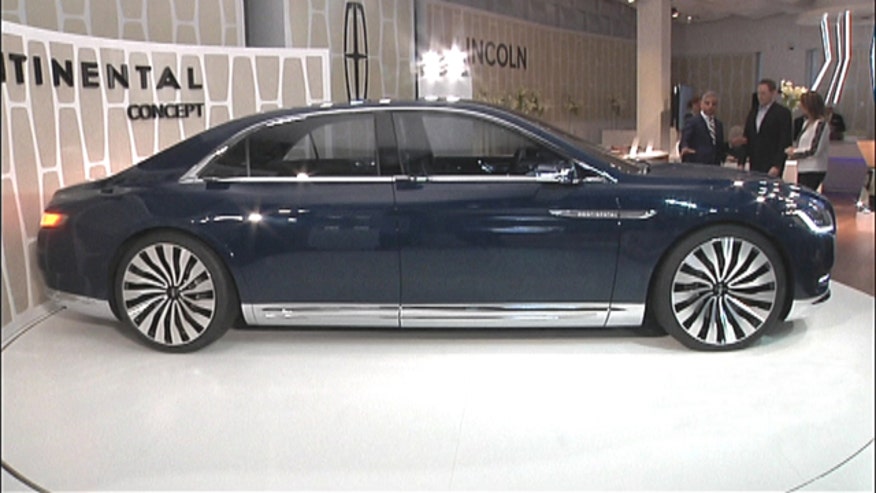 The future of the Lincoln Motor Company will be rooted in its past.
The Lincoln Continental Concept revealed on Monday resurrects one of the brand's most iconic nameplates, and previews the production car that will launch next year.
The four-door sports a classic sedan shape clearly inspired by the iconic Continentals of the 1960's, and introduces the company's new grille design, a rounded rectangular mesh of Lincoln logo-shaped openings with a large badge in the middle. Out back, Lincoln's signature full length taillights remain, but with a high tech twist that uses a translucent chrome coating to make them look metallic when they're not illuminated.
Lincoln hasn't yet confirmed if it's a rear, front or all-wheel-drive vehicle, but it will be available with a new 3.0-liter turbocharged V6. Unlike many high-end luxury cars, it's not being pitched as a sports sedan, and is instead focused on delivering what Lincoln calls "quiet luxury."
To that end, the interior is drenched in opulence. Rose gold trim surrounds the instrument cluster, the center console is entirely covered in chrome, the seats, dash and doors are upholstered in a mix of Venetian leather and Alcantara, and there's shearling wool carpeting to soak up any spilled champagne.
You'll find a storage compartment for a bottle of bubbly between the reclining rear seats, which feature 30-way adjustability -- including the ability to support each leg at a different angle -- and have an airplane style tray table that sprouts from the center console. The large glass sunroof features adjustable tint to set the mood, or the temperature of the car using the heat of the sun. A 19-speaker Revel Ultima audio system can make the luxury as quiet or loud as you like.
On the driver aid front, the Continental concept is fitted with laser-assist high beam headlights, can steer itself into parking spaces, and has a pedestrian detection system that can automatically brake to avoid collisions.
The Continental is expected to replace the MKS in Lincoln's lineup, and play an important role in the automaker's expansion in China, where chauffeur-driven sedans with a focus on back seat comfort are common. Pricing has not yet been announced, but Lincoln president Kumar Galhotra says it will compete with cars like the Lexus GS and Audi A6 in the United States.