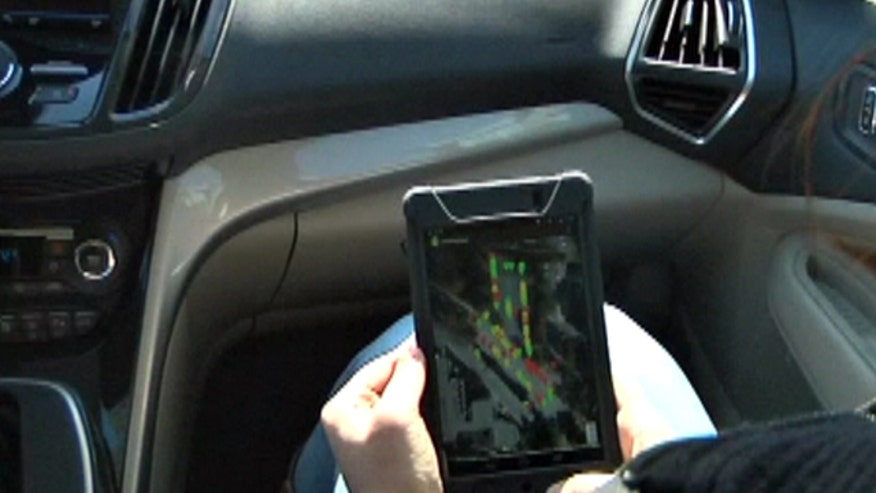 "I hate having to look for parking spots," said graduate student Claire Bergman as her test car passed a series of occupied spaces in a Georgia Tech campus lot.
"If I could have an app that's going to tell me exactly where I need to park - especially if it's integrated into my GPS so I can say, 'Find me a parking spot near this area' - I think that would save me a lot of time and frustration."
Researchers at Georgia Tech are collaborating with Ford to develop such a system.
Parking Spotter crowdsources data from cars already equipped with electronic equipment like Global Positioning Systems (GPS), and proximity sensors that warn drivers of nearby objects.
Cars running the app can detect available spaces, and record their locations for other users.
"It's uploading all this data to a cloud server so that it can be accessed from anyone's smart phone anywhere," Bergman explained.
"I have visions of the future where we have navigation that not only gets you from point A to point B and reroutes you around traffic, but perhaps gets you to a parking space," said Mike Tinskey, Ford's director of vehicle electrification and infrastructure.
The same research team is working on technology for car owners and businesses to drive their vehicles remotely. What makes this system unique is that the driver transmits instructions to the car over existing cellular phone networks.
The control setup looks like a video game with a steering wheel, foot pedals and gear shift. Video monitors provide views from cameras mounted on the test vehicle - currently a golf cart.
The system may one day allow car sharing services to remotely reposition vehicles while they're not in use by customers, or create opportunities for "virtual valet" services.
Tinksey envisions a day when you can pull up to a restaurant and have your car parked from a call center while you head in to dine. Researchers say they're encouraged by what they've seen in the lab, but have no timetable on when these high-tech driving features might roll out to consumers.
"There are a lot of things we actually don't know yet about what can be done," said Bert Bras, a professor of mechanical engineering at Georgia Tech.
"Once you have the base technology figured out, then you can start thinking about use cases. That's when you have entrepreneurs come in and say. 'You know what? We could do this.'"
Jonathan Serrie joined Fox News Channel (FNC) in April 1999 and currently serves as a correspondent based in the Atlanta bureau.