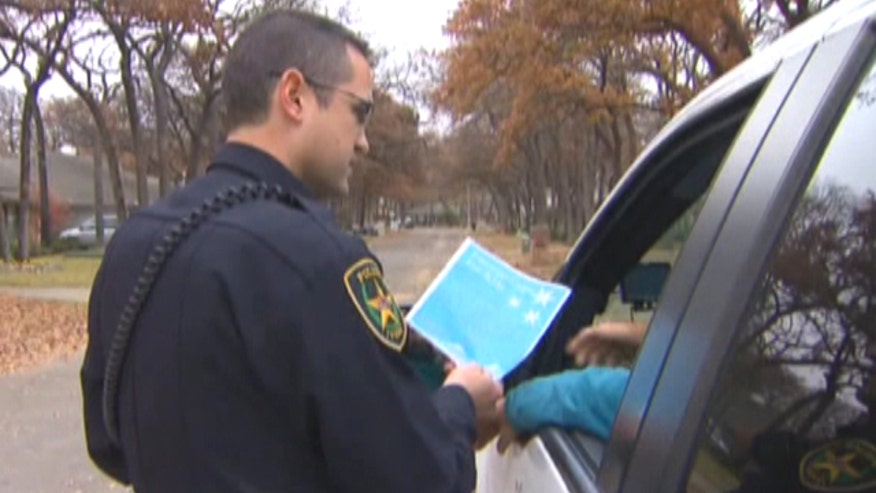 The next time a traffic citation is issued in Pantego, Texas outside of Dallas during the holidays, violators can perhaps avoid a fine by making a donation to charity.
Called the Pantego Cops for Kids Program, officers give out fliers to the people they pull over, and ask if they drivers would consider dropping off an unwrapped toys at the department headquarters in place of a fine.
Even though the town is roughly two square miles, nearly 85,000 people travel through the city each day. The police department on average issues 500 to 600 citations a month.
Pantego Police Department Assistant Chief of Police Barry Reeves told FoxNews.com the program is so far going well. "We've had a huge, huge outcome this year more so than in year's past."
The program is now in its third year and started this cycle in mid-November running until the end of this week.
When violators are pulled over, the officer hands them a note. "In the spirit of the holidays, we are waiving the issuance of a citation in hopes that you will drop off an unwrapped toy to our Police Department. All toys will go to benefit Cook Children's Hospital," the flyer details.
Reeves says his team was looking for ways to give back to the community. "I wanted to get a bigger pouring of toys into our department and I just came up with this idea [that] officers typically write a lot of warnings around Christmas and I thought this would be a really nice way to 'kill two birds with one stone.'"
Some in the community were opposed to this program, but Reeves believes "everything has been positive, you have different views of course, but for the most part, I'd say 99 percent of the public out there, they really believe this is a great program."
For Reeves, this mission to help others is personal. "I have five kids of my own. Children have always had a special place in my heart … anything pertaining to kids … if there is anything we can possibly do as a community to help these children, we are there for them."
Chris Snyder is a producer for Fox News based in New York. Follow him on twitter: @ChrisSnyderFox.