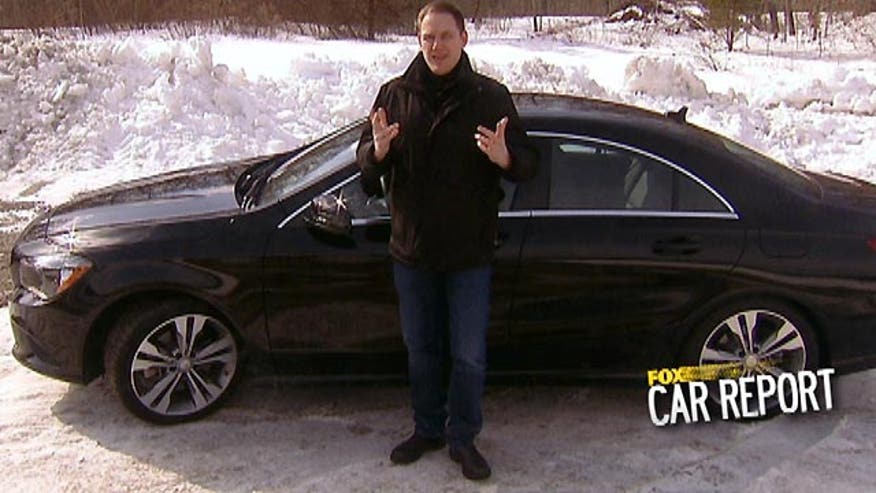 Mercedes-Benz's latest model is one of the sleekest, sexiest and most efficient cars in its showrooms.
And the cheapest.
Sure, automakers prefer to use the term "lowest priced," but at $30,825 the CLA250 undercuts the the previous "Baby Benz" C-Class by nearly six grand.
It's also the first front-wheel-drive Mercedes sold in the United States, a feature that combined with a little torque monster of a turbocharged four-cylinder engine helps it get 38 mpg on the highway, compared to 31 mpg for the less powerful four-cylinder C250. At 208 hp and 258 lb-ft of torque, the CLA250 is also more powerful, a bit quicker and has a larger truck.
So where does it come up short?
Well, despite the fact that it's a sedan, it's no coincidence that Mercedes-Benz refers to it as a "four-door coupe." The back seat is cramped, at best, with minimal legroom and a low ceiling courtesy of that slinky roofline, but the runway-worthy looks are a nice payoff.
Up front, it's much more spacious, with high-back sports seats and modern, organic style punctuated by nifty-looking circular air vents. Soft touch-points and a steering wheel that feels just like the one in the E-Class deliver a strong sense of luxury where it counts the most, even with more hard plastic than you're used to in a Mercedes-Benz everywhere else, though not more than any other car in this class.
As far as what class that is, it's a little hard to say. Sure, you can get a Chevy Impala, Jeep Grand Cherokee or a Mustang GT for the same price, but that's not really the competition. Narrow it down to front-wheel-drive premium compact sedans and you're basically talking about the Buick Verano Turbo and Acura ILX, with a new Audi A3 joining the mix in a few weeks.
The CLA250 has the first two beat on prestige, and after spending a week with the car I'll say performance and ambiance, as well. The Buick has more power, but is really focused on being plush, while the top level ILX is a little poky and only available with a manual transmission, limiting its overall appeal.
The CLA250 has a seven-speed dual clutch automatic with sport setting that's almost too aggressive for everyday driving, but fun in the hills. The default ECO mode shifts smoothly and delivers on its efficiency promise, helped a little bit by a stop/start system that shuts off the engine when the car isn't moving, then starts it up when you lift your foot off the brake pedal.
Put it on the accelerator instead and the CLA250 is lively, especially in passing situations; the 2.0-liter engine only getting coarse when you crack the whip as hard as you can. The handling is very neat and neutral for a front-wheel-drive car, to the point that it doesn't really matter which wheels are doing the driving at anything resembling legal speeds. This is surprising, because the ride feels tuned more toward the soft and floaty side when you're cruising along, but cutting corners is no problem at all.
The cabin is exceptionally quiet in town and on the freeway, and the only time the car really disappoints is when you hit bumps. The suspension often takes them with a chintzy-feeling crash that's out of place in a Mercedes-Benz. The first-time customers this car will surely attract likely won't notice.
Instead, they'll likely be dazzled by the impressive options list, which includes a sweet harmon/kardon audio system, mobile-web, panoramic roof, radar cruise control, lane keeping and collision assist, and all-wheel-drive, available for relatively reasonable prices by Mercedes-Benz standards, although $550 for a blind-spot warning system seems a little steep.
Nevertheless, the CLA250 remains far from a bargain, but as far as aspirational plays are concerned, it hits all the right marks. It will certainly give recent med school grads the feeling that they've arrived, which is exactly what Mercedes-Benz is aiming for as it tries to coax them into the fold while they're young.
Retired country doctors downsizing from S-Class behemoths may not be quite so enthralled, but, hey, they've already lived the good life. The children are the future. At least, that's what Mercedes-Benz is banking on with the CLA250.
I think it will be depositing a lot of their checks very soon.
----------
2014 Mercedes-Benz CLA250
Base Price: $30,825
As Tested: $36,545
Type: 4-door, 5-seat sedan
Engine: 2.0-liter turbocharged four-cylinder
Power: 208 hp, 258 lb-ft torque.
Transmission: 7-speed automatic
MPG: 30 city, 38 hwy
Gary Gastelu is FoxNews.com's Automotive Editor.