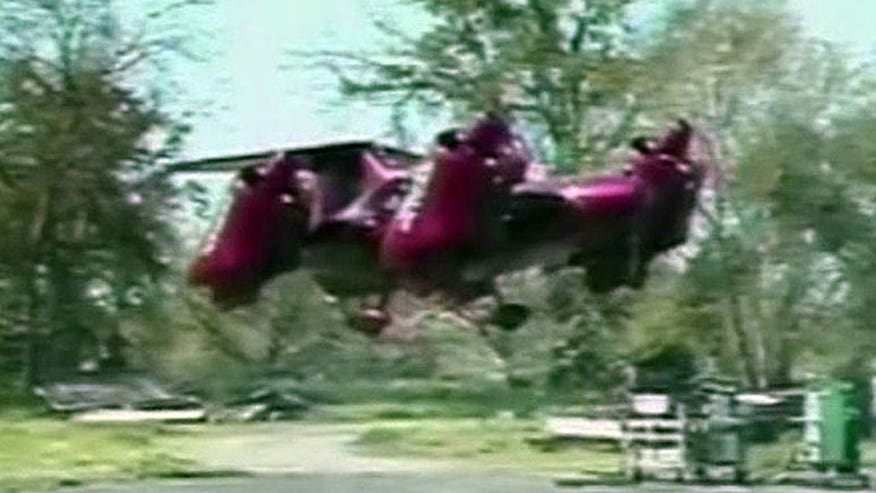 Paul Moller has been trying to get his Skycar off the ground for three decades and now he's asking the public for a lift.
The Moller International founder and developer of a novel "flying car" concept designed to be driven on the road and take off and land vertically is launching an Indiegogo campaign aimed at funding completion of the vehicle and its first test flight.
The company is seeking $958,000 and says it has partners who have committed to matching that amount if the goal is met. The perks offered to contributors include the opportunity to fly in the vehicle for a $5,000 contribution or pilot it for $15,000.
The Skycar has gone through several permutations over the years, the most recent featuring four nacelles each housing two compact Wankel rotary engines driving propellers. During liftoff the nacelles direct their thrust toward the ground allowing the vehicle to rise vertically, then rotate toward the rear for horizontal flight. The body and small tail wing are designed to provide additional lift.
To date, the Skycar has only performed a few, very low, unmanned hovers while connected to a tether for safety. Moller says the Indiegogo funds will be used to make the final modifications to the vehicle needed to prepare it for a piloted free flight.
The Skycar is one of several vehicles vying to become the first viable "flying car" of the 21st century, although they all take different approaches. Most notable among them are the Terrafugia Transition, which is more of an airplane with retractable wings, and the Skyrunner, an ATV that can be converted into a paraplane.
If the campaign is successful, Moller says the test flight will take place in June 2014.