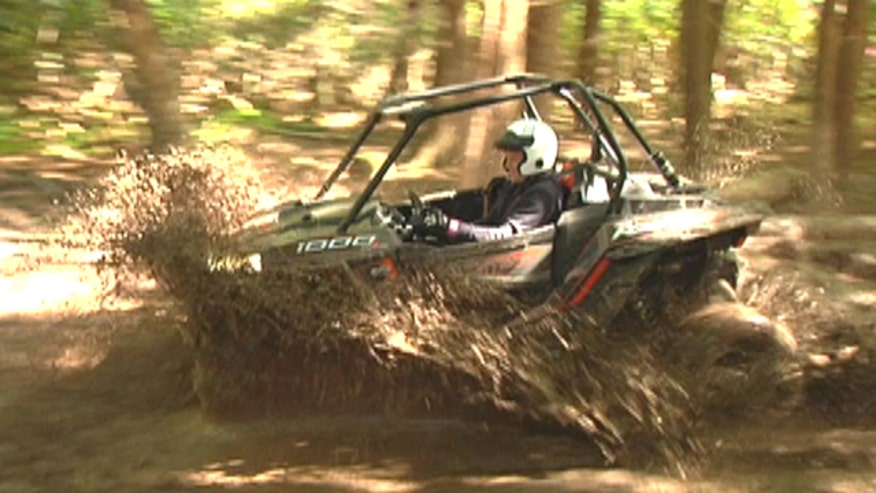 UTVs, better known as side-by-sides, make up one of the hottest segments in powersports these days, but the hottest side-by-side of them all is the Polaris RZR XP 1000.
At $19,999 it sits way atop the company's lineup, but makes good on the promise of its high price.
The XP 1000 is powered by a 999cc four-stroke twin that pumps out 107 hp, the most of any vehicle in the class and more than some cars. A CVT automatic transmission sends it to a locked rear differential, but a flick of the switch engages all-wheel-drive.
The motocross-style, very jagged XP has a full-featured interior with a dashboard that's more interesting to look at than the one in your Jeep YJ, a tilt-steering wheel, heavily bolstered racing buckets that slide to adjust for legroom, and plastic quarter doors that look much more awesome than the flimsy nets on most of these kinds of vehicles. There's also a handlebar style grab bar for your passenger, and it should get a lot of use.
The XP 1000 can get to 50 mph in 5.3 seconds and has an official top speed of 77 mph, according to Polaris, but has been independently tested above 80 mph. It also has 13.5 inches of ground clearance, 16 inches of front wheel travel and 18 inches in the rear. Shocks fitted at all corners are adjustable, progressively damped Walker Evans units that work in concert 14-inch wheels wrapped in appropriately named 29-inch Maxxis Bighorn tires.
The kind of performance on tap here is really targeted at the wide open deserts of the American Southwest, far from where I got to take it for a spin on a tight, technical trail at the Monticello Motor Club in New York that was designed to test articulation and nimbleness more than outright speed.
Nevertheless, one stomp on the throttle is all it takes to confirm its potency compared to Polaris' more utilitarian Ranger side-by-sides, even one with an 800cc engine. This thing leaps off the line and munches on terrain like a spooked, starving bighorn (told you,) and its already tight 18-foot turning circle can be contracted even more with another quick stab at the go pedal.
Watch: Polaris RZR 1000 makes world-record UTV jump
At just 1,379 pounds the XP 1000 is light on its feet, and coupled with that very capable suspension simply dances over whatever stumps and exposed roots cross its way. Polaris says it'll easily run down paths at 30 mph that an off-road truck needs to crawl along at 5 mph, and while I didn't get a good look at the centrally-mounted speedometer while I was bounding along, I did hit a couple of traffic jams caused by a Land Rover and Range Rover taking their sweet, luxurious time.
That's not to say the XP 1000 is all rough and tumble. It has electric power steering, and those seats are slunk way down like a sports car's instead of the upright chairs in the Polaris Ranger you took on your last hunting trip. It's very cosseting, until you take a dip into a deep mud bog and ruin your chances of being offered a ride home in one of those fancy SUVs.
Then again, good clean fun is rarely as exciting as getting a little dirty.
Read: U.S. Military begins rolling on airless tires
Gary Gastelu is FoxNews.com's Automotive Editor.