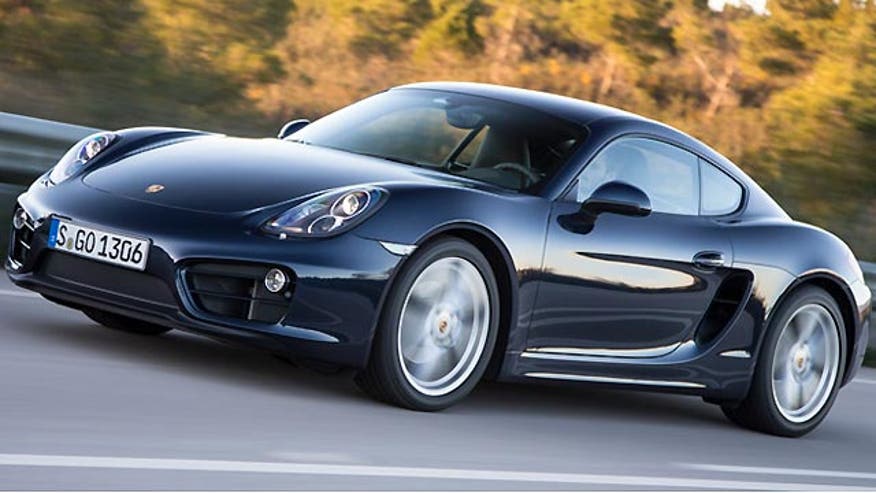 The king isn't dead yet, but long live the new king.
For 50 years the Porsche 911 has been synonymous with sports car excellence, its familiar shape an enduring icon of the German brand, but the next half century could look a little different.
Since its introduction in 2006, the smaller, lighter, less expensive Porsche Cayman has been stealing the hearts of many a driving enthusiast from its famous sibling with a combination of outstanding mid-engine handling and a sultry appearance.
If you went to a race track just a couple of years ago it would've been crawling with modified 911s, today it's hard to avoid all of the Caymans scurrying about in the pits. The natural abilities and appeal of the two-seater are so strong that it's long been an open secret that Porsche has kept its performance on a short leash so as to not upstage the 911 in showrooms. That attitude appears to be changing with the 2014 model.
In true Porsche tradition, the all-new Cayman strongly resembles the old one, but since it was already the sexiest car in the lineup, no issues there. Its fender creases are sharper, side vents ventier and the retractable rear wing smoothly integrated into the taillights.
Base Caymans get a 275 hp 2.7-liter flat-six for $53,550, while the $64,750 Cayman S tested here comes with a 325 hp 3.4-liter flat-six that is essentially a detuned version of the 350 hp motor used in the 911 Carrera, but with about 100 less pounds of car to push around.
Kudos to Porsche for continuing to offer a six-speed manual in the Cayman, but the vast majority will surely be ordered with the optional $3,200 seven-speed dual-clutch automatic transmission fitted in my test car. In exchange for the satisfaction of dancing on the pedals, you get generally lurch-free starts, incredibly intelligent shift strategies, instant gear changes and 30 mpg highway; just make sure you pick up the $490 sport steering wheel with paddles to go with it.
The cabin that surrounds it features a tidy, linear design that's straight out of Porsche's current playbook, with a vaguely aircraft-inspired control layout and a useful array of buttons to augment its 7-inch touch screen display. You'll find the exact same environs in the latest Boxster, with which the Cayman shares a platform, made much stiffer here with the addition of a fixed roof.
It's more spacious inside than the last Cayman, too. At just over six feet tall I always found the outgoing car offered exactly one inch less legroom than ideal, while this one delivers a surplus. The extra length between the wheels is primarily there for high speed stability near the Cayman S automatic's top speed of 174 mph, which is reached via a 0-60 mph sprint of 4.4 seconds, both just a few ticks shy of the 911, which costs twenty grand more.
That's all in a straight line. Toss a couple of twists into the mix and the Cayman S is heading off into the sunset. This thing cuts curves at supercar speeds with absolutely no fuss, and always seems to be holding more in reserve even when you think you're at the limit. A clever $1,320 torque vectoring system that combines a mechanical limited slip differential with electronic wizardry goes about its business behind the curtain without being intrusive or obvious.
The optional 20-inch wheel and low-profile tire combination doesn't hurt, either, and that surprisingly goes for ride quality, too. Chalk up the later to an outstanding $1,790 adaptive suspension system that is a must if you're looking to pick up a Jekyl and Hyde ride suitable for city streets and the track.
In either venue, the Cayman S stops as well as it goes. The brake pedal offers a superbly direct feel, and you need to dive so deeply into it to trigger the ABS on dry pavement that you likely never will. Throughout a full day lapping the fast and long Monticello Motor Club the pads neither faded nor smoked nor smelled, and that's without the $7,400 carbon ceramic disk package.
Of course, the Cayman S can autonomously bring itself to a stop if you check the box for its adaptive cruise control system. The $2,170 radar-based feature can be set to provide emergency braking if it senses an imminent collision, even when the cruise control is not engaged. One would hope a Porsche driver would be attentive enough to make such a thing unnecessary, but paired with an infotainment system that can display incoming e-mail and text messages it could be a lifesaver.
That sort of tech, along long list of pricey personalization options that includes leather covered everything and air vent louvers painted to match the Cayman's exterior color is even more telling of how the Cayman is encroaching on the 911 than the performance stuff. An 821-watt $6,520 Burmeister audio system is merely very loud icing on the cake.
Check enough boxes and you can easily be paying over $100G when you check out, which should go a long way toward keep Porsche's bottom line in order even if it loses a couple of 911 sales to the Cayman.
Thrones will always have pretenders, but this one's clearly a well-groomed heir.
----------
2014 Porsche Cayman S
Base Price: $64,750
As Tested: $91,620
Type: 2-door, 2-passenger coupe
Engine: 3.4L flat-6-cylinder
Power: 325 hp, 273 lb-ft torque
Transmission: 7-speed automatic
MPG: 21 city/30 hwy
Gary Gastelu is FoxNews.com's Automotive Editor.