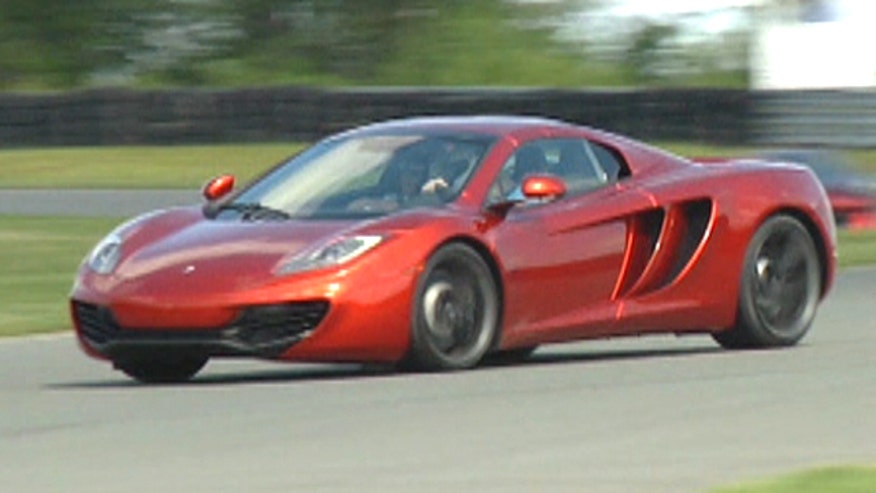 It is a first world problem of the highest order: Coupe or convertible?
For as long as people have been dropping house-sized wads of cash on exotic cars, they've been struggling with this conundrum.
The crux of it is that hardtops are generally much stiffer, which gives them better performance and safety characteristics, but convertibles are simply snazzier and give the world a great view of you behind the wheel.
Sure, automakers go to great lengths to beef up and buttress their drop-tops in an effort to make up for the missing metal, but the result is usually a much heavier car that's still relatively flaccid.
Still, Formula One cars and Le Mans prototypes seem to do pretty well without roofs, so why can't road cars?
McLaren may have introduced its MP4-12C coupe first, but the car was designed from the start to be a convertible, and the fruit of that foresight is the 12C Spider. Please hold the MP4, it's far too formal.
At the core of it is a stiff, carbon-fiber tub. It is the exact same one used on the coupe, but was engineered to work without a roof. Aluminum subframes bolted to the front and rear further help to keep the pounds off and repair costs low, and the Spider's retractable hardtop mechanism is so dainty that the 12C Spider weighs only 88 pounds more than the fixed-roof model.
A very neat feature incorporated into it is a rear window that can be open and closed independently of the roof, allowing it to be used either as a wind blocker when the top is down, or an engine and exhaust amplifier when it is closed.
Everything else about the two cars is mostly identical, including the 616 hp twin-turbocharged V8 sitting behind the cabin, 7-speed dual-clutch automatic transmission, trick hydraulic suspension system, airbrake spoiler and launch control.
With the last of those engaged you just place your foot on the brake, floor the throttle and wait a few seconds as a dashboard screen dramatically informs you that boost is building. The reward for your patience when you sidestep the brake is a 3.1-second sprint to 60 mph and a sub-11 sec quarter-mile.
Stay on it, and you can hit a top speed of 204 mph, top up. McLaren hasn't said what the maximum velocity is with the roof open, but with only a 7 percent increase in aerodynamic drag in that configuration bring a comb, you'll need it.
Of course straight line speed, even of this magnitude, isn't the impressive part of the transformation.
While other cars can lose 30 percent or more of their torsional rigidity when they get their tops chopped, McLaren says the 12C Spider's is within 1 percent of the coupe's. This comes into play when you hit the brakes and turn the wheel.
The MP4-12C is one of the most incredible road and track cars ever produced. It's light, instinctively responsive, and takes turns like it's chained to a fulcrum, and the 12C Spider's performance is imperceptibly different.
Sure, there are plenty of driver aids on hand, including that active suspension, which uses hydraulic dampers to keep the car flat through turns yet soaks up bumps like a Range Rover, as well as a brake-steer system originally developed for and swiftly banned from McLaren's F1 cars because it works so well, but without a herculean backbone all of it would be for naught.
Throw whatever you can at it and the 12C Spider neither twists nor shouts in anguish, although the engine certainly screams into the cabin. The noise comes at you both through the window or roof opening and a set of induction tubes that pumps it straight into the back of your head. Its turbo-muffled tune not quite the siren song of a Ferrari, but satisfyingly racy.
The soundtrack is part of the immersive experience the 12C Spider delivers, along with the feedback you get from the steering wheel and the seat of your pants. The power on tap is absolutely astonishing. Accelerating from a stop is one thing, but you can hit the gas in this at 100 mph and still feel like you've engaged the hyperdrive.
In a very Folgers coffee moment during a test drive event at the Monticello Motor Club, I inadvertently got into a hardtop that was on hand, took it for a few laps and didn't realize what I'd done until I went for the button to lower the rear window and couldn't find it.
Noticing my confusion, the professional driving instructor along for the ride said, "oh, no this is the coupe," adding, "now go back to testing economy hatchbacks, you pathetic philistine, or perhaps the bus is more your speed?"
I'm not sure if he really said the second thing, he may have just gotten bored with my pedestrian wheel skills and started yawning, but the point was clearly made; the 12C Spider is a no-compromises car.
Except as far as your checkbook is concerned.
With a $268,250 base price, the 12C Spider costs roughly twenty-five grand more than the already pricey coupe, but McLaren nevertheless expects it to make up the vast majority of sales.
I suppose to those customers, it actually represents a six figure savings since it is essentially two cars in one. Deduct the price of an extra-million dollar parking space in the middle of New York or London and you're practically rolling in the dough.
But rolling in the car is a lot more fun, and now everyone can see the smile on your face when you do.
----------
2013 McLaren 12C Spider
Base Price: $268,250
Type: 2-door, 2-passenger convertible
Engine: 3.8-liter twin-turbocharged V8
Power: 616 hp, 442 lb-ft torque
Transmission: 7-speed automatic
MPG: 15 city/22 hwy
Gary Gastelu is FoxNews.com's Automotive Editor.