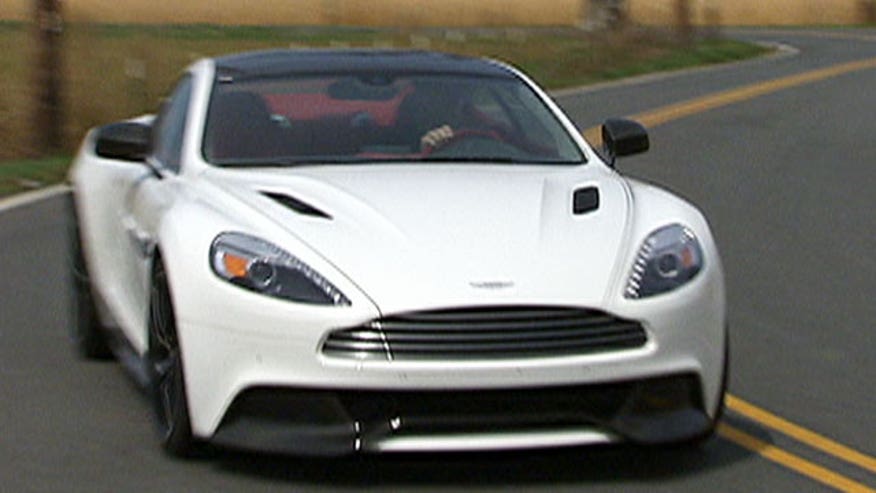 Dashing.
That's really the only way to describe the 2014 Aston Martin Vanquish.
True, you could probably say the same thing about every car in the automaker's lineup today, since they all look exactly the same, but it's especially fitting here.
To steal Merriam-Webster's definition of the word, its design is "marked by vigorous action" and "smartness, especially in dress and manners." That about sums it up.
Along with its all-carbon fiber duds, as the British brand's new standard bearer, the Vanquish pulls out many of the stops. The coupe is built on the latest version of a platform that's underpinned all Aston Martins since the original Vanquish first bowed over a decade ago. The aluminum architecture updated and modernized through the years to the point that, like your grandfather's axe with the new handle and blade, it's better than when it was when new.
The 6.0-liter V12 (technically 5935cc) has a similarly epic lineage, but arrives more powerful than ever before, with 565 hp and 457 lb-ft of torque. Zero to 60 mph, sir? That'll be four seconds.
Granted, that hardly makes the Vanquish the quickest or car in the world, but ultimate speed is not the reason it exists. Effortless, luxurious transport is the game here, and it is a winner on both counts.
The interior is a handcrafted cocoon where practically every surface – including the headliner and rear deck – is finished in either leather, Alcantara or some other exotic material. There's such a thing as Piano Red? Apparently, there is.
Aston Martin says there are over one million stitches holding it all together. I didn't count, that would've been gauche. And hard. The only chintz is the sad afterthought of a cupholder located in front of the armrest, but Mayor Bloomberg would likely approve. I'll be polite and not mention the absence of a glove compartment, only because the trunk is large enough to qualify as one. On the other hand, the tiny rear seats are as lovely as they are useless. They are also an option. Don't exercise it.
In stark contrast to the old-world artisanship evidenced throughout the cabin is a high-tech center stack topped by a Garmin-based navigation system and fitted with haptic feedback-equipped capacitive-touch controls that work very well. This is something a surprise, because Aston Martin is hardly known for getting conventional inputs to operate correctly – both the cruise and volume switches on the steering wheel of my test car were out of commission – yet the pads proved more responsive than those found in recent Cadillacs. Nevertheless, knobs and joysticks for adjusting the infotaintment system, fan and temperature are a welcome analog holdover.
One thing you won't find anywhere is a stick shift. Like so many supercars today, the Vanquish is an automatic-only proposition. Its smooth, old-school torque converter six-speed transaxle operated by buttons on the dashboard and paddles behind the steering wheel, a square one in this case.
Launch control is a first for Aston Martin, and using it is a brisk, but non-violent affair. This is a grand touring car, after all. Its owners may be in a hurry, but never in a rush.
That engine sound? It's like an acoustic drill that's been slathered in marshmallow and jammed into your ear. I love a raucous V8, but there's nothing like the glory of a V12.
You can lower the volume when you pull into town by closing the bypass valves in the sport exhaust, but that's about the only time you'll want to do that. I found myself leaving the transmission in fourth gear on the highway just to enjoy the soundtrack. The Vanquish has a 1,000 watt Bang and Olufsen audio system, which seems ridiculous until you hear what it has to compete with.
As with all of the important mechanical bits, including carbon ceramic brakes, an active suspension comes standard and offers three firmness settings. Even the stiffest is short of punishing, and things get downright floaty in Comfort mode. I took the Vanquish on a dreaded lap of Manhattan and if it hadn't taken two hours, thanks to the traffic, I would've been happy to go for a few more rounds.
Survival in the city is admirable, but the open road is where the Vanquish comes into its own. The feedback provided by the steering is crystal clear. It relies on old-fashioned hydraulic assist, which even today's best electric systems can't come close to for its natural feel. I'm talking about the difference between an incandescent light bulb and a compact fluorescent. Stock up while you can.
With it, the Vanquish reads the pavement like a librarian, assigning Dewey decimal numbers to every nook and cranny along the way. If I didn't value this increasingly rare characteristic so highly, I'd be tempted to say that the way the wheel lightly dances around in your hands can get annoying at times. Just try drinking water from a martini glass while driving this thing. It's tragically neither possible, nor advisable.
Giving it the spurs is.
The Vanquish weighs 3,833 pounds, but splits that right down the middle, and its meaty tires make short work of it in the twisties. Given the size and power of this beast, it's remarkably neutral when pushed hard, and not at all tail happy. It's just happy.
For about $282,110, you'd hope so.
It's a princely sum, to be sure, but along with all of the dynamic goodness the Vanquish delivers, it also buys unmatched exclusivity. In New York City, Ferraris and Lamborghinis are punch buggies compared to these.
But the real value of the Vanquish is that no one seems to be annoyed at you for driving it. Yes, it's as low and loud and has just as big of a wing on the back as the rest, but the way it all comes together simply charms the pants off of anyone that comes across it.
Dashing, indeed.
----------
2014 Aston Martin Vanquish
Base Price: $282,000
Type: 2+2 passenger, two-door coupe.
Engine: 6.0-liter V12
Power: 565 hp, 457 lb-ft torque
Transmission: 6-speed automatic
MPG: 13 city/19 hwy
Gary Gastelu is FoxNews.com's Automotive Editor.