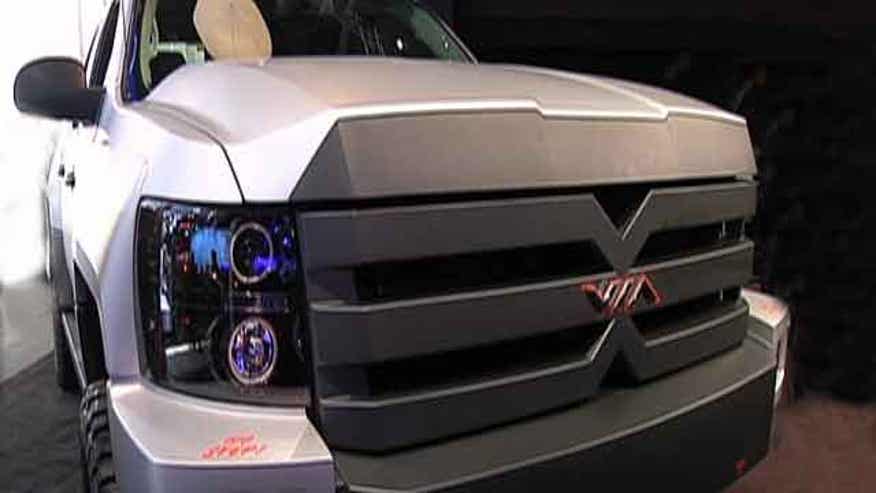 This is one way to keep on trucking.
Via Motors has introduced an 804 hp heavy duty off-road pickup truck concept with an in-your-face look that would make a Hummer run for cover, but the most impressive thing about it is that it gets 70 mpg.
Impossible?
The trick is that the X-Trux is a plug-in, extended range electric vehicle similar to the Chevrolet Volt and Fisker Karma.
Via Motors buys full-size trucks from General Motors and replaces their transmissions with electric motors that run off of a 24 kilowatt-hour battery pack that provides up to 40 miles of electric-only range before an internal combustion engine kicks in to power a generator for longer trips.
Read: Ford Atlas is a sneak peek at the next F-150
The projected 70 mpg rating is based on a testing procedure that looks at the typical drive cycle of a vehicle and combines the amount of battery and internal combustion engine power needed to complete it. The Chevy Volt is rated at 98 mpg rating using the same formula.
While the 4x4 X-Trux concept uses two electric motors, each with 402 hp and 300 lb-ft of torque, Via Motors first plans to sell rear-wheel-drive pickups , vans and SUVs with just one motor called V-Trux, that are designed for street use and get the equivalent of up to 100 mpg, according to the company.
Even when operating in extended range mode, with the internal combustion engine running, Via Motors president Alan Perriton says the vehicles can deliver twice the fuel economy of the conventional trucks they are based on. That would be 34 mpg combined compared to 17 mpg for the Chevy Silverado.
The V-Trux sell for significantly more than conventional vehicles, an estimated price of $79,000, but Via Motors says the premium can be recouped in fuel savings and the lower maintenance costs of the electric drivetrain after a couple of years.
Aimed primarily to fleets, the V-Trux also have electrical outlets that can provide up to 15 kilowatts of power, allowing them to be used as on-site generators. An upgrade to 50 kW is in the works, which would replace standalone units that cost upwards of $15,000, according to Via Motors.
The company currently does its conversions in Michigan, but is building a facility adjacent to the Silao, Mexico, factory where General Motors builds some of its full-size trucks.
Gary Gastelu is FoxNews.com's Automotive Editor.